Deinonychus
Deinonychus
Pronunciation:

die-NON-i-kuss

Name meaning:

'terrible claw'
Type of dinosaur:

Length:

3.0m

Weight:

75kg
Diet:

carnivorous

Teeth:

backward-curving

Food:

vertebrates, plant-eating dinosaurs

How it moved:

on 2 legs

When it lived:

Early Cretaceous, 120-110 million years ago

Found in:
Deinonychus could hold onto its prey with fearsome front claws. One huge claw on each foot swivelled - a kick would rip prey apart. When not in use the claw was held out of the way to keep it sharp. Deinonychus may have hunted Tenontosaurus.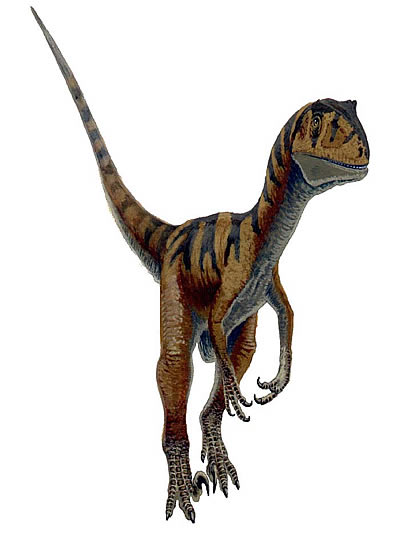 © Andrey Atuchin
Taxonomic details
Taxonomy:

Dinosauria, Saurischia, Theropoda, Neotheropoda, Tetanurae, Avetheropoda, Coelurosauria, Tyrannoraptora, Maniraptoriformes, Maniraptora, Paraves, Eumaniraptora, Dromaeosauridae

Named by:

Ostrom (1969)

Type species:

antirrhopus
The nation's favourite dinosaur is back for a short visit and sharing memories of nature from across the UK.
Free installation. Now open.