When paper goes bad
George, Thursday 20 May 2010
Temperature: -25°C
Wind speed: -10°C
Temp with wind chill: -35°C
Sunrise: a long while yet
Sunset: a long while yet
With such a wide variety of artefacts to conserve (ranging from timber to metals, textiles and paper) it's critical the Trust employs conservators with the right area of expertise.
I work mainly on the paper-based items, and for the past couple of weeks I have been able to collaborate with my colleagues on multi-media pieces. Mindy had some Tate and Lyle Golden Syrup tins, which look exactly the same as they do today! A couple of these tins still had their original paper wrappers, and so it was my job to try and preserve them. Due to the harsh Antarctic climate, paper out here is often in a very bad condition.
Degraded paper of poor quality can be very acidic (which is what makes it look yellow), and in this instance also stained with food product and metal corrosion. Washing the paper in deionised (pure) water removes many of these damaging products, although it is very fragile when wet so you have to be careful! The paper is then soaked in an alkaline solution which lifts its pH and creates a buffer protecting against future degradation. This wrapper had many holes and missing areas, so I patched them from behind with hand-coloured Japanese paper. I then wrapped the repaired sheet back around the tin which Mindy had treated for rust.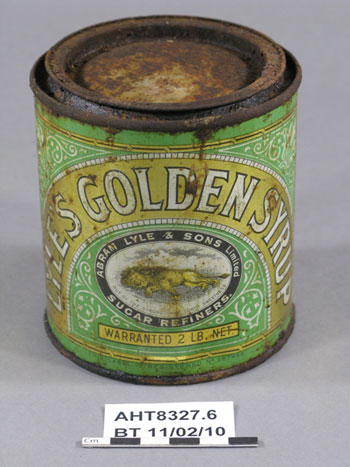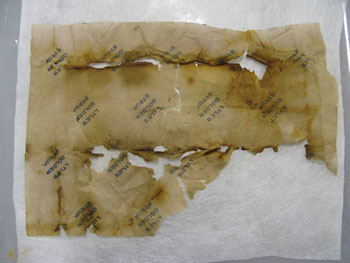 As you can see from the photos, the finished item still looks old – but this is good! We don't want to change the appearance too much (or it will look out of place in the hut), only to stabilise the materials and increase longevity as best we can.
Another joint effort was with Jane on a series of dehydrated cabbage tins. The tins and their labels had a special varnish which complicated their treatment; if the labels got wet with water they bloomed (ie. turned white!). Jane had to find a way of treating the rust on the metal whilst preserving the varnish, whilst I had to treat the labels without using water. These objects are chemically stable now and we were pleased with the results.