Conservators collaborate
Lizzie, Monday 30 June 2008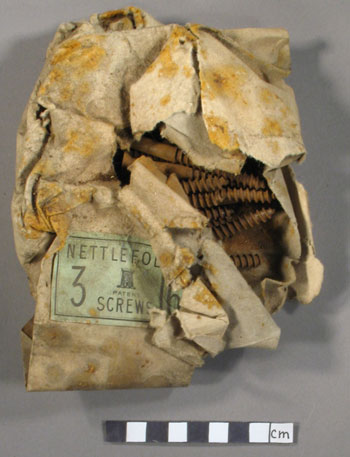 Last week Carla described working on composite artefacts, where two materials such as metal/wood form parts of the same object but require differing methods of conservation treatment. Of course, we conservators are endlessly resourceful and adaptable, so oftentimes we will move effortlessly between different material types… on our own, in the same day!!!
Every now and again though, there is an artefact that requires us to break out of our little workspaces, cross the room and collaborate on treatment with another colleague. This can be somewhat difficult after days of solitary focus, but we are professionals!
Recently Susanne and I collaborated on an artefact from Cape Royds. The first I knew of it was when she unpacked it rather gingerly from a crate and said 'Um, Lizzie… this looks like paper'. I could hear a note of fear in her metal conservator's voice. "I think it's a box of screws' she continued… not that you would have known it by the sorry little heap of rusty metal and crumpled, stained paper lying on the bench. Our challenge was twofold: the steel flat-headed wood screws were rusting and staining the paper packet and the packet itself had collapsed. A number of tears left it unable to contain the screws. We needed to halt those agents of deterioration and reform the packet into something that would create that historical link between the Nimrod expedition and the modern hut visitor.
After a short conversation, most of which for some reason Susanne conducted on her knees with a pleading expression on her face, I agreed to do most of the work and Susanne somewhat happily removed all of the screws, then set to work removing corrosion using garryflex, cleaning them with acetone, then coating them with paraloid B72 to prevent further corrosion.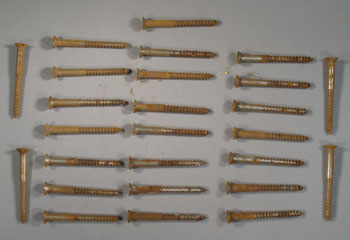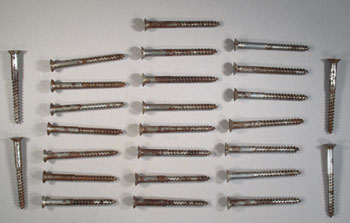 Meanwhile, the paper sat looking tragic on my bench. I donned a tweed stalker's jacket and with pipe clenched between my teeth and magnifying glass at the ready began to unravel the construction mystery of our little packet.
It turned out to consist of two layers – an inner layer of heavy brown paper, wrapped in an outer layer of slightly lighter paper with Nettlefolds label attached. No adhesive used – it was all a matter of exceedingly cunning folds and wraps. So, to work: dirt removed with a soft brush; paper humidified and gradually unfolded, but not unfolded too far lest we lose the original folds of the packet. There were large tears in numerous places, particularly at corners and across folds. These were repaired with our old favourite Japanese tissue and wheat starch paste. After looking at the hole in the top of the packet for some time, I concluded that it had probably been made with a knife or sharp instrument - deliberately so as to gain access to the screws (rather than being an accidental tear). By this stage Susanne had finished her work with the metal components (or screws, in the common parlance), so I replaced them in the packet, and reformed the paper wrapper around them. I must say we've been quite pleased with the outcome of this treatment - no more metal corrosion, a packet of screws that doesn't look as though it has been repaired, and the label, the screws and the person-made hole in the top are all visible and able to tell their story.