Archive for the 'Polar exploration' Category
Pirates ahoy!
George, Wednesday, November 25th, 2009
Over the past few weeks, I have been working through some of the reading material in the Reserve Collection. The first thing was a 380 page hardware catalogue by Baileys of London, which included almost everything from pig troughs to household cutlery. Some of the more obscure products like the Bad Egg Detector were particularly fun, and were a reminder of just how inventive the Victorians could be!
There were also various newspapers, from the Glasgow Herald to New Zealand's Weekly Press , which is still in existence. Of particular interest was a great bundle of London Illustrated News, from 1908. These are very well-read, and as well as being torn and battered, are smeared throughout with dirty fingerprints and drops of candle wax.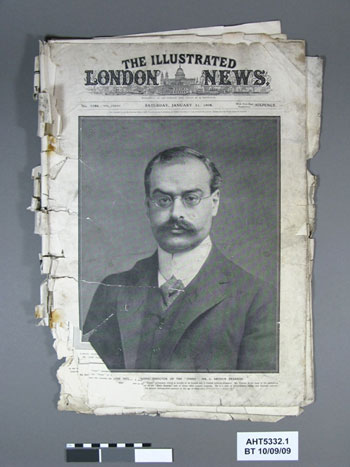 It is easy to see how these would have been very popular about the huts, to be dipped into and perhaps, by the look of them, read from cover to cover many times over. They include articles and photographs relating to interesting happenings, scientific discoveries and customs from all over the world, as well as more local gossip, like ladies' fashions and society weddings. The nearest comparison I can think of is a cross between a celebrity rag and National Geographic.
Working on these was very distracting and I kept catching myself with tools down, engrossed in some story or other, occasionally calling over to Nicola to 'come see this!' I cannot think of a comparable paper today – and if it were still in existence I'm sure I'd be a subscriber!
There were also various books, ranging from the literary (such as Cicero and some nicely bound Kiplings belonging to Cherry-Garrard, the Assistant Zoologist on Captain Scott's 1910 expedition) to paperbacks and short stories including a surprisingly sensitive romance (100 year-old chick-lit!) entitled 'An Elopement'; a rather incongruous find amongst the belongings of the hardy polar explorers.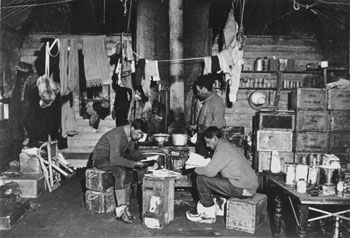 My favourite, however, has to be 'Prince Rupert the Buccaneer'; a swashbuckling adventure involving pirates, treasure-hunts, capture and escape from the Spanish Inquisition, dering-do on the high-seas and of course, damsels in distress – just the thing to read after a hard day's sledging!
Crate mysteries
Fran, Friday, November 6th, 2009
Temperature: -13
Wind: 5 knots
Temp with wind chill: - 15°C
Conditions: Generally cloudy with periodic bursts of sunshine, very minimal wind.
We are now in our last week at Scott Base before we head out to spend a month working and camping at the historic bases.  The large pile of crates full of untreated artefacts from Captain Scott's 1910 – 13 expedition base has finally started to dwindle and what seemed initially to be an insurmountable quantity of work has been successfully completed.
So, we have had a chance to move onto what are affectionately termed 'crate mysteries'.  One crate has been of particular interest as the contents were taken from in and around the bunk beds of expedition members Taylor (Geologist), Nelson (Biologist), Debenham (Geologist) and Day (Motor Mechanic). Although the objects of general use that we have treated have been interesting, there is something so much more emotive about objects that can be identified as the personal belongings of a particular individual.
All manner of paraphernalia was collected from the small shelf boxes (which can be seen in the photo below) secured to the bunk sides at the hut.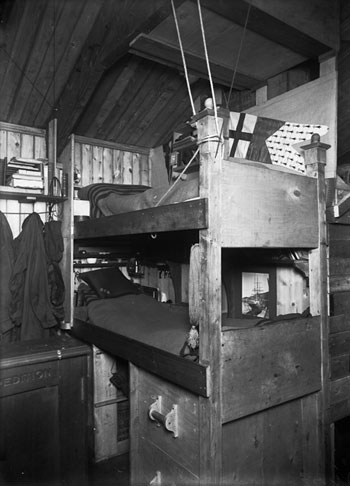 The large number of quill nibs is indicative of the amount of writing these men must have done, and the quantity of safety pins, needles and buttons hints that the need for clothing repair must have been frequent. Of these 4, Day left behind the most possessions, including his toothbrush and even small fragments of crackers that he may well have enjoyed in bed as a midnight feast! Of the numerous scraps of paper found, many held a multitude of surprises.
One was a ball of scrunched up foil, that when painstakingly flattened was found to be stamped with the word 'Vinolia'. Research showed that it was packaging for soap. This particular brand of soap was considered a real luxury, and was even provided in the cabins of the first-class passengers aboard the ill-fated Titanic.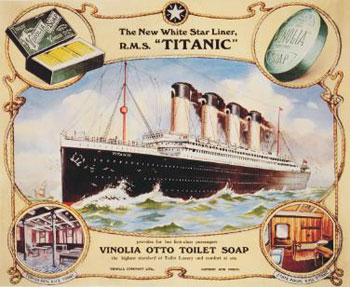 Another of the tiny fragments appears to have been torn from a book page and simply reads 'pulling your leg!' It's nice to imagine why this was done, and why it was kept amongst a hoard of personal belongings. I can only deduce that there was an element of humour involved, indicating that despite the trials of Antarctic existence, there was still the opportunity for laughter.
Animal spirits from the past
Lucy, Monday, November 2nd, 2009
Temperature today: -20oC
Wind speed: 15 Knots
Blue skies, some hazy cloud
Back in the 1980s an international treaty agreed that in order to maintain the pristine natural environment, all non-native species should be removed and banned from returning to Antarctica.
There is of course one very notable exception – humans are still allowed to come!
Back in the heroic era of Antarctic exploration (1895 – 1917) these kinds of environmental issues were not even considered. Both Captain Scott and Ernest Shackleton brought husky dogs and ponies down to Antarctica by ship, to be used for sledge hauling on their respective expeditions.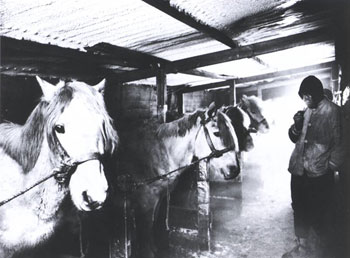 Out at the huts you can still see some vestiges of these animals. There are dog biscuits, dog harnesses and even the skeletons of a few of the dogs themselves.  I have recently been conserving a felt-lined pony blanket which remains, even to this day, covered in long creamy-coloured pony hairs. Last month we worked on 2 pony snow shoes which were special custom-made contraptions for Captain Scott's ponies to try to prevent their hoofs from digging into soft snow surfaces.
Although live reindeers were never, as far as I know, actually brought to Antarctica, the incredible insulating properties of reindeer fur (discovered by native human populations in the far North and used by explorers such as Fridtjof Nansen in the Arctic) were also exploited by the polar explorers of the Antarctica. Attached to most of the socks I have conserved recently I have found traces of reindeer fur, where it has become detached from the reindeer fur sledging shoes (Norwegian finnesko).
The discovery of such poignant little reminders of a bygone age is what makes my job so especially interesting.
Early plastics
Nicola, Friday, October 23rd, 2009
Most of the artefacts we're working on at the Canterbury Museum are composed of metal, glass, wood or paper, but this week I've come across a couple of artefacts made from plastics. Although plastic is a common material today back at the beginning of the 20th century it was still fairly rare.
Recently brought back from the Ice for conservation are several rolls of cine-film from Cape Evans (associated with Captain Scott's 1910 expedition). They were taken from the darkroom belonging to the expedition's photographer Herbert Ponting.
The rolls had been carefully wrapped in tin foil and black paper to protect them from being exposed to light, but as yet we don't know if they had been used to take photographs or developed. This is very exciting as they could provide us with new, un-seen footage of the expeditions.
At that time, celluloid film was made of cellulose nitrate, a plastic produced by reacting cotton fibres with nitric and sulphuric acids. However, it's very unstable and as the film ages it degrades, becoming sticky and producing acid which destroys any images. And once it starts it's impossible to stop or conserve.
The film we have is in good condition at the moment so until it can be processed we're preserving it by storing it in the dark, and in a freezer.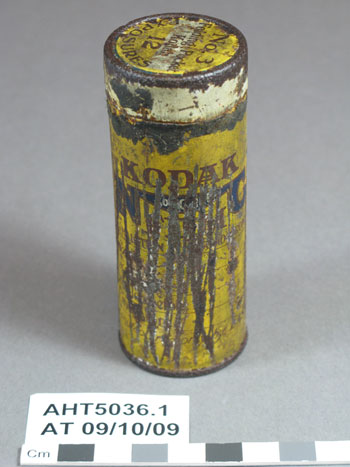 The other early plastic artefacts that I have on my bench are small black tubes of medicinal pills found beside Dr Edward Wilson's bunk at Cape Evans. They include 'Argyrol' (a trade name of an antiseptic made of protein and silver) and caffeine used as a stimulant. Produced by Burroughs Wellcome & Co they may well have come from one of a series of medical kits presented to high profile expeditions and influential people as a way of advertising the company.  Product placement even in the wilds of Antarctica!
A trip to the docks
George, Wednesday, October 21st, 2009
Over the weekend, Nicola and I paid a visit to Lyttelton, a few miles south of Christchurch in Canterbury, New Zealand.
It's a wonderful place to look around, particularly as the harbour is where so many of the ships set sail for Antarctic waters.  Between 1901 and 1911, 3 expeditions left from Lyttelton to explore Antarctica (Commander Scott in 1901, Ernest Shackleton in 1908 and Captain Scott in 1911) and today Canterbury is still a critical gateway to the Ice.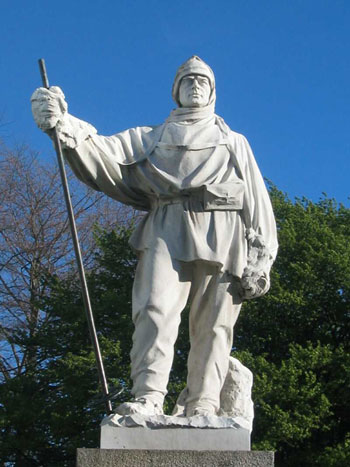 Approached from above on the hill, Lyttelton (about a 20 minute drive from the centre of Christchurch) presents a great horseshoe shape. The town opens up as a patchwork of coloured houses set into the dense green slopes of a long-extinct volcano, which in turn curls around the busy port down below, packed with boats, ferries, shipping containers and timber piles.
Making our way towards the waterfront we made a beeline for the Lyttelton Museum where we were able to further explore the region's polar and maritime history.  The Antarctic section has just been reopened after refurbishment, and we were able to see plenty of objects there, including a fabulous penguin egg (collected for scientific purposes!).
Many of the items originate from the estate of English-born Joseph Kinsey who owned a stevedoring company in Lyttelton, and acted as agent and attorney to many Antarctic voyages.
A fascinating character and local entrepreneur, Kinsey was also an amateur photographer, philanthropist, mountaineer and choral enthusiast.  Scott, Wilson and Shackleton all spent time relaxing at Kinsey's house before heading south and valued him highly for his acumen and friendship.  His hospitality in this regard was typical of the friendly welcome and generosity that New Zealand showed the adventurers; with the people of Canterbury rallying behind the expeditions and donating provisions such as coal, clothing, vegetables and, on one occasion, 45 live sheep! Captain Scott wrote about Kinsey, 'His interest in the expedition is wonderful, and such interest on the part of a thoroughly shrewd business man is an asset of which I have taken full advantage.  Kinsey will act as my agent in Christchurch… His kindness to us was beyond words' (Extract from Scott's Last Expedition vol. I, p. 6.).
Standing by the port on a weekend afternoon it is fun to imagine the tens of thousands who gathered here in 1901 to see the Discovery pull away from shore and bid her farewell.
'It is most difficult to speak in fitting terms of the kindness shown to us in New Zealand…On every side we were accorded the most generous terms by the firms or individuals with whom we had to deal with in business matters.' Commander Scott, 1901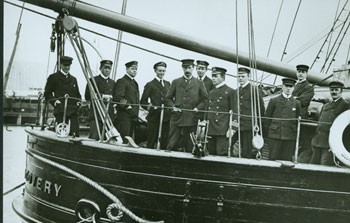 In partnership with
Blog search