Archive for the 'Animals & wildlife' Category
Herbert Ponting
Carla, Tuesday, April 15th, 2008
His joy is to reproduce its pictures artistically, his grief is to fail to do so. -Captain Robert Scott, 1911
Herbert Ponting began his career in photography relatively late in life. After moving from Salisbury England to California in his early twenties, he dabbled unsuccessfully in mining and fruit-farming before turning to photography. He became correspondent on the Russo-Japanese war of 1904-05, and afterwards continued to travel around Asia, exploring Burma, Korea, Java, China and India. During this time he delivered magnificently created images back to newspapers, periodical and magazines, and in 1910 released his book In Lotus-land Japan.
In 1911 Ponting joined Scott's British Terra Nova Expedition, which set out to collect scientific data about the Antarctic continent, with its main goal to reach the South Pole. Ponting was the first professional photographer on an Antarctic expedition and went on to set other precedents in Antarctica. He took some of the first still colour photographs in Antarctica using autochrome plates, and was one of the first men to use a cinematograph to capture short video sequences on the ice.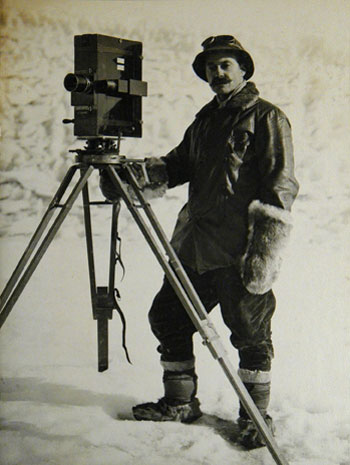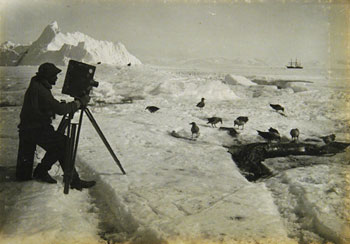 Coining the term to 'pont', meaning 'to pose until nearly frozen, in all sorts of uncomfortable positions', Ponting thought it imperative to get the picture just right. On the expedition he could often be found rigging up a device to allow himself to suspend from the ship, sometimes creating risky situations for himself and other crewmates.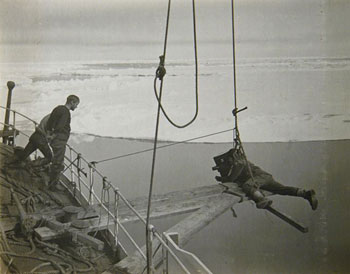 During his fourteen months at Cape Evans he documented the Antarctic landscape, wildlife and expedition life, and often kept the men entertained by showing lantern slides of his travels through Asia.
Judged too old at the age of forty-two to sustain another gruelling year on the ice, Ponting, along with eight other men, was sent home after the first year of the expedition. Back in England he was devastated to learn of the deaths of Scott and the Polar Party. He spent the remainder of his life lecturing on Antarctica and the expedition to ensure that the splendour of Antarctica and the heroism of Scott and his men would not be forgotten. His book The Great White South was published in 1921, and in 1933 his moving footage in full sound version Ninety Degrees South: With Scott to The Antarctic was released.
Herbert Ponting brought an artistic eye to this cold and harsh continent, creating images that would greatly influence another photographer, Frank Hurley of Shackleton's Endurance Expedition, who we will meet in my next blog.
The Seals at Scott Base
Therese, Thursday, March 20th, 2008
When we arrived here on February 8th we were greeted by lots of big seals lounging around very close to the edge of the ice. What a delight to see them so closely – my first experience of Antarctic wildlife. And they hung around until just a few days ago. I loved watching them while sitting in the dining room and from the shore when I went down to see if I could catch them turning around or squiggling towards a break in the ice. They're all gone now and I miss them. Oh, but don't panic, they haven't gone from all Antarctica, just from outside the front windows at Scott Base.
Before coming to Antarctic my friend's friend, Robin (who has experienced the Antarctic), warned me to watch out for the seals – that they can fling themselves at you and attack if you stand too close to the shore. Well, the seals here can hardly lift their little heads over their big bellies in order to smile at you (they always seem to be smiling), let alone jump up and attack. They're called Weddell seals, and as seals go, they're pretty neat.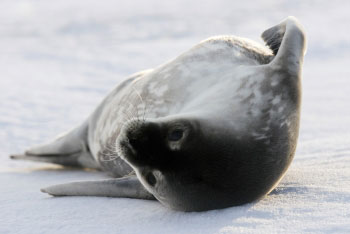 The Weddell seal is the southernmost mammal in the world. In this fast-ice zone fringing the continent the sea freezes in solid sheets that fasten onto the land and for most air-breathing, fish-eating animals such as the seal this causes a major problem for foraging and breathing. But the Weddell seals manage to survive here because they're great divers and can stay submerged for more than an hour. More importantly, they have the ability to maintain holes in the ice by using their unusually protruding incisors to scrape an opening for breathing. Pretty hard on the teeth – many of the older ones die by drowning when their teeth become so worn they're unable to keep a hole open. And you can tell that there aren't other mammals around to compete for food because they sure must have access to lot of it in order to look the way they do. They average about 400kg and grow to about 3m long!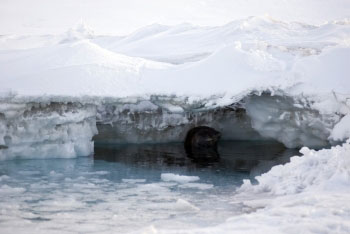 The reason there were so many in front of the base was because they were saving their teeth and taking advantage of the tidal cracks that form where the sea ice meets the permanent Ross Ice Shelf here at the tip of Ross Island. With the coming of winter, the cracks are freezing and they have moved on.
Oh, and Robin's warning about the attacking seals? Well, he was right after all. The Leopard seals that live along some parts of the coast of Antarctica have been known to jump out of the water and attack humans – perhaps mistaking the upright profile for their usual prey, the Emperor penguin. But we're too far south for the Leopard seals to hang out, so no worries Robin – I won't be falling prey to an attacking seal.
Home sweet home at Scott Base
Therese, Thursday, March 6th, 2008
Until Winfly at the end of August, Scott Base will be our home.
When I first heard I'd be working here in the Antarctic I was really excited about the conservation project but wondered about day-to-day life on the base. I'd seen pictures of other bases in extreme climates and they weren't the type of places that would make it into architectural magazines. They looked pretty stark and desolate.
Well, Scott Base from the outside is typical in many ways. Functional box-like structures are scattered in a small area, seemingly at random, but the New Zealanders have made their base more stylish than the others by painting everything bright green (I'm already house-proud!) and situating it in a great location. It lies nestled at the southernmost tip of Ross Island.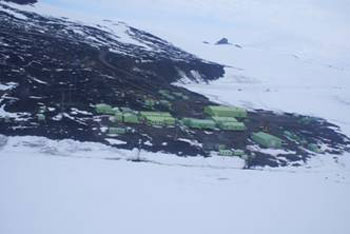 But of course what makes a home is not the exterior, it's what's inside, and Scott Base is turning out to be a pretty good place to live. There are 15 of us wintering over this year and my new 'family' are a fun, interesting and good natured bunch (stay tuned, we will be telling you more about some of them in future blogs). And the interior is as comfortable as it can be given the location and climate.
The bedrooms are small but cosy and you get one to yourself in winter! The dining room and lounge area have large windows looking out toward the continent with stunning views of seals lounging, glorious skies and pressure ridges where the Ross Sea Ice Shelf meets the sea ice. Soon we'll be watching amazing sunsets, then starlit skies and aurora australis from the same windows. Oh, and there's also a library, a gym, and even a small sauna.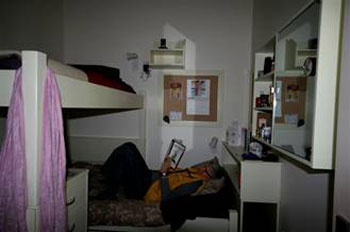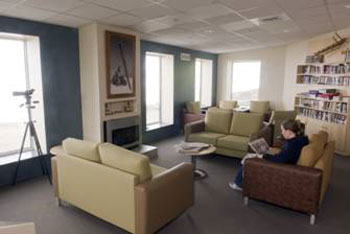 Most of our living spaces are in separate 'boxes' but they are linked by corridors so that we can comfortably move around during the day without having to go outside. Even our conservation lab is inside this year and as a long-time commuter, I love being able to walk to work!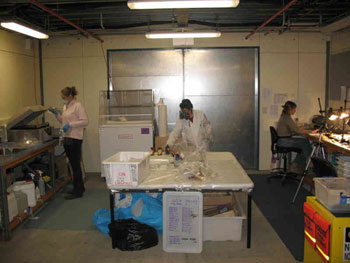 So… a good bed to sleep in, wonderful food (thanks to Chef Dan), great company, and a place to put my feet up at the end of the work day, where I can daydream while watching seals and beautiful vistas. I'm having no problem hunkering down for the winter in my new home away from home.
Huts and helicopters
Carla, Monday, March 3rd, 2008
Last week we were taken by helicopter to Cape Royds and Cape Evans to visit the huts of Sir Earnest Shackelton and Captain Robert Scott. We went by helicopter because the sea ice had broken out and was no longer safe for ground travel. It was our first time in a helicopter so it was very exciting!
We had to do a helicopter safety briefing beforehand, which included rules like, 'always approach the helicopter from the front', and 'don't go near the rear propeller', which rotates too fast to see – yikes!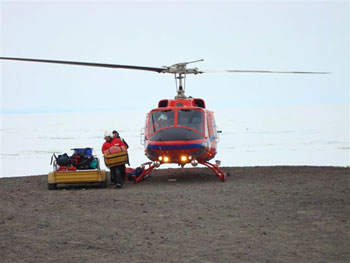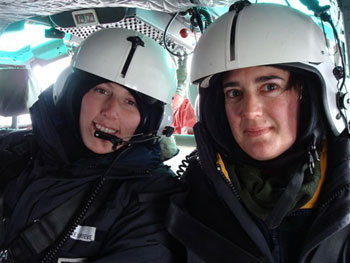 Unlike the summer conservators (John and Megan), we are carrying out conservation work at Scott Base, far away from the spirit of the huts.
The visits to Cape Evans and Cape Royds were our opportunity to put things into context and to see some treated artefacts back in their homes. John and Megan accompanied us on the trip. They were able to explain previous artefact treatments and fill us in on some of the amazing history surrounding these sites. The amount of knowledge they have gained is unbelievable.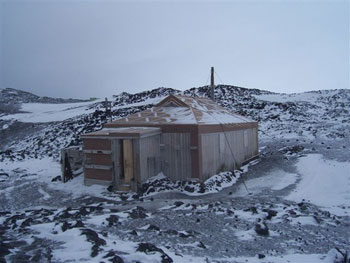 After seeing so many pictures of the huts it was very cool to get our first view from the air. Upon arrival, we were greeted by a small family of Adele Penguins who did not much seem to mind as we stood back to take their picture.
Shackleton's hut, nestled among small hills not far from the sea, is reminiscent of a cosy cottage getaway. It was here that the conservators and conservation carpenters carried out most of their work last season. Their tasks included treating the artefacts and stabilising the structure.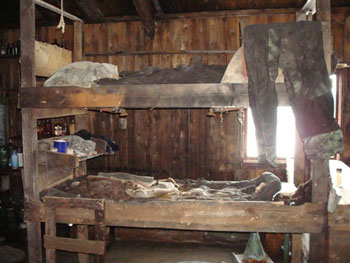 For me, Scott's hut was the most fascinating. There are an overwhelming number of artefacts here, only a small proportion of which have been conserved to date. Wherever your eyes land there is a new treat to be seen. This is artefact eye-candy at its best.
The small beds still appear as if a warm body has just risen, and there is a sombre and mysterious atmosphere about this place. This feeling stayed with me for our whole visit and has remained with me since. Many people claim to be affected this way when entering Scott's hut.
Is it because Scott, Wilson, Oates, Evans and Bowers died on their return journey from the South Pole? Or is it simply the power of material culture, the tendency for objects to transcend time and ooze the spirit of their owner and use? Perhaps it's a little of both. Either way, I feel like the luckiest person on earth, and this is a day I will never forget.
We shed a frozen tear
John, Monday, February 18th, 2008
Well it's good bye from us, from myself and Megan and the rest of the summer team of conservators. We are off home now.
The new team of conservators has arrived all bright-eyed and bushy-tailed and will be taking over from us. I will leave them to introduce themselves in their first blog.
We have handed over the conservation labs and ceremonially passed on the scalpel. We took a trip out to Royds and Evans yesterday to show the new conservators the huts and to enable them to get a feel of the place. The penguins and seals turned out in force to look cute and say goodbye to us.
Our work in the field was very successful. It was a tough 12 weeks, with some hard work and even harder weather. Camping in freezing snow is a great experience but nice when it is over.
We achieved a lot, conserving a great number of artefacts, shifting tons of snow and ensuring the survival of the huts for the future. The carpenters have prevented the snow from getting in and causing further damage to the structure. They have also stopped the huts from blowing away.
Our final impressions are that Antarctica is the most amazing place on earth. You must all make the effort to come down here. The huts are a unique part of world heritage, existing in a black and white wilderness. The wildlife is stunning and the weather is a challenge when it comes to working and staying alive.
We have learnt a lot about conservation and about stripping our knowledge down to the essential minimum. We know we can do it. We can survive all that is thrown at us and we want to come back. We strove, sought and did not yield. I reckon Megan and I are the toughest conservators in the world.
Our contribution has been positive but it should not be visible. There was minimal intervention. The huts show the legacy of the explorers, not us. Like Scott, Shackleton and the ghosts of all his brave men, we are now just fading away.
In partnership with
Blog search