Wallace's views on the book Vestiges of the Natural History of Creation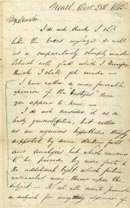 Catalogue number: WP1/3/17
Letter from Wallace to Henry Walter Bates sharing his views on the book Vestiges of the Natural History of Creation, dated December 1845.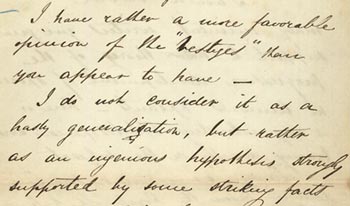 Image showing an extract from this item
Wallace discusses his views on Vestiges of the Natural History of Creation with his entomologist friend Henry Walter Bates. This book, published anonymously in 1844, was seen as radical and controversial and became a bestseller.
The core message was that all currently existing forms in nature developed from ancestral forms - an early idea of evolution. Wallace was more impressed with the book than Bates. 'I do not consider it as a hasty generalisation, but rather as an ingenious hypothesis strongly supported by some striking facts and analogies...it at all events furnishes a subject for every observer of nature to turn his attention to.'
The book suggested that a creator set up the process of evolution rather than creating everything individually. This went against commonly held creationist views. Later in his life, Wallace went one step further to develop a theory for the mechanism of evolution by the process of natural selection. His ideas were published in a joint paper with Charles Darwin in 1858.
In the rest of the letter Wallace discusses Lawrence's 'Lectures on Man'. He theorises at length about whether different human races are varieties or species.

Search this collection
Toolbox
Wallace Letters Online
View high resolution scans and transcripts of Alfred Russel Wallace's correspondence, including all surviving letters between him and Charles Darwin.