You are here:
Wallace donates his Amazonian fish drawings to the British Museum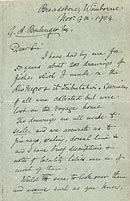 Catalogue number: MSSWALL6
Letter from Wallace to George Albert Boulenger, reptile curator at the British Museum, donating fish drawings from the Amazon, dated November 1904.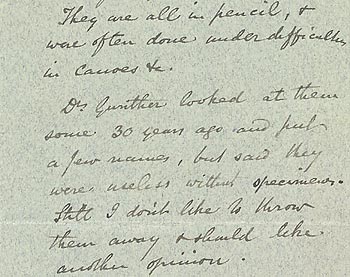 Image showing an extract from this item
This is a charming letter in which Wallace asks Boulenger, the fish and reptile curator at the British Museum (what is now the Natural History Museum), whether he has a use for about 200 fish drawings that Wallace made on the Rio Negro and its tributaries. Wallace suggests that a catalogue could be made, or perhaps they could be photographed. He finishes the letter remarking that 'Dr Gunther looked at them some 30 years ago and put a few names, but said they were meaningless without specimens. Still I don't like to throw them away and should like another opinion.'
Thankfully, Wallace did not need to throw them away - they were accepted by the museum. These were the drawings Wallace made on his first expedition to the Amazon region of South America (1848-1852). Wallace originally collected specimens to complement the drawings but they were lost along with thousands of other specimens and valuable notebooks when Wallace's ship home caught fire and sank off the coast of Brazil. Apart from some drawings of palms, and a few coins and shirts, the fish drawings were all Wallace managed to salvage.
Search this collection
Toolbox
Wallace Letters Online
View high resolution scans and transcripts of Alfred Russel Wallace's correspondence, including all surviving letters between him and Charles Darwin.