You are here:
Flowers at The Dell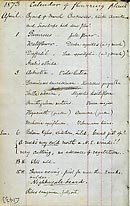 Catalogue number: WP3/3
Address and notebook with a calendar of flowering plants at The Dell, addresses and other lists, dated April 1873.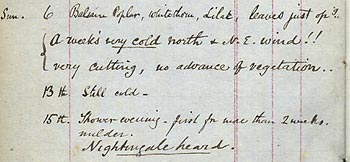 Image showing an extract from this item
These pages are from Wallace's address and notebook, used from 1873 to 1902. Twelve pages contain gardening notes. Those shown specifically are from Wallace's house, The Dell at Grays in Essex, entitled '1873 Calendar of flowering plants at the Dell'. Gardening was Wallace's hobby and passion, which he shared with his wife Annie and daughter Violet.
In this notebook Wallace has recorded which plants were flowering and weather details for particular days. For example, he notes that by the end of March the crocuses, winter aconite and snowdrops had all finished flowering, and on 1 April the primroses were in full flower. On 15 April Wallace noted that he heard a nightingale singing. Such attention to detail was prevalent in Wallace's work and hobbies. The drive to record natural events in his garden with accuracy is indicative of his analytical mind and a great love for nature.
Other items included are names and addresses in England and America, and lists of people to whom particular publications were sent.
Search this collection
Toolbox
Wallace Letters Online
View high resolution scans and transcripts of Alfred Russel Wallace's correspondence, including all surviving letters between him and Charles Darwin.