Spinosaurus
Spinosaurus
Pronunciation:

SPINE-oh-SORE-us

Name meaning:

'thorn lizard'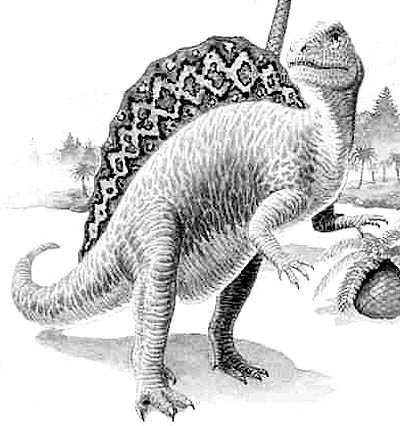 Type of dinosaur:

Length:

18.0m

Weight:

4000kg
Diet:

carnivorous

Teeth:

flat and blade-like

Food:

fish and maybe other dinosaurs

How it moved:

on 2 legs

When it lived:

Late Cretaceous, 95-70 million years ago

Found in:
Spinosaurus is only known from fragmentary remains. Size estimates range up to 18m, which would make it the longest meat eater, although more slender than T. rex or Giganotosaurus.
© Andrey Atuchin
© BBC
Taxonomic details
Taxonomy:

Dinosauria, Saurischia, Theropoda, Neotheropoda, Tetanurae, Spinosauroidea, Spinosauridae, Spinosaurinae

Named by:

Stromer (1915)

Type species:

aegyptiacus
Find out the many ways you can join Dippy the Museum's famous Diplodocus cast on his natural history adventure.