Aardonyx
Aardonyx
Pronunciation:

ar-don-ix

Name meaning:

'Earth claw'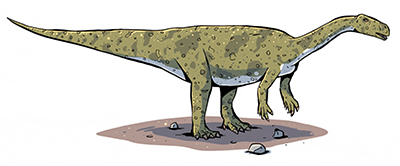 Type of dinosaur:

Length:

8.0m
Diet:

herbivorous

When it lived:

Early Jurassic, 199-189 million years ago

Found in:
Aardonyx is known from 2 immature individuals. Adults would have been much larger, probably over 10m.
Aardonyx would have been largely bipedal (walking on 2 legs) but also capable of walking on all 4 legs. This and its way of feeding are transitional features between those of basal sauropodomorphs and the more derived sauropods (large dinosaurs that walked on all fours) that came later.
Taxonomic details
Taxonomy:

Dinosauria, Saurischia, Sauropodomorpha, Prosauropoda, Anchisauria

Named by:

Yates, Bonnan, Neveling, Chinsamy and Blackbeard 2010 (2009)

Type species:

celestae
Discover the colossal Patagotitan mayorum at Titanosaur: Life as the Biggest Dinosaur, open now.