Gobisaurus
Gobisaurus
Pronunciation:

goh-bee-sore-us

Name meaning:

'Gobi lizard'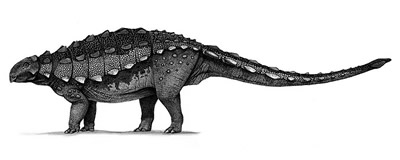 © Andrey Atuchin
Type of dinosaur:

Length:

5.0m
Diet:

herbivorous

When it lived:

Early Cretaceous, 121-99 million years ago

Found in:
Gobisaurus is known from a skull and postcranium. The size of the skull suggests that the dinosaur was up to 5m long.
Taxonomic details
Taxonomy:

Dinosauria, Ornithischia, Genasauria, Thyreophora, Ankylosauromorpha, Ankylosauria, Ankylosauridae

Named by:

Vickaryous, Russell, Currie and Zhao (2001)

Type species:

domoculus
Find out the many ways you can join Dippy the Museum's famous Diplodocus cast on his natural history adventure.