Edmontosaurus
Edmontosaurus
Pronunciation:

ed-MON-toe-sore-us

Name meaning:

'Edmonton lizard'
Dinosaur description:

3400kg, 13.0m-long
Diet:

herbivorous

Country:

Period:

Late Cretaceous, 76-65 million years ago

Teeth:

horny beak and 1,000 grinding cheek teeth

How it moved:

on 2 or 4 legs

Food:

tough pine needles, cones and twigs
Hard conifer needles, twigs and seeeds have been found in Edmontosaurus stomachs. Mummified specimens have some preserved skin, so we know its texture (but not the colour).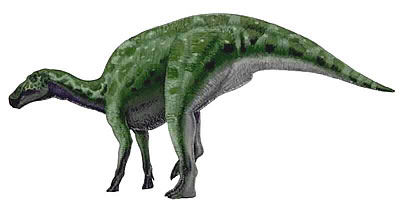 Copyright: Andrey Atuchin
Taxonomic details
Taxonomy:

Dinosauria, Ornithischia, Genasauria, Cerapoda, Ornithopoda, Euornithopoda, Iguanadontia, Euiguanadontia, Dryomorpha, Ankylopollexia, Iguanodontoidea, Hadrosauridae, Euhadrosauria, Hadrosaurinae

Named by:

Lambe (1917)

Type species:

regalis
Find out the many ways you can join Dippy the Museum's famous Diplodocus cast on his natural history adventure.