You are here:
Wallace's modesty at receiving a medal
Catalogue number: WP1/2/25
Letter from Wallace to his daughter Violet with his reaction to being offered another medal, dated April 1892.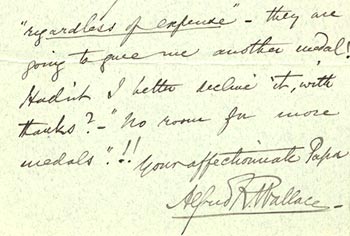 Image showing an extract from this item
Wallace writes 'a dreadful thing has happened!...they are going to give me another medal!' He treats the matter with his usual humour suggesting he has 'no room for any more medals' as he has only just paid to have a medal case made.
Wallace was not fond of public accolades. 'Hadn't I better decline it with thanks?' he jokes. The two medals that he received in 1892 were the Gold Medal from the Linnean Society of London and the Founder's Medal from the Royal Geographical Society. Wallace received ten major awards in total.
Search this collection
Toolbox
Wallace Letters Online
View high resolution scans and transcripts of Alfred Russel Wallace's correspondence, including all surviving letters between him and Charles Darwin.