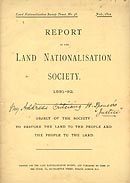 Catalogue number: WP5/1/2
Report of the Land Nationalisation Society containing Wallace's Presidential address, dated July 1892.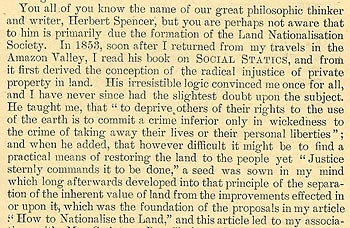 Image showing an extract from this item
This booklet is entitled Land Nationalisation Society Tract, No. 48. July, 1892. Printed on the cover are the aims of the society: 'To restore the land to the people and the people to the land'.
This booklet was Wallace's own copy and, handwritten on the front cover, he wrote 'My address Criticising H. Spencer's "Justice"'. A number of pages are torn out, leaving pages 15-37, which contain the 'Presidential Address', delivered by Wallace at the Annual Meeting held on 23 June 1892, at the National Liberal Club.
Wallace used the meeting to review Herbert Spencer's new book called Justice. Wallace explained that his first encounter with Spencer's work was reading the book Social Statics in 1853, upon his return from the Amazon. Wallace says that through this book he learnt, in Spencer's words, that 'to deprive others of their rights to the use of the earth is to commit a crime inferior only in wickedness to the crime of taking away their lives or their personal liberties'. This was the catalyst for Wallace to write the article How to Nationalise the Land. This in turn led to friendships and associations that formed the Land Nationalisation Society.
He was critical of Spencer's book Justice, as the author no longer held the values that once inspired Wallace. Wallace dissected the book before finally arguing that the society was still correct in its beliefs, and they should continue to proudly quote from Spencer's Social Statics.