Ankylosaurus
Ankylosaurus
Pronunciation:

an-KIE-loh-sore-us

Name meaning:

'stiff lizard'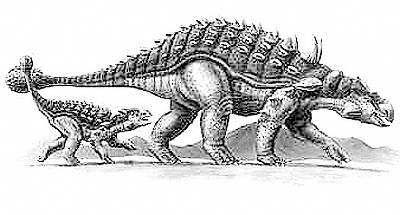 Dinosaur description:

4000kg, 7.0m-long
Diet:

herbivorous

Country:

Period:

Late Cretaceous, 74-67 million years ago

Teeth:

grinding teeth with a horny beak at the front

How it moved:

on 4 legs

Food:

plant material
One of the largest armoured dinosaurus, Ankylosaurus had a wide, heavily armoured skull and a large tail club. It had a large gut space for digesting plant material.
Taxonomic details
Taxonomy:

Dinosauria, Ornithischia, Genasauria, Thyreophora, Ankylosauromorpha, Ankylosauria, Ankylosauridae

Named by:

Brown (1908)

Type species:

magniventris
Find out the many ways you can join Dippy the Museum's famous Diplodocus cast on his natural history adventure.