Plateosaurus
Plateosaurus
Pronunciation:

plat-ee-oh-sore-us

Name meaning:

'flat lizard'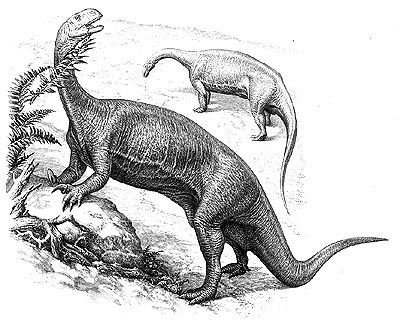 Dinosaur description:

4000kg, 7.0m-long
Diet:

herbivorous

Country:

Period:

Late Triassic, 210 million years ago

Teeth:

grinding teeth with a horny beak at the front

How it moved:

on 2 or 4 legs

Food:

plant material
Plateosaurus had 5-fingered hands and a large thumb claw, which may have been for defence or for collecting food. Finds in Germany suggest that this dinosaur may have lived in herds.
Taxonomic details
Taxonomy:

Dinosauria, Saurischia, Sauropodomorpha, Prosauropoda, Plateosauria, Plateosauridae

Named by:

Meyer (1837)

Type species:

engelhardti
Find out the many ways you can join Dippy the Museum's famous Diplodocus cast on his natural history adventure.