Iguanodon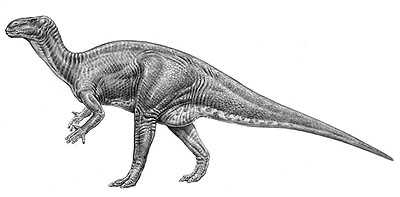 Notes
You can see this dinosaur in the Museum.
Information
One of the most successful dinosaurs, species of Iguanodon have been found in many parts of the world.
Iguanodon could probably walk on all fours or on 2 legs. It had a large thumb spike, probably to fend off predators. Muscle attachment areas inside its head suggest that it may have had a long tongue.
Investigate

Explore dinosaurs with the same body shape as Iguanodon in the Dino Directory

Extra

There may be more details in Wikipedia
Fact file
Pronounced

ig-WHA-noh-don

Meaning of name

iguana tooth

Length

10m

Weight

4000kg - 5000kg

Teeth

chewing cheek teeth and horny beak

Diet

herbivorous

Food

plant material

How it moved

on 2 or 4 legs

When it lived

Early Cretaceous
(140 - 110 million years ago)

Found in

Belgium, England, Germany, Spain, United Kingdom, USA
Taxonomic details
Taxonomy

Dinosauria, Ornithischia, Genasauria, Cerapoda, Ornithopoda, Euornithopoda, Iguanadontia, Euiguanadontia, Dryomorpha, Ankylopollexia, Iguanodontoidea, Iguanodon

Named by

Boulenger and van Beneden (1881)

Type species

bernissartensis