Dracorex
Dracorex
Pronunciation:

dray-ko-rex

Name meaning:

'Dragon king'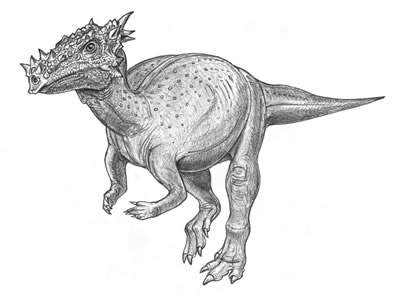 © Berislav Krzic
Dinosaur description:

4.0m-long
Diet:

herbivorous

Country:

Period:

Late Cretaceous, 66 million years ago
Dracorex is a very late pachycephalosaur. Only the skull has been found. It has lost the domed head characteristic of this group and instead has spikes and frills reminiscent of a mythical dragon.
The species name, hogwartsia is derived from the fictional Hogwarts School of JK Rowling's 'Harry Potter' books.
Taxonomic details
Taxonomy:

Dinosauria, Ornithischia, Genasauria, Cerapoda, Marginocephalia, Pachycephalosauria, Goyocephala, Homalocephaloidea, Pachycephalosauridae

Named by:

Bakker, Sullivan, Porter, Larson and Saulsbury (2006)

Type species:

hogwartsia
Find out the many ways you can join Dippy the Museum's famous Diplodocus cast on his natural history adventure.