Archaeopteryx
Archaeopteryx
Pronunciation:

ark-ee-OPT-er-ix

Name meaning:

'ancient wing'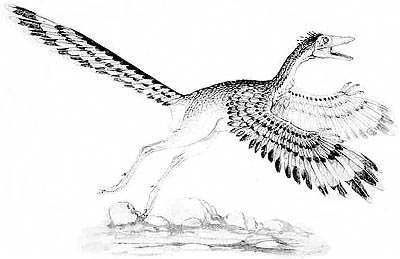 Dinosaur description:

0.5m-long
Diet:

carnivorous

Country:

Period:

Late Jurassic, 147 million years ago

Teeth:

many small conical (cone-like) teeth in the upper jaw

How it moved:

on 2 legs and by flying

Food:

may have eaten small reptiles, mammals or insects
Archaeopteryx lived at the end of the Jurassic period. By the Late Cretaceous, 70 million years later, 1 birds had evolved.
Taxonomic details
Taxonomy:

Dinosauria, Saurischia, Theropoda, Neotheropoda, Tetanurae, Avetheropoda, Coelurosauria, Tyrannoraptora, Maniraptoriformes, Maniraptora, Paraves, Eumaniraptoria, Avialae, Archaeopterygidae

Named by:

Mayer (1861)

Type species:

lithographica
Find out the many ways you can join Dippy the Museum's famous Diplodocus cast on his natural history adventure.