Archaeopteryx
Archaeopteryx
Pronunciation:

ark-ee-OPT-er-ix

Name meaning:

'ancient wing'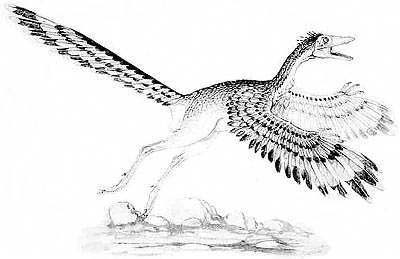 Type of dinosaur:

Length:

0.5m
Diet:

carnivorous

Teeth:

many small conical (cone-like) teeth in the upper jaw

Food:

may have eaten small reptiles, mammals or insects

How it moved:

on 2 legs and by flying

When it lived:

Late Jurassic, 147 million years ago

Found in:
Archaeopteryx lived at the end of the Jurassic period. By the Late Cretaceous, 70 million years later, true birds had evolved.
Taxonomic details
Taxonomy:

Dinosauria, Saurischia, Theropoda, Neotheropoda, Tetanurae, Avetheropoda, Coelurosauria, Tyrannoraptora, Maniraptoriformes, Maniraptora, Paraves, Eumaniraptoria, Avialae, Archaeopterygidae

Named by:

Mayer (1861)

Type species:

lithographica
The nation's favourite dinosaur is back for a short visit and sharing memories of nature from across the UK.
Free installation. Now open.