Technique spotlight: camera trap photography
31 May 2018 posted by: Zoe - WPY Comms Officer
Camera trap photography may appear more straightforward than other methods, but it requires a considerable degree of patience and technique, not to mention extensive field skills.
We spoke to Charlie Hamilton James, Richard Peters, Connor Stefanison and Steve Winter - all acclaimed photographers and enthusiastic camera-trappers - about the pros and cons of camera trapping and why images taken using this method deserve recognition in the competition.
A camera trap is a remotely activated camera that is either equipped with a motion sensor or an infrared sensor, or uses a light beam as a trigger. There has been an increase in images taken by a camera trap over the years, and several popular and iconic WPY photographs have been captured this way.
National Geographic photographer Charlie Hamilton James has been successful in seven WPY competitions. His image, 'Wild West stand-off', earned him a place as a 2016 Finalist in the Mammals category and was taken using a camera trap.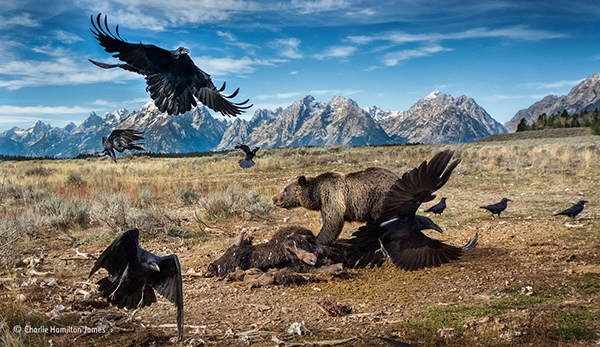 Wild West stand-off, by Charlie Hamilton James. Finalist 2016, Mammals.
We asked Charlie why he chooses to use camera trapping in his work.
'I use camera traps to get images of wildlife I would otherwise not be able to get,' Charlie says.
'Camera traps are not intrusive and allow me to get close up shots of animals with wide-angle lenses - by doing that I can bring the landscape into the picture and tell a more complete story from a single image.'
Connor Stefanison has won both the Eric Hosking Portfolio Award in 2013 and the Rising Star Portfolio Award in 2015. He focuses on Canadian wildlife and uses his camera traps to 'photograph subjects that are shy towards humans, or rarely seen'. He says, 'It can also be challenging to photograph natural behaviour when we're in front of our wildlife subjects. Camera traps eliminate the human presence, and increase the chance of photographing natural behaviour.'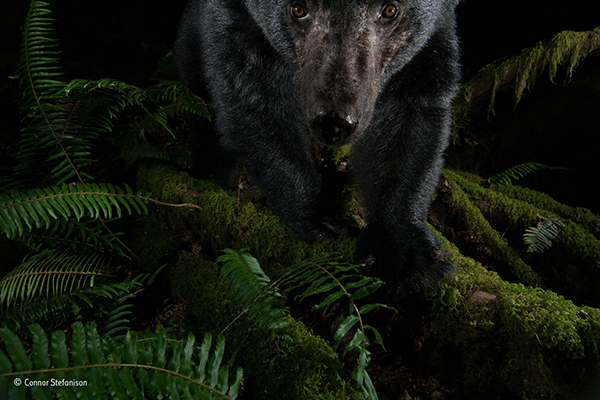 A black bear looks in, by Connor Stefanison. Winner 2015, The Rising Star Portfolio Award.
Richard Peters, winner of the 2015 Urban category, agrees with Charlie and Connor that camera trapping allows images to be taken which may otherwise be impossible. His image, Shadow walker, depicts the shadow of a fox on a garden wall and was taken using a camera trap.
Whilst at face value it may appear easier than other methods, there is actually a considerable degree of patience, technique and field skills required to capture strong images with a camera trap. Richard described to us the difficulties he had in learning this new technique and capturing his winning image.
'I didn't really know how to approach the idea at first and had a few unsuccessful attempts. I was very new to camera trapping and hadn't quite figured out all the technical aspects.
'Over the following six months as I learned more, I tried to improve on my previous efforts. Eventually I got to the point where I was competent in the technical side.
'The final shot also needed a clear sky with no Moon, the fox to walk through at the correct distance, the fox to walk at the right speed and finally, the fox to be in a good pose!
'Needless to say, with so many pieces to the jigsaw, there were many failures. It was worth the frustrations though as the end result is an image that wouldn't have been possible had I sat at the camera.'
Shadow walker, by Richard Peters. Winner 2015, Urban.
Steve Winter, a photojournalist known for his stories on big cats, is a proud supporter of camera trapping. He was the overall winner of the competition in 2008 with his stunning image of a mysterious snow leopard, which was taken with a camera trap.
Steve claims that photographs taken by camera traps are a crucial part of his stories and generally make up 10-20 % of the images.
'When asked about the difficulty of using camera traps, Steve says, 'It really takes a lot of patience and we have to understand the behaviour of these animals. I need to know where they walk and so I need to know how to track them.
'When I'm putting these remote cameras up all I see is my assistant who is standing in for the cat or I see nothing. I call it zen and the art of camera trapping.
'You need to have an immense amount of patience and faith that all the work that you have done to prepare and figure out what trail to put the camera in will pay off and eventually your assistant will turn into a snow leopard for example.'
Once a camera trap is set there will be no opportunities for the photographer to frame the image reactively as behaviours and movements unfold. Due to this complete lack of flexibility, photographers using camera traps must carefully compose a scene, ensuring their chosen frame is in exactly the right location and position.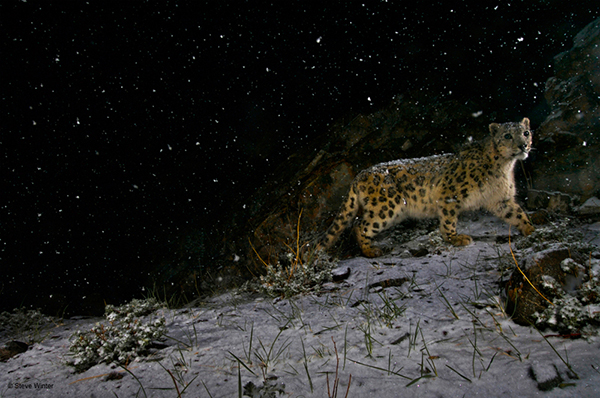 Snowstorm leopard, by Steve Winter. Grand title winner 2008, Wildlife Photographer of the Year.
Another image taken by Steve using a camera trap, Hollywood cougar, was successful in the 2014 competition. It required 15 months, from developing the concept to achieving the desired image - showing just how much planning and patience often goes into camera trapping.
Steve says, 'The Hollywood cougar was an idea that I had when I kept hearing about cougars around urban areas. I just thought, "Wouldn't it be cool to get a mountain lion with the Hollywood sign?"
'The cougar researchers all thought I was crazy. But once I got it, it was perfect. I did get it a month before and my lighting was horrendous but I went back to change it, which took a long time but luckily about 28 days later I got the shot.'
Connor Stefanison also spends a lot of time on his camera trap setup. 'When I set up my camera trap, I spend no less than an hour. It really is a lot of work. With the precision of the infrared sensors, we can be very exact with where we want the animal to trigger the camera.'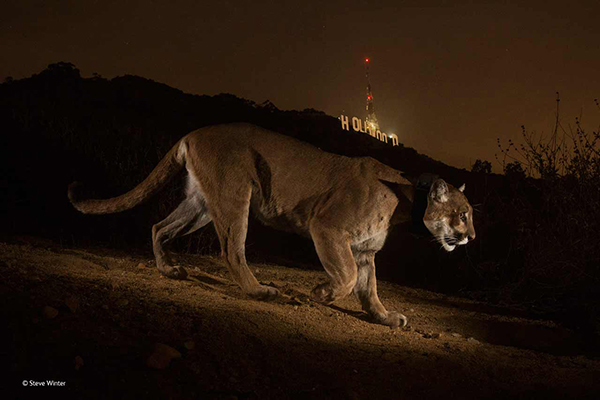 Hollywood cougar, by Steve Winter, Finalist 2014, World In Our Hands.
Charlie Hamilton James also talked to us about the challenges of camera trapping and gave his response to those who call the technique 'cheating'.
'People who say camera traps are cheating are in my opinion wrong. I'm not interested in being present to take the image I am interested in the image. My job as a photographer is the overall production of the image and that takes into account just about every aspect of photography except the simple act of pressing the button, which is superficial.
'I find camera trapping to be a very pure form of wildlife photography. Successful camera trapping relies on a decent knowledge of field craft, a decent level of technical know-how and thirdly an understanding of photography. It's just a different way of working and that doesn't mean it's wrong or of less value, it's just different and creates different results.
'I challenge anyone who thinks it is cheating to go try it, firstly they'll soon realise how incredibly difficult it is to get a decent photograph - and secondly, they'll become addicted!'
Thank you to Charlie Hamilton James, Connor Stefanison, Richard Peters and Steve Winter for their contributions to this blog.
•     Browse images from our past winners in our online gallery.
•     See the 2017 winning images at the Natural History Museum, London, until 1 July.
•     Wildlife Photographer of the Year opens for entries on 22 October 2018. Keep an eye on our Facebook page for updates.