The story of Pikin and Appolinaire: a guest blog from Jo-Anne McArthur
18 January 2018 posted by: Zoe - WPY Comms Officer
Photojournalist Jo-Anne McArthur is inspired and motivated by the power of photography. Her images are a call to action, putting a spotlight on the lives of confined, threatened and vulnerable animals. She also highlights the complex and fascinating relationship between animals and humans, which is particularly true of her image shortlisted for the People's Choice Award, Pikin and Appolinaire. Depicting a unique moment between a man and a lowland gorilla, the image captures conservation in action.
As part of our guest blog series, Jo-Anne recounts the experiences that led her to enter the image in the competition.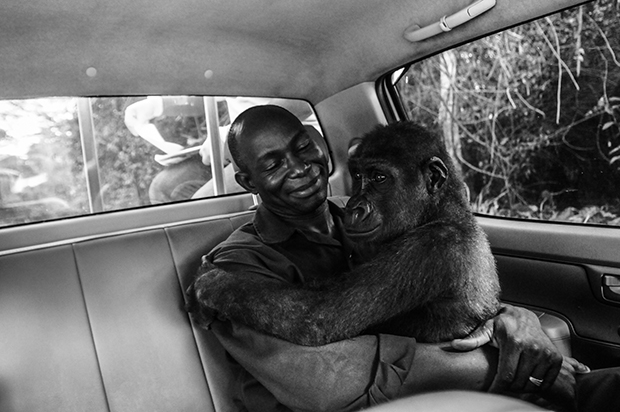 Pikin and Appolinaire by Jo-Anne McArthur. Shortlisted for the 2017 People's Choice Award, Wildlife Photographer of the Year
In Cameroon and other African countries, the poaching of primates for the bushmeat trade has reached epidemic proportions. Bushmeat refers to the practice of hunting and killing wild animals to sell as meat in both the country of their origin and for export. Because the hunting is indiscriminate and infants don't have much flesh, many baby apes are orphaned and left to die in the forest, or brought back to the cities to be sold as pets after their mothers are killed.
Pikin, who was six when I took this photo, is among the very lucky few who are rescued from the bushmeat and pet trades and brought to safety, to sanctuaries such as Ape Action Africa. An unfortunate side effect of these rescues is that the babies must be reared by humans, meaning they become habituated and cannot be reintroduced into the wild. To reintroduce them would be to return them to the very danger from which they were rescued. For now, primate sanctuaries such as Ape Action Africa are the best that humans can offer them.
© Jo-Anne McArthur
One of those humans is Appolinaire Ndohoudou. Like Pikin, he'd been forced from his home. He fled Chad as a young man because of a bloody civil war. The photos in this blog post show Appolinaire's loving relationship with the young gorillas he helped rear, some of them from infancy.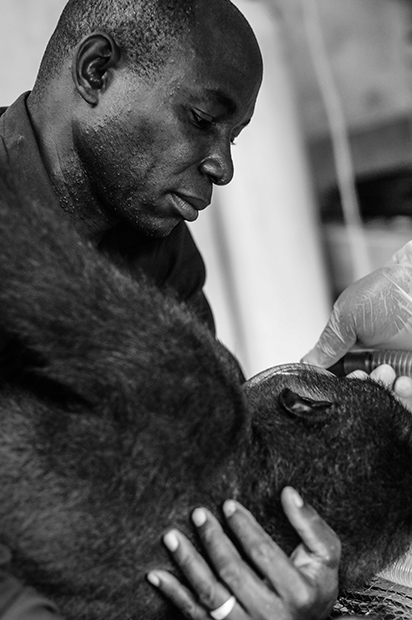 © Jo-Anne McArthur
I'm familiar with some of Pikin and Appolinaire's story, and I shared that story in my book We Animals. For the sake of this blog, I'd hoped Appolinaire would have a chance to recount it himself, and talk about this photograph. To my great delight, Ape Action Africa's Executive Director Rachel Hogan made time to catch up with Appolinaire in the sanctuary's Mefou forest over a cup of tea, to ask him about what he might like to say about the photograph of him holding Pikin in the back of the truck.
When I read Appolinaire's musings, I'm glad I had tissues nearby to dry my eyes.
In his own words:
I was a student in Chad, and then because of the war I had to run away to Cameroon. I was around 24 or 25 years old and wanted to carry on to study in Cameroon. When I got there I saw that it wasn't going to be possible as it was expensive and work was really hard to find. So to get money to feed myself I got a job as a security guard at a primate sanctuary.
That was where I met Mme Rachel Hogan who was looking after gorillas for Ape Action Africa. I would see her and Nkan Daniel [one of the rescued juvenile gorillas] every day when I went to work. Nkan Daniel and Director changed my life. Mme Rachel asked me to come and help her look after the gorillas as she saw I was kind. We worked together for many years and Director showed me how to be with gorillas. They are my children.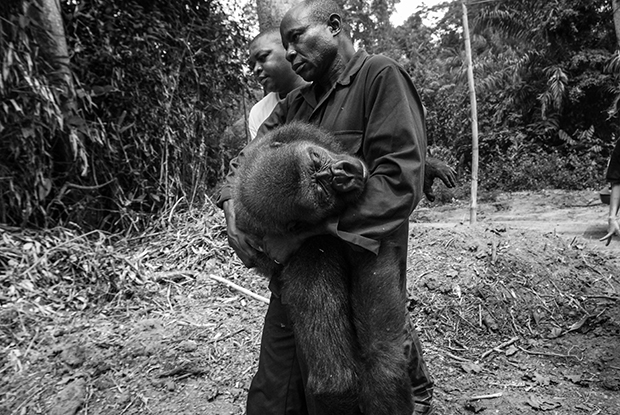 © Jo-Anne McArthur
When Pikin arrived I saw that she was very clever. She really loved me and I loved her. She didn't like the other gorillas coming near me as she was jealous and she would shout if they tried to come and give me hugs. I was her father, I belonged to her. Pikin loved me and respected me like her father; when I say no she would accept but then she was clever as she would wait until she thought I had forgotten and then she would do it! She was very funny.
When Pikin died I was very sad for a long time and I didn't want to think about Pikin as it made me sad. Now I know Pikin never left me, as she is always with me every day in my head and in my heart. And I know she misses me like I miss her.
Sometime after my shortlisted photograph was taken, Pikin sustained several irreversible injuries while playing with her gorilla friends in the forest. Her fall was a terrible accident, and though the sanctuary did everything in their power to mend her broken body, Pikin could not be saved.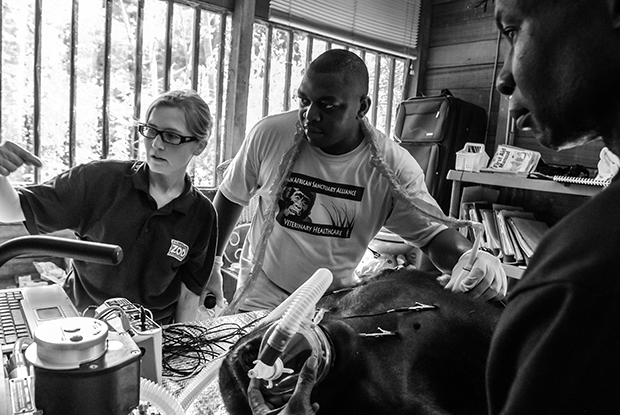 © Jo-Anne McArthur
In my People's Choice photograph, Pikin had been sedated for a veterinary health check and was then being moved, along with her other young gorilla companions, to a new and larger enclosure at the sanctuary. I sat in the front passenger seat, excitedly taking photos of this incredibly unique situation, when to my horror, Pikin awoke from the sedation. I think it goes without saying that one should never get in a car with an alert gorilla.
Though at first Pikin seemed a bit startled by her situation - a first experience awake in a moving vehicle, the noise and the bumpy road - she was drowsy and felt safe in the arms of her friend and caretaker, Appolinaire. I continued to nervously snap pictures, and she fell back asleep.
I had the chance to take this photograph of the young gorillas being sedated, health-checked, and moved to their larger 200-acre forest enclosure at Ape Action Africa because I had chosen to do a six-week volunteer placement at this wonderful sanctuary. I often combine my self-assigned photo projects with volunteer work, and, over 15 years, this has resulted in an 8,000+ photo archive of professional images that is free to use for anyone helping animals. This unique and free searchable database of images, called the We Animals Archive, is all about our complex relationship with animals worldwide. These thousands of images are my way of giving back to the world, and my way of raising awareness about the plight of animals.
© Jo-Anne McArthur
If I can give any advice to people who want to take photographs, it's simply to be there. Make opportunities to be where you want to be with your camera. I built the archive by saying yes to pretty much everything I could, and by saving all of my money for the purpose of pursuing these shoots, and visiting incredible places worldwide. Once you're there, stay a while. Be patient. Say yes to opportunities, but seek them out as well.
One of my favourite things about the camera is that it often acts as an all-access pass into the lives of others. It's how I relate to the world and how I express myself about the world as I see it. Most importantly, now more than ever, the camera is a tool for creating awareness and change about our beautiful world in peril, and all its inhabitants.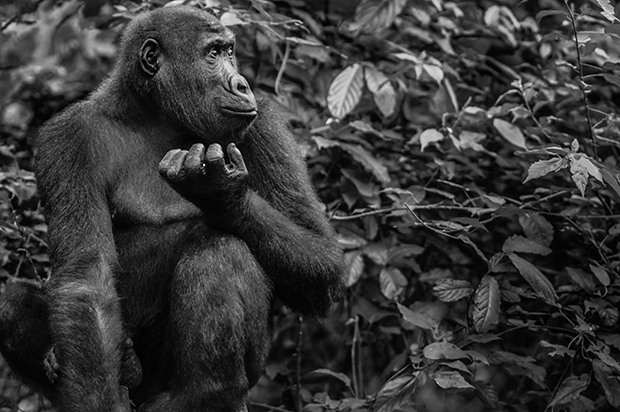 © Jo-Anne McArthur
•     Voting for the People's Choice Award is open. See the shortlist and vote for your favourite image before voting closes at 12.00pm GMT on 5 February.
•     The winning image will be revealed on 13 February, and will be showcased in the #WPY53 exhibition at the Natural History Museum in London until 28 May.
    ABOUT JOANNE MCARTHUR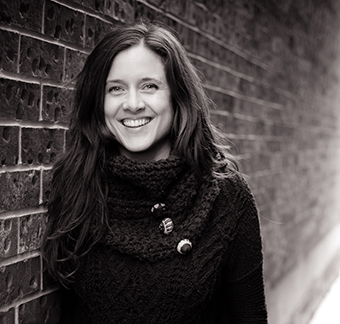 Jo-Anne McArthur is an award-winning photographer, author and educator based in Toronto, Canada. Through her long-term body of work, We Animals, she has been documenting our complex relationship with animals around the globe. Since 1998, her work has taken her to over fifty countries. Her photography and writing has been in publications such as National Geographic and National Geographic Traveller, The Washington Post, The Guardian, Lens Culture, the LA Times and Elle Canada.  She speaks regularly at schools, universities and conferences worldwide on the subjects of photography, the human-animal relationship, social change and empathy.