Young Wildlife Photographer of the Year winners: where are they now?
08 December 2017 posted by: Zoe - WPY Comms Officer
The Young Wildlife Photographer of the Year competition is a crucial companion to the adult competition and every year we see thousands of amazing images from budding wildlife photographers aged 17 and under. Winners of the young categories often continue to pursue their passion for wildlife photography and some go on to be successful competitors in the adult competition.
We caught up with some previous young winners to find out what they're up to now and chat about what photography means to them. With the 2018 competition open for entries, we also asked them what tips they have for all the fledgling nature photographers out there.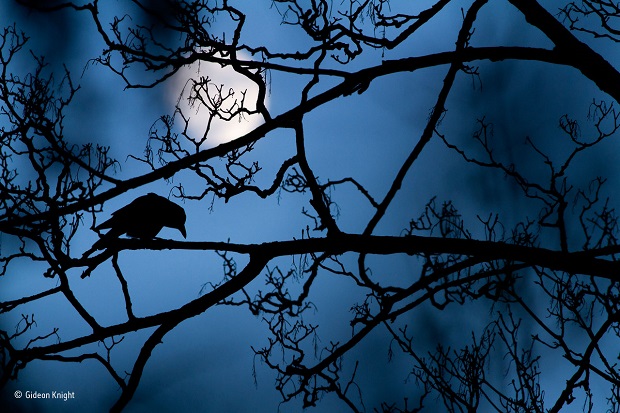 The moon and the crow by Gideon Knight, Winner 2016, Young Wildlife Photographer of the Year
Gideon Knight was 16 years old when he won Young Wildlife Photographer of the Year 2016 with his image 'The moon and the crow' which was taken just five minutes from his London home.  He believes young people need to reconnect with the natural world.
'In today's society, we are increasingly sedentary and isolated from nature. Through wildlife and nature photography, young people are granted not only the ability to show their creativity, but to also convey to the new generation that nature is still important.'
Gideon wants to use his photography 'to show people the wealth and beauty of nature that can be found close to home'. He believes that 'one reason people often disassociate with nature is that they imagine it being far away in some far flung exotic country, when really, it's right outside your door!' Gideon recently enjoyed seeing his images curated in an exhibition exclusively dedicated to his work, based in a venue near the London park where his winning WPY image was taken. 
Mateusz Piesiak, winner of the Young Wildlife Photographer of the Year 2011, agrees that wildlife photography encourages young people to experience nature. He feels that 'because wildlife is being pushed out by civilisation, it is amazing to have a hobby that requires you to go away from the hustle and bustle of the city and spend some time in nature'.
Mateusz was fifteen when he won the overall young competition with his image 'Pester power' which depicts American oystercatchers on a beach on Long Island, New York. When he was capturing his winning image he spent so long waiting for the perfect moment that he didn't notice the tide coming in until a big wave washed over him.
'I managed to hold my camera up high,' he says. 'I was cold and wet, with sand in my ears, but I had my shot.' Mateusz believes that moments like these teach children important skills such as patience and determination.
Pester power by Mateusz Piesiak, Winner 2011, Young Wildlife Photographer of the Year
When this patience and determination pays off with a winning WPY image it can have a huge effect on the motivation and confidence of our young photographers. We asked them how exactly winning an award affected them and their photography.
Anton Lilja was sixteen when he won the 15 to 17 Year Olds category in 2014 with his image of two mating frogs taken near his home in Västerbotten, Sweden. He tells us that for him, the competition was a great opportunity in two ways.
'First of all it motivated me to continue with my work and I started to feel that people appreciated it. Secondly the competition gave a solid ground to build a career on. The reason for that is all the publicity I received after the results and still today my award is a way to show people that I have a high quality portfolio.'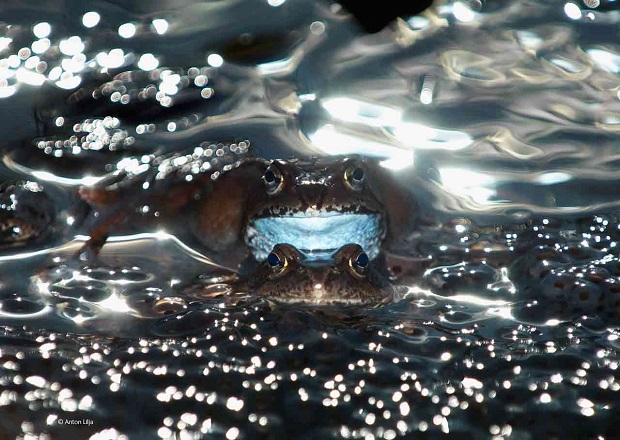 The long embrace by Anton Lilja, Winner 2014, 15 - 17 Years Old
The overall winner of this year's young competition, Daniël Nelson said 'it was an amazing feeling' when he found out he was a winner.
'I was very young when I first heard about the competition. From then on it has always been a source of inspiration for me. It was a dream come true to finally win the competition myself. I was at school when I heard and I jumped out of my seat in excitement.'
Daniël, now eighteen, won the 15-17 Years Old category with his image 'The good life', a compelling portrait of Caco, a young, nine-year-old gorilla. Daniël has also wanted to pursue a career in wildlife photography and he believes that winning the competition will aid him on this quest.
'Winning the award has helped me a lot, mostly through the amount of exposure I've got. People now recognise my name and my work, and a lot of magazines and broadcasters have asked to interview me. I am currently in touch with companies who are interested in sponsoring my trip and supporting me with gear. Ultimately I think the WPY Awards is a good opportunity for young photographers to create a name for themselves and get the necessary exposure. It sure helped me!'
The good life by Daniël Nelson, Winner 2017, Young Wildlife Photographer of the Year
Being a WPY finalist or a winner also means an invitation to the glittering awards ceremony held at the Natural History Museum, London.  This year's winner of the 11 - 14 Years Old category is American Ashleigh Scully who also attended the awards ceremony as a finalist in 2015.
'It has been really fun for me to have a chance to meet with other young wildlife photographers from around the world. In 2015, I had a chance to meet and spend time with a young photographer whose work I liked for a long time: Connor Stefanison. Since then, he has become a good friend and this summer I did one of his workshops. This year, I met other young photographers and also had an opportunity to talk to many adult photographers that I have a lot of respect for.'
'I cannot believe how kind everyone has been and how much advice I've received from so many people in the industry, including Brent Stirton, the 2017 grand title winner. He went out of his way to talk to me in 2015 and this year he remembered me and talked to me for a while about my goals. Everyone here is such an inspiration. I am lucky to call many of the awarded photographers my friends, and I have WPY to thank for that.'
Liz Bonnin presented Ashleigh Scully, Winner 2017, 11 - 14 Years Old, with her award for her image Stuck in.
All of the young photographers that we spoke to had words of encouragement and advice for those considering entering the competition in the future.
Ashleigh suggests that aspiring wildlife photographers 'think about submitting images that tell an important story, and don't be afraid to enter something a bit different.' She advises those entering the competition to 'try to challenge yourself and make images that are from different angles, or push your comfort zone. And don't think that you have to travel to exotic locations or that you need to photograph endangered species to have a chance at a winning image. Sometimes the best images are the ones that mean the most to you and may be the ones taken just down your street, or in your backyard.'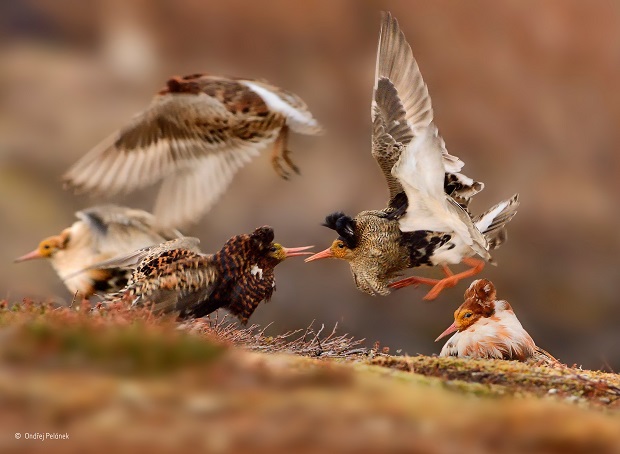 Ruffs on display by Ondrej Pelánek, Winner 2015, Young Wildlife Photographer of the Year
Young Wildlife Photographer of the Year 2015, Ondrej Pelánek, believes that spending 'as much time as you can in nature' is key to getting the best photographs.  He says 'the most important thing is to understand the natural processes' and photos will follow this understanding.
In general, all of the advice from these young photographers to those thinking about entering the competition can be summarised in Gideon Knight's words:
'I'd definitely tell them to go for it!'
Thank you to Gideon Knight, Mateusz Piesiak, Anton Lilja, Daniël Nelson, Ashleigh Scully and Ondrej Pelánek for their contributions to this blog.
Enter your images in the next Wildlife Photographer of the Year competition, #WPY54, which is open for entries until 11.30am GMT on Thursday 14 December. It's free to enter for any photographers aged 17 and under.
See images by 2017 winners Daniël and Ashleigh, plus 98 other stunning images of nature in the #WPY53 exhibition at the Natural History Museum, open until 28 May 2018.