WPY jury series: an interview with Angel Fitor
27 February 2018 posted by: Zoe - WPY Comms Officer
The final round of judging for the fifty-fourth Wildlife Photographer of the Year competition has kicked off at the Natural History Museum in London. This year's international jury is made up of seven esteemed individuals who bring a wealth of expertise and experience. The jury must consider thousands of entries in pursuit of the most powerful, original and creative images of the natural world.
Angel Fitor specialises in underwater photography. He has contributed as both photographer and natural history advisor to numerous broadcasting companies and scientific research teams. His work has been recognised by the most prestigious international nature photography awards, including WPY.
We asked Angel some questions about his passion for the underwater world and what he'll be looking for as a judge for the 2018 competition. We also asked him to choose his favourite images from recent WPY history.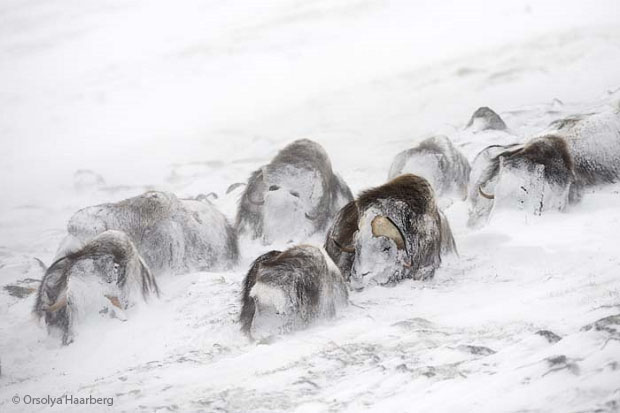 Angel's WPY favourites: Snowed in by Orsolya Haarberg, Norway/Hungary. Highly commended 2010, Animals in their Environment. 'This image represents the inseparable nature of living and non-living elements of Earth, which in my opinion is one of the most stimulating intellectual fields,' he says.
Your passion is underwater photography. How did you first find this love of water environments and what is it about the underwater world that keeps you coming back for more? 
The underwater world is tightly linked to the earliest yet most vivid and crystal-clear memory that I have. I was three years old when my grandfather brought me to a small cove near my home, and after a short walk he took an aged diving mask out of his backpack and held it over the surface of a small tidal pool. That was a shocking revelation: a small piece of framed sealife appeared before my tender eyes, as I looked through an improvised floating window into another world.
Since then, my entire life has been obsessively orbiting around the underwater realms in a sort of insane attempt to keep alight the flame of that magical moment each and every single day of my life.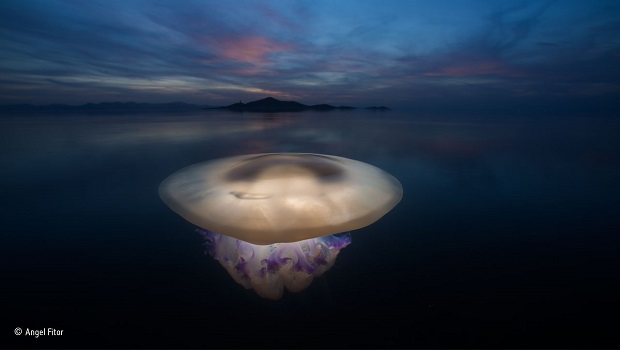 The dying of the light by Angel Fitor, Spain. Winner 2016, Invertebrates.
You won the Invertebrates category in Wildlife Photographer of the Year 2016 with your image, The dying of the light. Could you tell us a little bit about this photo and why you think it was successful?
This is a very special photograph to me. There are many personal stories associated with it, including the then recent passing of my father. But there were also some recurring questions in my mind, such as the ultimate meaning of life, its uniqueness, and the concepts of island, solitude and death. You know, all those boring questions that no one often talks about, but they lie right at the foundations of what we are.
I would like to think that the jury was able to read at least some of those hidden stories beyond the aesthetic value, but honestly I have no objective clue about how 'The dying of the light' succeeded - no trace of false modesty in this.
People like to think success is a straightforward consequence of a good job. But when it comes to photography there is a pretty decent amount of people out there producing outstanding work, so I tend to think that there is a relevant proportion of randomness involved as well. Most of the time this has nothing to do with the competition itself, but with the limitations inherent to the very human condition of the judges, which on the other hand is all we have to play this game. In our limited world, perfection and fairness are just sweet utopias we should strive to.
Out of the many underwater organisms you have photographed which is your favourite and why?
I love all life forms equally, but I prefer working on those that allow me to tell comprehensive stories. This is the core issue to me. I like to document subjects from as many points of view as possible so I can build a complete scheme of how their lives are going on, and how unexpectedly similar to ours they are.
I strongly believe in empathy and fascination as the most powerful engines for change. At the dusk of the first age of televised nature documentaries, these are in fact the reasons why a whole new generation of nature photographers, scientists and explorers are here, isn''t it?
That said, I admit preferences are basically linked to circumstances and resources. Probably if I had my own bathyscaphe you would never see me again crawling along local tidal pools, even though I would miss them a lot.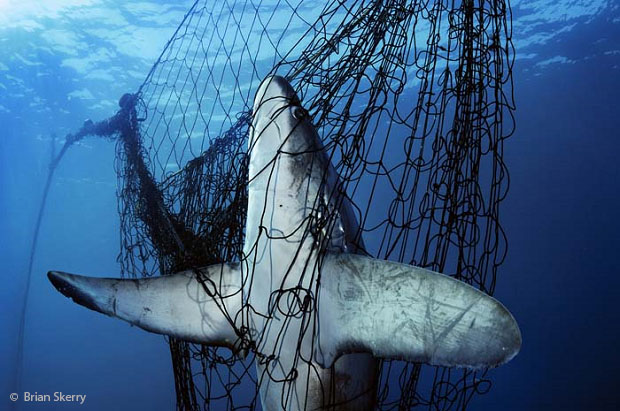 Angel's WPY favourites: The sacrifice by Brian Skerry, USA. Runner-up 2010, Wildlife Photojournalist Award. Angel believes this is 'probably one of the most iconic images in history about an issue, the scale of which the majority of people can't even imagine, and that it is driving the seas to collapse.'
What specific challenges do you have to overcome when shooting underwater?
I am a slow photographer and thinker, yet an insane perfectionist - bad combination, I know. For this reason, time is by far the most fundamental limitation of all. I need time to read and understand my subjects so I can process all that information before finding a photographic outlet. Once this is done, everything comes easily.
This is an essential part of my creative process, and the reason I prefer working on shallow-water subjects that allow me to forget about decompression and air supply. I usually spend unhealthy amounts of time underwater during which I always think as a photographer and naturalist, and very rarely as a diver.
How are you feeling about being part of the jury for the 2018 competition?
There is probably nothing more relative in life than the personal value each of us assign to honours, and at least for my own part, and with all due respect to WPY winners, there is no higher privilege than this. Personally, the reputation of the jury has always been the reason to take part in any photo competition, so at this point I just feel deeply overwhelmed.
I feel I owe a lot to WPY. It has accompanied me during my career, and it has been a great source of joy, inspiration, motivation and frustration, all of them priced pills to keep on going.
For photographers WPY is one of the few remaining serious opportunities to showcase our photographic work in the hope that media companies and conservation organisations set their sight upon us, and therefore add some sense to our precarious lives as photographers. You know what they say: never stop dreaming.
Angel's WPY favourites: The last great picture by Michael 'Nick' Nichols, USA. Grand Title Winner 2014, Wildlife Photographer of the Year. 'This is what I call a fossil photograph.' Says Angel, 'Every time I see a drawing of a thylacine, a dodo or a Javan tiger, I am reminded that we might be photographing some of our subjects for the last time in history. This is exactly what Nichols is suggesting to me with this photograph.'
What do you think it takes for a wildlife photograph to be a winning image in WPY?
As I stated previously, I believe the degree of relativity in photo competitions is very remarkable. But for my own part, I specially value images that tell stories, addressed to impact on feelings. To me, this comes first, and technical artifice comes second. After all of these years of careful observation of the winning images, I have learnt that the emotional component of images has been growing as one of the most determinant features on the decisions of the WPY judges. I believe this is the main editorial line of WPY.
Do you have any advice for those considering entering the 2019 competition when it opens in October 2018?
My overall advice is to be honest and honourable to yourself, and to the others. Learn to tell apart the concepts of inspiration and imitation. This is the landmark nature photography competition in the world, and you need to think closely about your selection. At this point your photographic culture will play a determinant role, so study and respect what has already been done, and use this as your starting point, not as your goal.
I am looking forward to seeing soulful photography filled with genuine originality both in form and content.
Angel's WPY favourites: Caring for Missy by Dan Kitwood, UK. Finalist 2016, The Wildlife Photojournalist Award: Single Image. 'I can hardly look at the portrayed chimp's eyes and gesture for more than a few seconds.' Says Angel.
•     The winners of the 2018 competition will be announced at an awards ceremony at the Natural History Museum in October 2018. Keep an eye on our Facebook page for updates.
•     The 2019 competition will open for entries in October 2018.
ABOUT ANGEL FITOR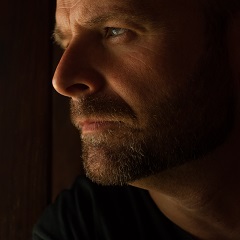 Angel is a professional photographer, writer and naturalist who mainly focusses on the marine and freshwater natural environments. He has a solid background in marine science and his work has been internationally featured on a myriad of publications including books, online media and printed magazines. He has contributed as photographer and natural history advisor to front-line broadcasting companies, and leading scientific research teams including the BBC's Natural History Unit (UK), Silverback Films (UK), and the Fish Evolutionary Lab of the University of Basel (Switzerland).
To find out more about Angel visit his website or Instagram page.