Face to face with foxes: an interview with Sergey Gorshkov
18 October 2017 posted by: Zoe - WPY Comms Officer
Sergey Gorshkov was born in Siberia in 1966, but his career in photography began only 14 years ago. He has been a finalist in six Wildlife Photographer of the Year competitions, including #WPY53 with his image Arctic treasure.
We spoke with the National Geographic photographer about the beauty of the Russian Arctic, the reasons he made the change from hunting to photography and why foxes are just so photogenic.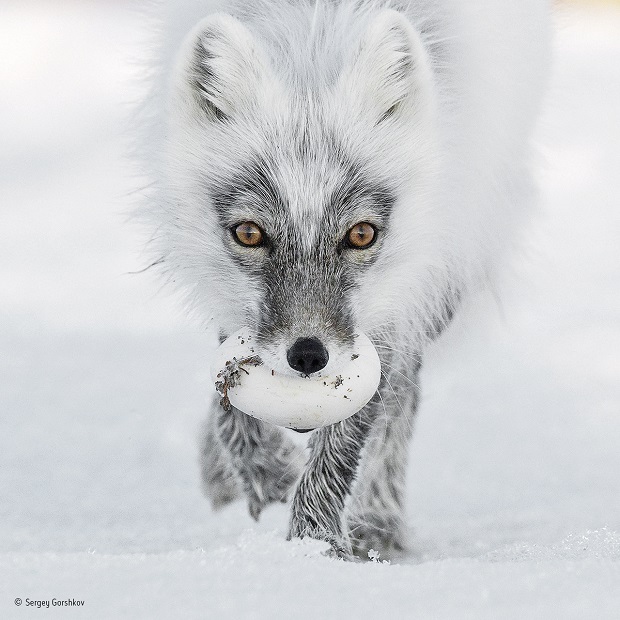 Arctic treasure by Sergey Gorshkov, Finalist 2017, Animal Portraits.
Why did you choose to enter this particular image into the competition and why do you think it has been selected as an Animal Portraits finalist?
I've sent this photo to WPY three times, but it did not manage to get to the final. Still, I knew that this photo had a great potential to win, so I sent it again this year. I haven't seen such a photo before, it captures a very rare moment from the life of the Arctic fox in the soft arctic light. This photo has some novelty.
2017 sees the return of the Animal Portraits category in the Wildlife Photographer of the Year competition.  What do you like about portraits?
I'm glad that the Animal Portraits category has been returned. Portrait pictures, whether they are pictures of a polar fox or bear, are very popular. Shooting any wild animal close-up is a special art: it is much more difficult to make a portrait of a wild animal than of a person. In the wild there is no way to use artificial light and make duplicates, there is only one chance and you need to take it. The main criterion in this category is a successful display of the character, the "soul", of the animal through its emotions - the look in the eyes and the pose.
Did you come across any specific challenges when taking this portrait? If so, how did you overcome them?
I have a few photos similar to this one, but they are all side shots, and most of them have a distractive background. It was very difficult to get a front shot of a polar fox with an egg. A polar fox ran sideways and at some point turned for a second to me and I managed to capture it. I chose the right point to take the picture from and, most importantly, I thought the background through. I'm glad that I did it.
Bear glare by Sergey Gorshkov, Winner 2007, Animal Portraits.
A lot of your work, including Arctic treasure, is focused on the nature of Kamchatka, a far eastern Russian arctic peninsula – what is it about the Russian arctic which keeps you coming back? Do you believe it's necessary for a photographer to feel a connection to a location/subject to take their best photos?
From the very beginning of my career I have tended to focus on stories, not on separate photos. For me, every project is a thoughtful long-term work. My main problem is that I spend an unacceptably long time on each project. I always take on the most difficult projects but I like it and this is my most important advantage. I try to take pictures where no one has ever done it or in a way no one has ever done it.
I am currently working on a big project called "Russian arctic". I want to capture the austere and beautiful world of the Arctic all the way from the eastern part to the western part of Russia. To tell the greatest story about the nature found in the wild Arctic to those who cannot go there is the best gift I can give. I want people to find out what amazing animals live in this harsh land and how they survive here. This is not easy, because you will only see an image in front of you. Severe cold, knocking-down wind, dank fog and the sounds of bursting ice are all left behind the scenes.
Therefore, every year I return to the Russian arctic several times, and I do not know how long this project will take.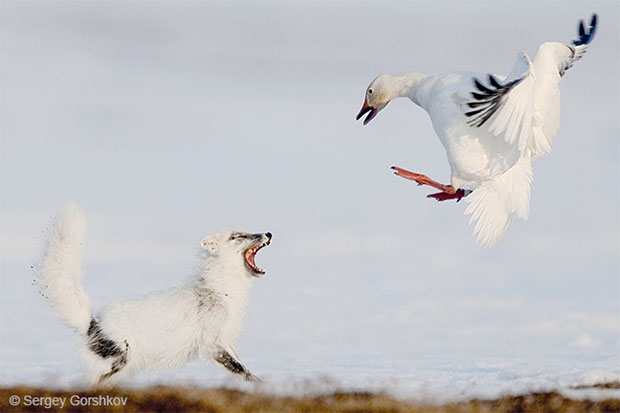 The duel by Sergey Gorshkov, Commended 2012, Behaviour: Birds.
Foxes are a firm favourite within WPY and wildlife photography in general, what do you think it is about them which make them so appealing?
The fox, without a doubt, is one of the most photogenic creatures in the world and I really love to take pictures of it. The curiosity of foxes is many times greater than their caution. The main thing is to let them get used to you. By temperament, foxes are different. Most are open and trustful, but there are others, who will not come close to you and they will not let anyone get close to them. And there are also really impudent ones among them.
It's a pleasure to photograph foxes, but there are some difficulties too. To make a good portrait of this stunning animal, you must constantly lie (or crawl) on your stomach. I have always photographed them holding two cameras with different lenses at different focal lengths.
I remember one fox, which was ready to pose for me for the whole day, and I was very happy about it. In the excitement of shooting I took off my gloves and laid them on the snow. As soon as I crawled off to the side, the fox immediately grabbed them and ran away. It's good that I had a spare pair!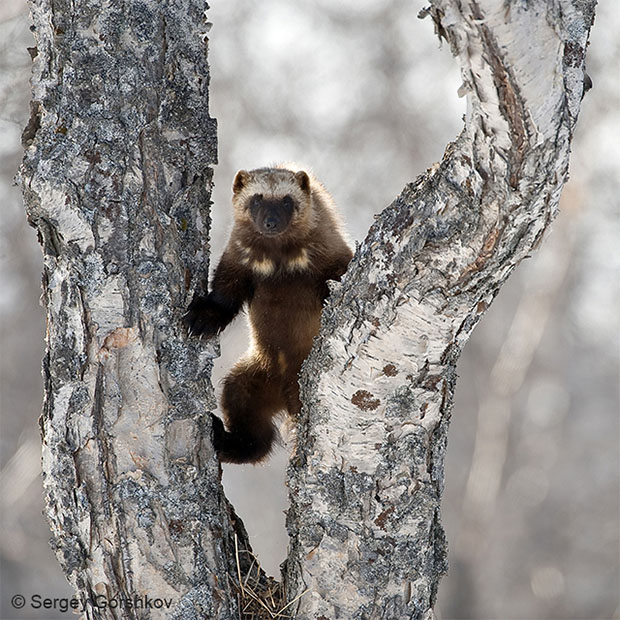 Wolverine by Sergey Gorshkov, Highly commended 2009, Animal Portraits.
You've previously written about how a hunting trip to Africa first triggered your interest in photography. What exactly caused you to change from shooting with guns to shooting with cameras?
I am often asked about the beginning of my photographic career. Many years ago my first trip to Africa changed my life. I will not hide that since childhood I have been fond of hunting and have seen wild animals mainly through the crosshairs of the optical sight. But when I first saw a leopard during that trip, my heart leapt from my chest and I realized that I could not shoot. A feeling that I could not interfere with the life of a leopard outweighed the desire to obtain a trophy. When this feeling struck me, I picked up the camera and started staking photos. I admired, photographed, and I did not have the slightest desire to raise a gun.
Sometimes insignificant things can influence the whole course of a life. The day I first saw the leopard changed my mindset and the course of my life - I switched the carbine for the camera. It is this moment that can be called the start of my photographic career. I realized that the best thing about hunting with a camera is that the hunter's instinct is satisfied without the need to kill: the emotions are extreme and the adrenaline is off the scale. I'm not ashamed of it. This is my story, this is my path.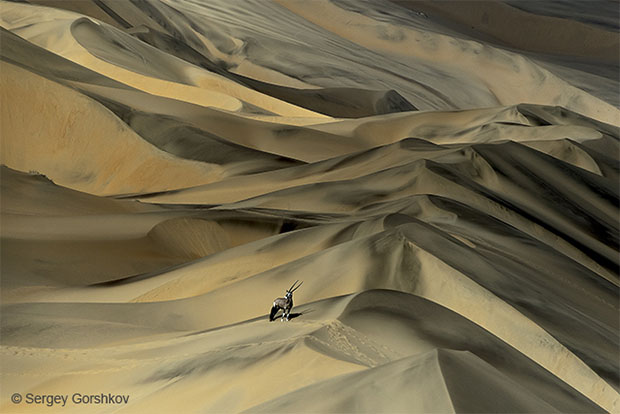 Desert survivor by Sergey Gorshkov, Finalist 2015, Mammals.
If you could give one photography tip to aspiring wildlife photographers, something they may not have heard before, what would that tip be?
For me, the most important things in photography are the lighting, the right moment and uniqueness. Besides that there is one key component that I always pay attention to - novelty! Therefore, I recommend focusing on fresh ideas. We need new photos, not copies of the previous winners.
When trying to take a picture of an animal, you could capture a moment that lasts for a second and which an average person could never see or notice. In order to get good photos you need to be persistent and have patience. Mastering the art of patience is one of the main requirements for obtaining a good photo. And yet, you do not need to chase popularity, you need to take pictures for fun. If there are good photos, viewers will notice them!
•     See Sergey's image and 99 other stunning images of nature in the #WPY53 exhibition at the Natural History Museum.
•     Enter your images in the next Wildlife Photographer of the Year competition, #WPY54, which is open for entries until 11.30am GMT on Thursday 14 December.
ABOUT SERGEY GORSHKOV
Sergey Gorshkov was born in a remote Siberian village and grew up surrounded by the arctic wilderness. It took 40 years until he became a full-time wildlife photographer and he is now the founding member of the Russian Union of wildlife photographers and has received many awards for his works. He thinks that each photographer should have an individual project, which he should know and develop. Sergey's photography is focused on the wild world of Kamchatka and he pays much attention to preserving the richness of nature through photography.
To find out more about Sergey visit his website or facebook page.