Klaus Nigge: at eagle eye level
22 September 2017 posted by: Zoe - WPY Comms Officer
Klaus Nigge has over 30 years of photography experience with stories published in National Geographic, GEO and other international magazines. He has been a category winner in three previous Wildlife Photographer of the Year competitions, has sat on the jury twice and is a finalist in #WPY53 with his stunning portrait 'Bold eagle' which depicts the powerful and valiant-looking expression of a bald eagle.
In this post we explore Klaus' career as a photographer, his passion for the bald eagle and the challenges he faced when photographing them in the freezing Alaskan wilderness.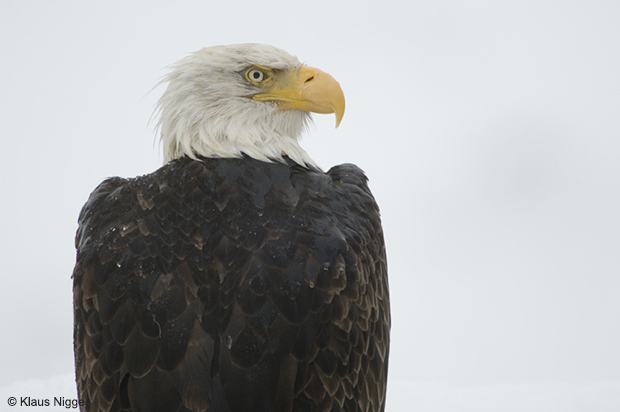 Klaus' bald eagle shoot took place in 2009 in the freezing Aleutian Islands of Alaska.
Born in the Ruhr, the industrial heart of Germany, Klaus Nigge's first childhood access to nature was through family gardens where he recorded butterflies and developed a love for flora. This passion for natural history lead to a degree in biology and Klaus developed an interest in wildlife photography whilst working as a freelance biologist. He was offered a doctorate in Africa but Klaus realized that he didn't want to spend years on more study: 'I saw myself with a list of plants in my hand, while the eagles flew above me.' Instead, Klaus became a full-time wildlife photographer.
Klaus' love for eagles has played a prominent role in his career as a wildlife photographer and he has travelled the world to photograph various species from Steller's sea eagles in Kamchatka to the critically endangered Philippine Eagle. He has travelled to Alaska year after year to see bald eagles and has published a photography book, 'Adlerleben', devoted to the bird of prey.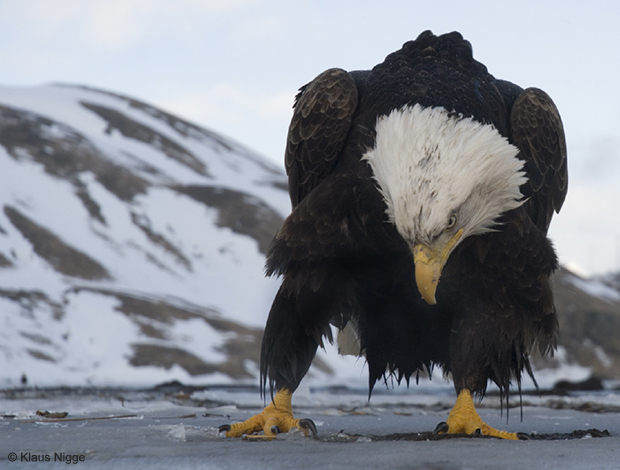 Bald eagles are famous across the world and it was challenging for to Klaus to photograph them in an original way.
The bald eagle, as the national animal of the United States of America, is one of the best-known birds of prey in the world. The species was declining dramatically until the 1960s, but reduced persecution, habitat protection and a ban on the pesticide DDT has led to its recovery. Some threats persist, including lead poisoning - US prohibition on lead ammunition (which ends up in animals the birds eat) has recently been overturned.
Capturing original images of popular and well documented animals can be a great challenge for wildlife photographers. During this shoot of bald eagles in Alaska, Klaus's personal challenge was to photograph these beautiful birds in a different way, to truly experience the 'look of eagle' and 'show an eagle from the perspective of another eagle'.
To achieve this goal, Klaus needed to become immersed in the eagle's freezing cold and soaking wet habitat. Named after its conspicuous but fully-feathered white head (bald derives from an old word for white), bald eagles are opportunists, eating various prey - captured, scavenged or stolen - with a preference for fish.
Klaus spent weeks living at Dutch Harbor on Amaknak Island in Alaska, USA, where numerous bald eagles gather to take advantage of the fishing industry's leftovers. This area of Alaska, with about 250 rainy days per year, is said to be one of the rainiest places within the U.S. However, Klaus, like the eagles, revelled in this type of climate calling it 'Klaus Nigge weather, with lots of rain, so the light is wonderful.'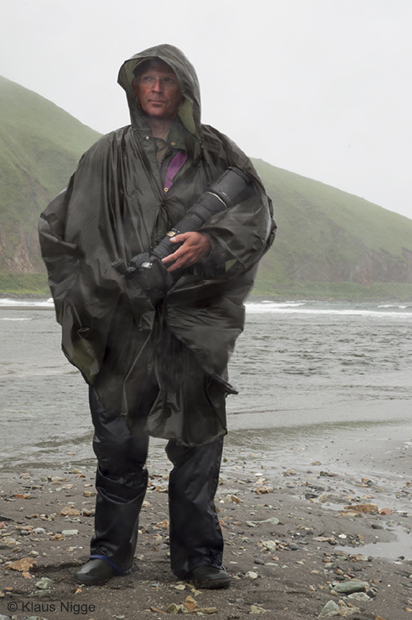 Klaus experienced 'Klaus Nigge weather, with lots of rain' during his time on Amaknak Island.
Klaus first visited this exceptional place in 1982; he was 'amazed to see how many eagles there were there and that you could approach them on foot'. Bald eagles hunt offshore but they also scavenge, taking advantage of whatever they find, guts discarded by the fishermen or crabs. Living within close proximity to people, the birds are bold. 'I got to know individuals' Klaus said 'and they got to trust me.'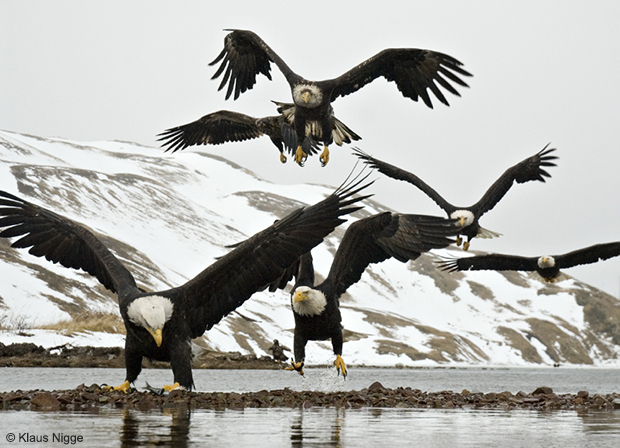 Klaus used a low view point to 'show an eagle from the perspective of another eagle'.
The weeks spent in the rain gaining the eagle's trust enabled Klaus to establish his own micro-sites and have close, intimate encounters with the birds. The location for Klaus' finalist WPY53 image was a frozen lake where the eagles come to bathe and hang out. After several days of constant rain, the bald eagles (and Klaus), were soaked to the skin. One came so close that it towered over him. His low perspective and simple composition, allowing full concentration on the eagle's expression, created an intimate portrait, enhanced by the overcast light of the rainy day. 'When I took this shot, I was lying on my belly on ice surrounded by 40 eagles' said Klaus, 'I was wet, just like the eagle, and frozen, but I didn't care.'
Bold eagle by Klaus Nigge, Finalist 2017, Animal Portraits.
The resolve and perseverence that Klaus demonstrated to aquire this magnificant shot are common, essential traits for successful Wildlife Photographer of the Year photographers. Speaking about his time on the WPY jury, Klaus said, 'In the judging room you are invited to see incredible photography, much of which is clearly the result of unwavering determination and patience.'
Each of the stunning WPY finalist images has an aspiring photographer with a remarkable story behind it. If you want to share your image and tell your story, enter the next Wildlife Photographer of the Year competition, which opens on Monday 23 October.
See Klaus' image and 99 other stunning images of the natural world in the upcoming #WPY53 exhibition, which opens at the Natural History Museum on Friday 20 October.
ABOUT KLAUS NIGGE
Born in 1956, photographer Klaus Nigge grew up fascinated with photography. In 1992, Nigge became president of the Society of German Nature Photographers, and in 1995, he became a professional photographer. His aim in his photography is to show the animal as an individual with a personality and to achieve an intimate portrait that captures an animal's true environment.