Photographers that click: a shared passion for the natural world
04 September 2017 posted by: Zoe - WPY Comms Officer
Wildlife Photography is often seen as a lonely endeavour - a solitary figure in a hide in a remote location, waiting with impressive patience for their wild subject to make an appearance. This perception, however, is not always the reality.
An increasing number of photographers are working with their partners in the field, either as a photography team or with the other in a complementing role. We spoke to some of our awarded photographers about working with their partners.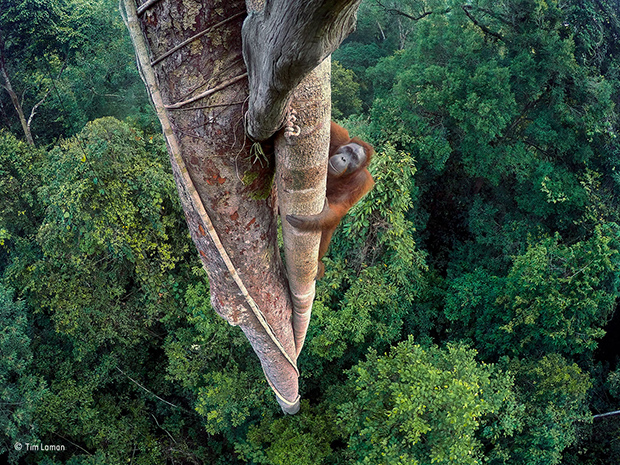 Entwined lives by Tim Laman. Grand title winner, Wildlife Photographer of the Year 2016
2016 Grand title winner, Tim Laman, works in the field with his wife:
'Orangutans may sound exotic to a lot people, but because my wife, Cheryl Knott, is an orangutan researcher, I go with her to Indonesia every year and try to think of ways to take unique pictures.'
Indeed Tim's relationship with Indonesia goes back almost thirty years and it is somewhere he and his family now spend time every year working together. We spoke to some more of our WPY photographers to find out how being part of a team shapes their work.
Jonathan and Angela Scott are the only couple to both have individually won the grand title for Wildlife Photographer of the Year, Jonathan in 1987 and Angela in 2002. They have worked together on many projects encompassing photography and television. On their working relationship Jonathan said:
'Having two photographers in the family means two pairs of hands. So we still get to photograph a location even if one of us is not available working on another project. And we get double the amount of material at any location we are photographing together.'
Final struggle by Jonathan Scott, Grand title winner, Wildlife Photographer of the Year 1987
As well as increasing productivity Jonathan and Angela have inspired each other:
'Angie was always a photographer - it was in her blood and she had a little dark room beneath the stairs in her house when she was growing up in Tanzania. I got in to wildlife photography as a way of recording interesting animal behaviour having studied Zoology at University. Angie always had an inherent understanding of light - she loves to shoot side and backlight which makes for much more emotive and powerful images. Angie showed me how to see the light and to push myself to be more creative and imaginative in my approach.'
Elephant reflections by Angie Scott, Grand title winner, Wildlife Photographer of the Year 2002
The wildlife photography industry has undergone strong change in recent years. Luke Massey, a finalist in WPY52, works with his partner, Katie Stacey, and believes their partnership allows them to succeed within the industry:
'I'm part of the next generation of wildlife photographers, and trying to break into an industry where a lot has changed. The old school made a living out of stock photos if their library was big enough. I've never had that, I've had to work out how to make a living a different way.
Katie helps work through ideas - are they feasible? Do they appeal? Coming from a non-nature geek background it is good to have her fresh set of eyes on what will appeal. Oh and she's also successfully stopped me from falling to my death in both India and the US whilst taking photos that have gone on to win awards, so she's quite helpful there too - a good leg holder!'
Kite flying by Luke Massey, Finalist 2016, Urban
Katie was inspired by Luke to make a career out of her hobby and do so in a way that worked cohesively with Luke's career.
'When I first met Luke in Zambia I was managing a Bushcamp and writing was a hobby of mine. Now I work full time as Luke's camera assistant and I get to write the stories that go with the projects that we do.
I've always been fascinated by wildlife, but meeting a naturalist like Luke has grown that into a passion, and it was him who made me realise you could have a career in it.
The majority of the projects are our own ideas. No, let me change that, they are Luke's ideas! He mostly finds them on social media. In these sorts of projects Luke is the photographer and I am the writer, but we also shoot a 'making of/behind the scenes' mini-film.'
For Luke, another key benefit to working together as a team is being able to support each other, not just physically but mentally. 
'When you're on the road life isn't always as glamorous as people might think but having Katie there makes things a lot more bearable. I recently lost my mum but life couldn't grind to a halt completely, being a freelancer (and knowing my mum would send a lightning bolt if I moped about too much) meant I had to get back out there. A few weeks later we were in Singapore photographing smooth coated otters. My head was a mess most of the time but the otters were amazing which helped (nature is a great healer, everyone should try it). Katie being there made it possible, I can 100% say that I would never have gotten through that trip without her. '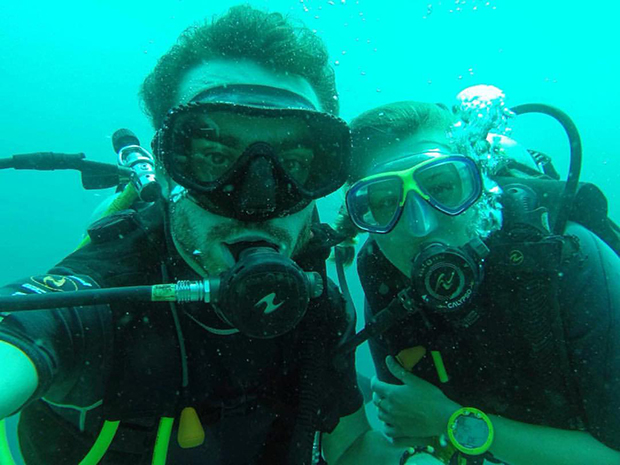 WPY52 Finalist Luke Massey and partner Katie Stacey in the field together
Wildlife Photographer of the Year has seen some incredible images over the decades from photographers who take their friends, families and partners out in the field. Not only does it support and inspire creativity; it means more photographers can share those special and often rare moments in nature.
MORE ABOUT THE PHOTOGRAPHERS
Luke Massey
Luke has been taking photos ever since he started stealing his sister's camera when he was 12, taking it along with him on his nature walks. Being able to show people that the azure dot on the screen was indeed a kingfisher, instead of just telling them about it, sparked his passion for storytelling through imagery.
Jonathan and Angela Scott
Jonathan and Angela are award-winning wildlife photographers and authors who have made their name documenting the lives of lions, leopards and cheetahs in the Maasai Mara National Reserve in Kenya, recording every aspect of their existence in their drawings, photographs, and wildlife television programs.
Tim Laman
Tim Laman is a field biologist, explorer, photographer, and filmmaker. His cameras are his tools for telling the stories of rare and endangered wildlife, and revealing some of earth's wildest places. His aims are to explore and document poorly known species, and promote awareness and conservation. Tim spends many months a year on expeditions to study, film, and photograph the biodiversity of earth's richest realms working with the National Geographic Society and Cornell Lab of Ornithology.