Fast roads, slow deaths: a guest blog from Doug Gimesy
20 April 2017 posted by: Zoe - WPY Comms Officer
Thousands of visitors flock to wildlife hotspot Kangaroo Island just a few kilometres of South Australia to experience its natural beauty. Unique to the island is the Kangaroo Island kangaroo, the slowest moving of all kangaroo species. Despite having no natural predators on the island, these much-loved marsupials are regularly subjected to road trauma and painful, slow deaths, often leaving orphaned joeys behind.
Conservation and wildlife photographer Doug Gimesy was awarded as a #WPY52 Finalist for his emotive image 'Caring for Joey', which depicts dedicated volunteers Sandy, Des and Pauline caring for some of the island's orphaned joeys. As part of our guest blog series, Doug reveals why he turned his attention to wildlife trauma on the island, and why he hopes to instigate change.
Caring for Joey by Doug Gimesy.
Finalist 2016, The Wildlife Photojournalist Award: Single Image
It was the type of crisp night where the stars sparkle so much they appear to be shaking, and just a gentle breath creates a white mist in the air. It was July 2014, and Heather and I had been on Kangaroo Island for a week's holiday. We were just driving back from Flinders Chase National Park to Vivonne Bay when we saw him sitting there on the side of the road. As we slowly drove past, his head followed us, but he didn't get up to move. 'That's strange' Heather said, 'Turn around, I want to see if he's alright'. I stopped, did a U-turn, then pulled over about 20 metres up the road, and grabbed a torch from the back of the car.
As we slowly walked towards him, he started to stir, but didn't get up, just pulled himself a few feet further away using his front legs. It was then my heart started to sink, but as I moved the beam of my torch from his head to the lower part of his body, it hit rock bottom. One of his powerful rear legs had been snapped clean, and was pointing in the wrong direction, knee bone exposed. A small trail of blood marked the path where he must have dragged himself from the initial impact, or at least where he had initially landed, and then tried to move himself off the road.
As we moved closer, we could see his blood filled eyes start to blink with terror and his breath quickened as he tried to pull himself further towards the safety of the bush. It was at that moment I realised the often used term 'road kill' just doesn't tell the full story of the suffering that can occur minutes, hours or even days before we finally drive past the too familiar rigid carcasses that litter our roads.
Often, road kill isn't as instant as we think.
© Doug Gimesy
Kangaroo Island is Australia's third largest island and sits just a few kilometres off the South Australian mainland. It is rich in wildlife, and the Kangaroo Island kangaroo is a subspecies unique to the island. With no natural predators, they are the slowest moving of all kangaroo species.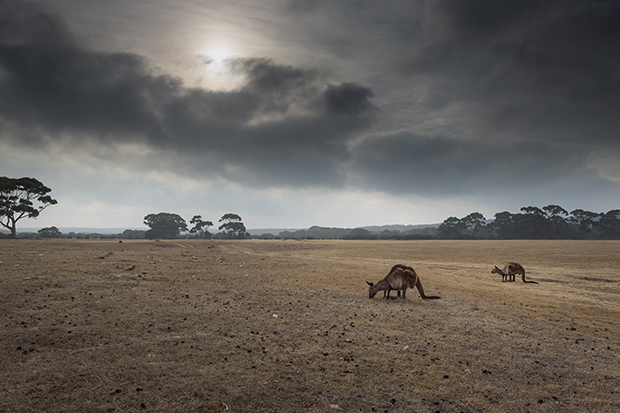 © Doug Gimesy
Sadly, each year (along with a lot of other wildlife) hundreds are killed, fatally injured or maimed by vehicle impact. However, the body count that lines the roads doesn't tell the full horror story. Deaths are often slow and traumatic.
Discussing the issue with Kate Welz, President of the Kangaroo Island Wildlife Network (KIWN) she tells me 'It's distressing to think around 50% of kangaroos and wallabies injured by cars may appear ok and hop off into the bush, but the reality is they are just trying to get far away from the situation and end up dying a slow painful death'.
Despite the well-recognised fact that the chance of hitting a kangaroo (and other wildlife) increases between dusk and dawn, sadly Kangaroo Island still doesn't have any dusk-to-dawn speed limit reduction signs in place to better protect both people and wildlife - especially in the islands well-known high speed 'hot spots'.
© Doug Gimesy
The impact is not just restricted to wildlife. Those that witness a collision, discover injured and dying animals or those that care for them, can also be traumatised. Of course it can also result in the loss of human life, however exact numbers are hard to ascertain. 'It's not always easy to know whether wildlife has been the cause of a fatality unless you find one at the scene', Andy Gilfillan, chair of the Kangaroo Island Road Safety Committee (KIRSC) tells me.
If a kangaroo is injured to such an extent that it requires euthanising, professional help is often some distance away. Extremely sensible but tight gun regulations in Australia, and the illegality of using a firearm on or near a road unless authorised (e.g. police), means that euthanising animals in the field is most frequently carried out using the most rudimentary implements at hand. For example, a tyre iron or rock found by the roadside may constitute the necessary tools for an unfortunate job.
On a good day, if people stop to check an injured or dead kangaroo, sometimes a joey can be found still alive in their dead mother's pouch. Whilst a mother's pouch may offer some protection, if not rescued quickly enough death can result from hypothermia, dehydration or starvation. Sadly, sometimes if a joey sticks its head out of a dead mother's pouch, it may even have its eyes picked out by birds while still alive. Young ones can survive a maximum of 24 hours, and older ones up to 2-3 days depending upon the conditions.
If old enough and triaged appropriately, the lucky few have the potential to be rescued and cared for by a small group of dedicated people who look after them in their homes until they are well and mature enough to be relocated.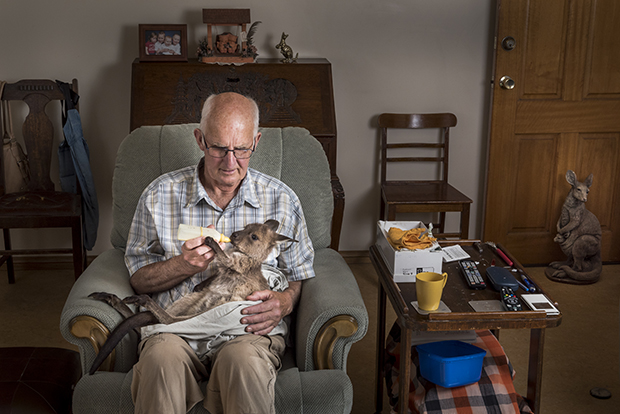 © Doug Gimesy
Many of these carers are members of the Kangaroo Island Wildlife Network (KIWN), a small wildlife team who make caring for these animals part of their daily routine, feeding animals up to six times a day for months until they can be relocated.
© Doug Gimesy
Pauline Lanthois, a member of KIWN explains, 'You've got to give them the attention and love that any mum would give them - feed them, toilet them, wash them, clean their bed and take them to the doctor when they're sick'.
I ask her how much all of that costs her. 'You can't put a price on love' she replies.
© Doug Gimesy
Of course it's not just Kangaroo Island that faces the problems of vehicle impacts with wildlife, and it's just not kangaroos that suffer the consequences, however until two key things happen on Kangaroo Island, it's unlikely that we will see a significant reduction in the trauma that results.
Firstly, there needs to be a coordinated and concerted campaign to help educate all island visitors about the issues of vehicle speed and wildlife movements, and since my success with WPY, this is starting to happen.
Secondly, some dusk-to-dawn speed reductions  - whether they be formal reductions or even signs recommending people slow down in certain places at certain times - need to be implemented, especially in the well-known wildlife 'hot spot' areas, and especially where speeds are set at a disturbing and constant 110km/h.
© Doug Gimesy
Speed sign reduction strategies have already been implemented in parts of Tasmania and Victoria, but on Kangaroo Island, both wildlife and people will continue to suffer the preventable traumatic consequences of high-speed vehicles colliding with wildlife.
ABOUT DOUG GIMESY
Doug initially trained as a zoologist before completing a master's degrees specializing in environmental communication and a masters degree in bioethics. In addition to being a conservation photographer, Doug is a Governor of the World Wildlife Fund in Australia and runs a environmental focused communication consultancy.