Behind the scenes: the WPY53 judging room
10 March 2017 posted by: Zoe - WPY Comms Officer
The fifty-third Wildlife Photographer of the Year competition (#WPY53) received over 46,000 entries from 92 countries. After examining thousands of images remotely, our jury was tasked with spending a week together in our judging room, making the most difficult decisions of all. As with every year, shortlisting a hundred pictures from a huge selection of impressive images seemed like a daunting and overwhelming task, but our international jury has risen to the challenge.
Chosen for their varied knowledge of the industry our six jurors spent a week at the Natural History Museum deliberating as well as exploring behind the scenes and taking in some of the Museum's work.
The WPY53 Jury from left to right: Photographer Daniel Beltrá, (Spain/USA), wildlife photojournalist Britta Jaschinski (Germany), photographer and filmmaker Mattias Klum (Sweden), wildlife photographer Jasper Doest (The Netherlands), writer and editor Rosamund 'Roz' Kidman Cox (UK).
As always there were new faces amongst the panel this year, discovering the rigorous process for the first time.
Jasper Doest describes how it feels being part of the jury:
'There are so many stunning photographs being entered. The decision of the jury depends on so many different aspects that you need to realise that once you reach the final stage of judging, anything could happen. Therefore there are no losers in this competition, only winners, with nature being the overall winner. I remember the first years I received recognition in the contest, I was very proud. Now, looking back at the judging process I realise how lucky I was having five images being awarded over the last five years and in five different categories. The judging process is quite harsh and lots of great images are taken out, it's tough. I'm not saying it's Russian roulette as it is not, but looking back I feel I have been lucky that I was given the opportunity to use the WPY platform that many times.'
Wildlife photojournalist Britta Jaschinski is also a past WPY winner, and won the Wildlife Photojournalist: Single Image category in 2015.
'I feel thrilled to be asked to be part of the WPY judging panel. I was very curious to see what's entered and to make a decision about who's going to be winners or finalists - it's very exciting. It is also nice to have an exchange with other photographers in the same league, they are all award winning photographers. It's very interesting to talk about these images - of course there are discussions and we sometimes disagree, but you learn from these experiences.'
The jury vote on an image during the first shortlisting process.
Image courtesy of Britta Jaschinski / Leica
Unlike Jasper and Britta, wildlife filmmaker and natural history photographer Mattias Klum has not entered WPY before but found the judging process fascinating:
'To be part of this jury is quite a privilege. It's like boiling down mother earth visually and it's quite amazing to see all the great photography.
It's inspirational to look at work from other photographers because you obviously get ideas, but it's also great to recognise environments in the images.  It's like travelling back to places where you might have been before.'
Once the jury is locked away in the judging room, surrounded by past WPY portfolios for reference, the lights are turned off and the projector fired up and the work begins. But just how do they find that grand title winner?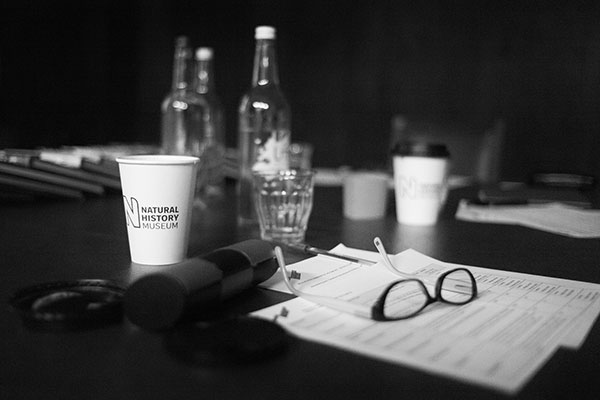 Coffee is an essential part of the judging process.
Image © Jasper Doest
Mattius Klum tells us what he was hoping for:
'I look for a mix of things. From an artistic perspective you want perhaps a sensory approach. Technique is nice, well exposed, sharpness and all of that. But what comes next is something that hits you in your heart and will that bridge the gap between brain and emotional capacity. That takes an image from photography to art and that singles out a lot of photographs into the 'not like' bucket and keeps just a very few in the qualified and artistic samples.
So to me a great photograph, a winning photograph is something that hits me in my gut, in my heart and at the same time changes me and the way I think about our natural realm, the pressures we put on mother earth and it takes a lot to produce a photograph like that.'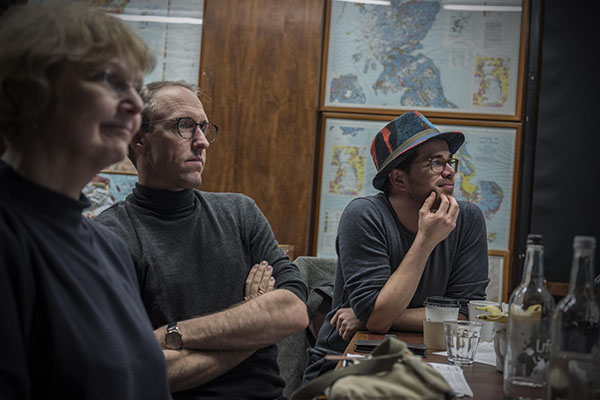 Roz, Matthias and Jasper review images
Image courtesy of Britta Jaschinski / Leica
Roz Kidman Cox stresses the importance of a diverse jury:
'The jury choice reflects different backgrounds, nationalities and ways of seeing. That's important. We may not agree on everything, but we share a range of experience, knowledge of the subject area and a vast repertoire of past images - in different genres of photography.
There is always a great sense of responsibility. The process has to be one of elimination - but you feel the pain excluding pictures, and you know how much it means to photographers to be in the top 100.'
As part of the process, raw files are examined for authenticity.
Image courtesy of Britta Jaschinski / Leica
Of course with six strong personalities not everyone is always in agreement. Jasper Doest feels debate is an essential part of the process:
'When you go through thousands of images you won't agree on everything, and I believe that is good. I believe the judging panel this year consisted of only strong voices, however we were most willing to listen to each other in the most respectful way. I believe the joy of life lies within the game of give and take and that's the way we were able to debate during the judging process. It's why I came to London to be part of this...and it would not have been as interesting and inspiring if we'd all been on the same page with everything.'
To break up what is a long week the jury were treated to a tour of the Museum taking in such sights as the spirit room and our rare books collection.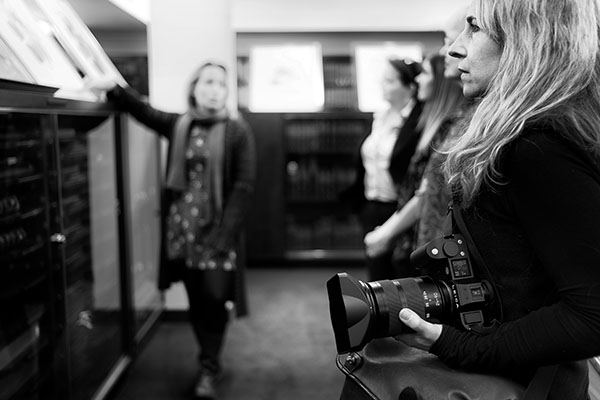 The judges peruse the rare books collection.
Image © Jasper Doest
Mattius Klum was in his element spending time in the Museum.
'Being here at the Natural History Museum, it goes back to my core. I'm a Charles Darwin, Alfred Russell Wallace and Linnaeus fan!'
For many the chance to take photographs of perhaps more obliging subjects than they were used to provided an enjoyable break from the rigours of sifting through images.
Jasper photographs the Museum's spirit collection.
Image courtesy of Britta Jaschinski / Leica
After almost 40 hours spent viewing what will become the fifty-third Wildlife Photographer of the Year portfolio our panel came to a final decision.
Roz Kidman Cox concluded:
'It's a privilege to see such a variety of photographs - many of them showing fascinating behaviour and scenes that you will never, ever witness. The greatest excitement - and pressure - comes towards the end of the process when you're trying to pull out winners. The fascinating part is returning to a picture and looking at it again and again. The one-look wonder fades after the immediate impact. The one with lasting quality grows on you.'
The winner of the fifty-third Wildlife Photographer of the Year competition will be announced at an awards ceremony held at the Museum this October.