WPY and Gender: why aren't there more women in WPY?
07 March 2017 posted by: Zoe - WPY Comms Officer
At WPY we're often asked why more female photographers aren't awarded in the competition. Our judging process is anonymous and images are selected with no reference to photographers' identities, so why aren't more women getting through?
At face value, the answer is simple - women enter the competition in smaller numbers than men. Despite a gradual increase, we have received a maximum of 22% female entrants each year for the last five years. From our research, the number of female WPY entrants and winners is representative of the amount of women working in wildlife photography, and this raises a more complex question of why more women aren't choosing to work in the industry.
In honour of International Women's Day, we're celebrating female photographers and their WPY success, but we're also asking photographers for their perspectives on why more females don't choose to work in the industry and enter their work in competitions like WPY.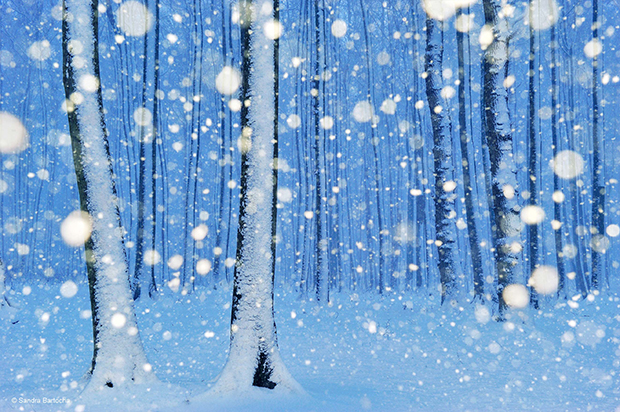 The magical forest by Sandra Bartocha. Runner up 2012, Creative visions
Past WPY winner and finalist Sandra Bartocha believes more can be done to achieve gender equality in the photography industry. 
'Decision makers very often invite one female photographer for the quota. 1 out of 10 speakers, 1 out of 5 jury members … and from my own experience in searching for them, it is difficult to find them. Male photographers are just so much more visible in every way.'
WPY always attempts to maintain equality in each year's international judging panel and the jury features both male and female experts from the industry.
2016 Finalist Jen Guyton also believes there is 'a sort of a pressurised social seal around nature photography that can be hard for women to break through. There can be a bit of an 'old boys' club' mentality, and the same biases that work against women in other fields might work against them here.'
The collaborators by Jen Guyton. Finalist 2016, Wildlife Photojournalist: Single image
Sandra continues to state that she believes part of the reason may be down to lifestyle choice, particularly in relation to parenting.
'If you look around then it is very easy to see that the few female photographers that pop up everywhere are the ones without kids; the ones who made the decision that photography is their most important thing in life and are working in the field without any other obligation.'
Jen Guyton adds: 'When a couple has children, the woman tends to get stuck (willingly or not so much) in the homemaker role. While it seems this trend is shifting slightly, it is still weighted against women, who might find it hard to spend the time in the field required to be a successful nature photographer.'
Previous WPY winner and WPY53 judge Jasper Doest also feels motherhood plays a part, but that this is more deeply rooted in human biology.
'Ok, let me play devil's advocate by raising the question - how many successful female photographers can you mention that are also a mother?
I know some people are offended by me (being a man) raising that question, but I think it is a very important one. Ever since I became a parent I've encountered many occasions where I was there for my daughters when they needed me...but many times they would ask for their mother first. Having spent so much time in the wild I've seen how strong the mother-child bond is in nature. It's something that has been embedded in our genes. So...I believe it is difficult for mothers to also have a successful career in wildlife photography because of this biological bond. I'm not saying it is impossible, but it ain't easy.'
The moment by Bridgena Barnard, Winner 2010, Mammals.
Bridgena Barnard (Mammals winner, 2010) however states that as a mother and a wildlife photographer, she personally enjoys the challenges this brings and believes it sets an example.
'Why do I do this? To live my life to the fullest as an artist, photographer, educator, conservationist and an example to my kids. Remember, art and / or photography is not a competition – it is the expression of an art form and personal development, displaying skill and honing it constantly. You are only in competition with yourself.'
Blue ice and penguins by Cherry Alexander. Grand title winner, 1995
1995 WPY Grand title winner Cherry Alexander is in praise of women in the industry.
'There are some excellent and dedicated women who are wildlife photographers. Women who are as 'driven' as their male counterparts, but there aren't as many of them making a living from it, and I suspect not as many women as men having it as a serious hobby.'
We are now seeing an increase in the number of entries from women, and excitingly this is particularly true of the younger generation. Since 2011, young entrants have been over 40% female.
Ashleigh Scully (Young competition, WPY51) believes encouragement is needed to allow young women to see wildlife photography as a valid and achievable career choice.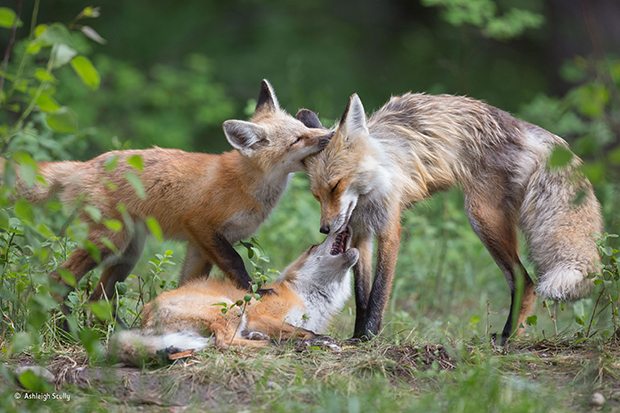 Mama's back by Ashleigh Scully. Finalist 2015, 11-14 years.
'Young female photographers need mentors to help them pursue their photography dreams and encourage them to enter competitions. When I was awarded in WPY, I was so excited because I really wanted to use the opportunity to meet more women photographers at the event and talk to them about their experiences. I think mentors and peers are critical to giving young women photographers confidence and encouragement. I look up to a lot of women photographers and many of them have given me advice along the way. They are the reason why I continue to shoot and why I always look forward to entering competitions.'
Jen Guyton also notes that there is currently a lack of adult female role models in the industry, resulting in what she describes as a 'feedback effect.'
'Women might find it hard to find female mentors and role models in the field, making it harder to increase the number of women.'
Jasper Doest also feels our biological conditioning plays a part. Could this be why more men are inclined to enter competitions?
'I believe that men are more competitive by nature and they might have more hunger for recognition. But to all those aspiring female photographers out there I can only say: do enter. The judging is blind, so we don't know any of the photographers entering and therefore gender is not important at all. And if you didn't make it into the competition, that had nothing to do with you being female. I hope it will empower you, like it did for me during the first years I wasn't selected. Let it be a reason for you to learn, become a better photographer and eventually you'll make it into the competition which will allow you to be an example for many (female) photographers out there.'
Jen Guyton also comments on how norms and values can make it more difficult for women to succeed in fiercely competitive environments like the wildlife photography industry.
'Because of social norms, women tend to be less pushy. This profession requires self-promotion. We know from sociological studies that men will apply for jobs even if they don't meet all the qualifications, while women won't. Photography is likely the same -- women may be less willing to enter photo competitions or to approach an editor unless they're sure they'll be successful.'
Broken cats by Britta Jaschinski. Winner 2015, Wildlife Photojournalist: Single Image
Britta Jaschinski says she regularly sees brilliant work from female photographers, but also wonders if lack of confidence could be why these photographers don't always enter their work.
'There are so many women out there who have fantastic work. I see it all the time at festivals, exhibitions and in books. Often when I ask these female photographers if they have entered any of this work in competitions they say no. Why? Is it a confidence thing? I don't know. There is so much great work out there and it would be wonderful to see more women winning this competition.'
Jen Guyton adds: 'I don't think nature photography is particularly a special case. I think it suffers from the same forces that drive women out of other demanding professions. And similarly, I think it's important to note that none of these reasons have anything to do with ability -- female photographers are just as talented as their male counterparts. It's due time that we all recognise our own implicit biases, and any institutional biases, and start figuring out how to break them down. Having this conversation is a great way to start.'
We are actively seeking ways to engage with female photographers at key decision points in their lives, and hope to be influential in creating a more gender-neutral industry. We hope more women will feel inspired to enter the competition and to see increasing recognition for female photographers in the future.
Thank you to Bridgena Barnard, Cherry Alexander, Jen Guyton, Jasper Doest, Britta Jaschinski, Sandra Bartocha and Ashleigh Scully for their contributions to this blog.