Beauty and brutality: an interview with Tapio Kaisla
09 January 2017 posted by: Zoe - WPY Comms Officer
Tapio Kaisla is a nature photographer based in Finland, with a boundless curiosity for his natural surroundings and a desire to see nature's most spectacular sights. His image 'Head on', which depicts two male muskoxen rutting, is shortlisted for the WPY People's Choice Award.
Head on by Tapio Kaisla. Shortlisted, WPY People's Choice Award 2016.
Your shortlisted People's Choice image depicts two male muskoxen rutting. Were you nervous being so close to such a violent event and what precautions did you take?
Well, actually I wasn't nervous even though I was rather close to these beasts. Having respect for your subject is essential in wildlife photography. When you are dealing with such a large animals, staying calm is necessary. Muskox have poor eyesight and they don't want to be caught. You have to keep an eye on them. I trusted our guide because he knew the behavior of these animals much better than I did. When he asked me to retreat slowly, I obeyed.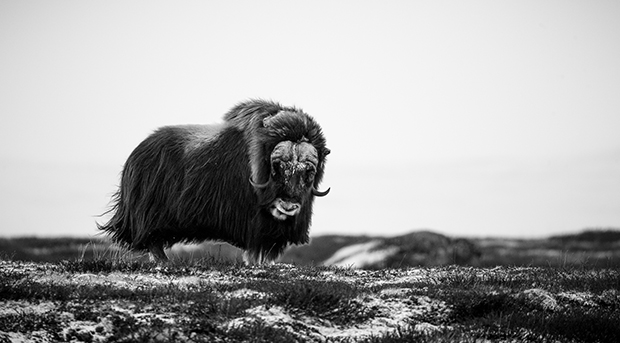 © Tapio Kaisla
Muskoxen are an introduced species within their European range, what do you think they add to the landscape from both an environmental and personal perspective?
Muskoxen are Ice Age survivors. Once these animals roamed across the entire Northern Hemisphere in great numbers but climate change and overhunting collapsed the population almost to extinction.
Today it is great to witness the increasing numbers of these animals. They have been here long before us and they have every right to be here in the future. I think they are kind of indicators of nature's welfare around the Arctic regions. Even though nowadays Muskoxen cope with the changing climate much better than their ancestors, they are still struggling with the constantly warming Arctic climate.
Personally I admire their strength against the punishingly cold environment. But also their raw and violent behavior against each other. It was extremely hair-raising to witness two fighting males just in front of my camera.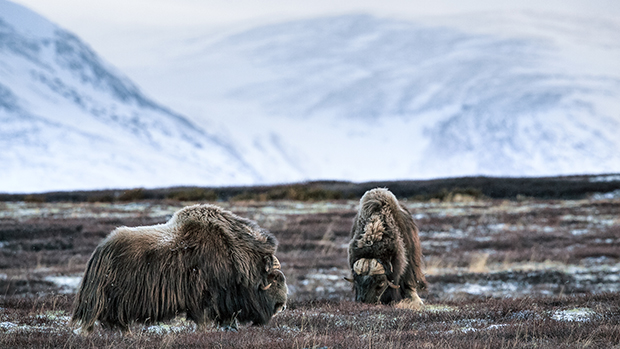 © Tapio Kaisla
Most of your images are from colder climates. What attracts you to these more inhospitable environments and what challenges do they present the photographer?
Living in Finland means living above 60 degrees N latitude. The Arctic Circle runs through the Northern part of Finland, so we are partly an Arctic country. We have four ever-changing seasons and our weather conditions vary from warm summers to cold winters and this can be exotic in its own way, for photographers like me.
Finland, at least the Southern part where I live, is unfortunately relatively flat and wooded. Therefore I enjoy wide landscapes and sharp-peaked mountains found in other nearby countries.
These changing seasons sometimes put me and my gear to a good survival test. In case of wind, rain, snow and hot or cold temperatures, proper clothing and good care of your equipment is essential. When you feel comfortable whatever the weather and you trust your professional photo gear you can achieve images that you have planned and dreamed of.
© Tapio Kaisla
Your love of birds influenced your career in photography. Does that interest remain as strong or have you begun to favour other subjects?
Birds were indeed my first target when I started taking nature photos. When I was younger I was really interested in birds and soon became a board member of a local bird association. There I admired those bird photographers with their long telephoto lenses. Eventually I bought my first DSLR and started taking my own bird photos.
In 2007 I got a chance to travel to Tanzania for three months. That summer was a turning point for me. The incredible rich nature there offered me so many unique moments. I was totally overwhelmed by that and my passion for nature photography really started when I saw the mystical rainforests of the Eastern Arc Mountains and the great plains of Serengeti.
Over the years my style of photography has evolved to express the surrounding nature with a touch of artistic and creative vision. My main product is limited edition Fine Art prints and it doesn't necessarily matter anymore what my subject is. My photos just have to be simple, beautiful or bold enough for someone to hang it on the wall.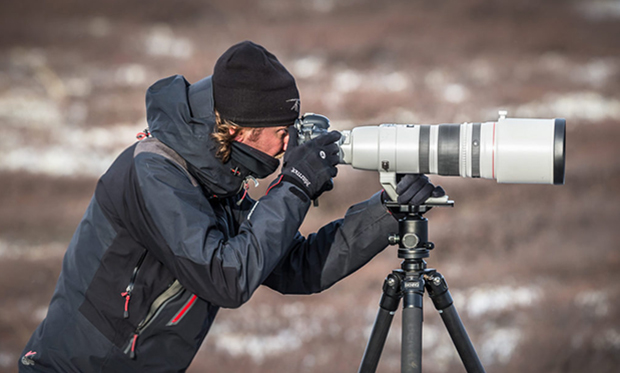 © Tapio Kaisla

What role do you think the wildlife photographer has in the current conservation movement?
Like me and other wildlife photographers, we share our passion for nature through our photos. We also share the beauty,  brutality and unique behaviours of wildlife.
So, nature and wildlife photography is one of the best ways to connect people to the natural world. Photography can inspire a love of wildlife and a desire to protect it. This has not only generated interest and awareness but has also achieved on-site conservation actions and wildlife-related policies.
Sometimes we just have to see it to believe it, to understand the diversified and multiform beauty or shocking destruction and therefore move to act on the planet's behalf.
See the full People's Choice shortlist and vote for your favourite image before voting closes on 10 January.
The winner will be announced on 17 January 2017.
Find out more about the WPY52 exhibition at the Natural History Museum, London.
ABOUT TAPIO KAISLA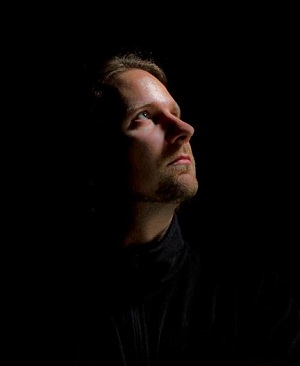 Tapio is an internationally awarded nature and wildlife photographer based in Turku, Finland. His passion for nature photography began the first time he travelled to Africa and saw the mystical rainforests of the Eastern Arc Mountains and the great plains of Tanzania.
Nature has been his interest since childhood and birds played a big role in this. Tapio's interest in birds took him little by little, through many adventures, towards becoming a professional photographer. Over the years Tapio's style of photography has evolved to express nature with a touch of artistic vision. Nowadays, his memory card is filled mainly with Fine Art nature photos.