Eye contact: a guest blog from Guy Edwardes
06 January 2017 posted by: Zoe - WPY Comms Officer
The Dalmatian pelican (Pelecanus crispus) is the largest pelican species, and is also one of the world's heaviest flying birds. Native to eastern Europe, Russia and Asia, its population is currently threatened in some areas from hunting, water pollution and habitat loss, particularly a decline in wetlands. Landscape and nature photographer Guy Edwardes loves to photograph Dalmation pelicans, and one of his images has been shortlisted for the WPY People's Choice Award. As part of our guest blog series, we asked Guy to tell us more about his encounters with these charismatic birds.
©  Guy Edwardes

The Dalmation Pelican can have an impressive wingspan of between 2.9m and 3.45m. Weighing up to 15kg, Dalmation pelicans feed almost exclusively on fish with an intake of around 1-2kg per day. They prefer larger fish - occasionally up to ½ metre in length! The capacious throat pouch is used not only in the catching of fish but also to store them for later consumption.
Aside from its remarkable size it is also a greatly charismatic bird with its characteristic curly nape feathers that give each individual their own take on having a "bad hair day"! During the breeding season the lower mandible and throat pouch turn from dull yellow to orange and eventually scarlet red. Combined with their silvery-white plumage they do look particularly smart during this time.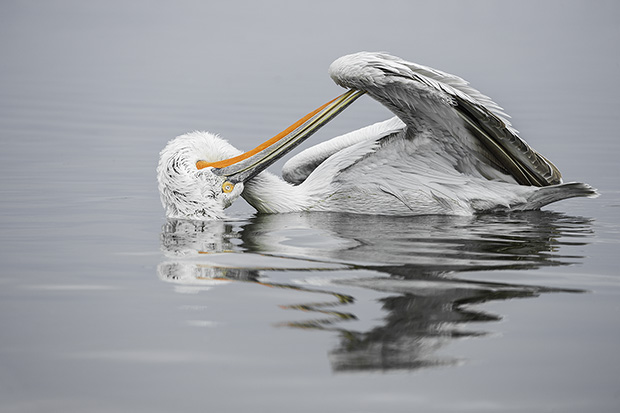 © Guy Edwardes
There are around 10,000-20,000 Dalmatian pelicans worldwide, most of which can be found in Russia and Asia. In Europe they are found mainly in the eastern Mediterranean, with the largest populations being in Greece and Romania. Breeding begins in March and they nest in small colonies often on islands well away from disturbance. Numbers have declined greatly in recent years mainly due to habitat loss, poaching and human disturbance. The species is classified as "vulnerable" across its entire range. Conservation measures are in force, particularly in Europe, including the protection of breeding areas, providing artificial rafts for nesting, marking overhead power lines and managing water levels.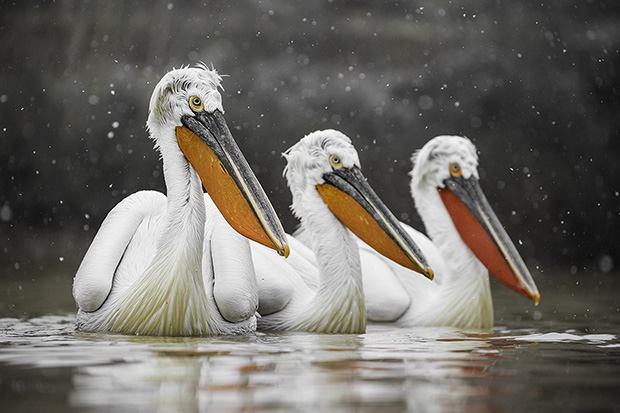 © Guy Edwardes
My first encounter with Dalmatian pelicans was at Lake Kerkini in Greece where there are around 100 breeding pairs. This is one of the best sites to photograph them without causing disturbance. Considering how shy they are elsewhere it is amazing how tolerant they can be at this location. During the early part of the year the pelicans are used to local fishermen working on the lake and they come very close to the shore where the fishermen have their nets. This is great from a photographic point of view as it allows the use of a variety of different focal length lenses - even extreme-wide angle and fisheye! On a clear day the birds can be photographed against a stunning backdrop of snow-capped mountains. In April fishing ceases whilst the Pelicans raise their young, so they move away from this area.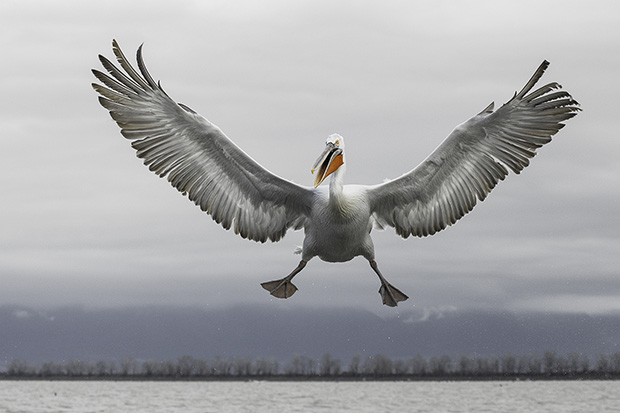 © Guy Edwardes
Being such large birds means that you don't have to own an expensive and unwieldy telephoto lens to be able to take good photographs. On this shoot I used a modest 70-300mm zoom lens as my longest focal length. Photographers often underrate dull overcast lighting conditions, but here at Lake Kerkini that can create perfect conditions for photographing the pelicans, as the lack of colour in the sky and water really helps the bird's yellow face and bill tip to stand out.
© Guy Edwardes
I like to get an eye level perspective with most animals and birds that I photograph, but in this case I wanted to go even lower so that the pelican was actually looking slightly down at me. I hoped that this would exaggerate the rather menacing stare! With my camera and lens planted firmly in the wet mud at the edge of the lake it was then just a matter of waiting for the pelican to turn and face me. This was the critical factor as I wanted to achieve a very symmetrical image with both eyes visible and looking straight at me and with the long bill held straight in front. That's easier said that done when the bird is constantly in motion on the water!
Eye contact by Guy Edwardes. Shortlisted, WPY People's Choice Award, 2016
I used an angled viewfinder to save my neck whilst shooting from such a low position, and a burst of fill-in flash was used to balance the exposure. The resulting image is one that I hope captures both the presence and charisma of the largest pelican species in the world.
Strangely a Dalmatian pelican turned up in Cornwall in May 2016. It was the first recorded sighting in the UK, although there is some evidence that they used to breed in Somerset some 5000 years ago.
See the full People's Choice shortlist and vote for your favourite image before voting closes on Monday 16 January.
The winner will be announced on Friday 20 January.
Find out more about the WPY52 exhibition at the Natural History Museum, London.
ABOUT GUY EDWARDES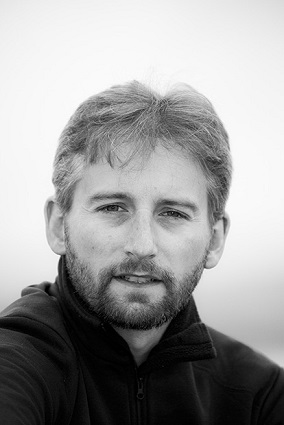 Guy Edwardes was born and has spent most of his life in Dorset on the south coast of England. He had an interest in natural history from an early age and studied nature conservation for several years. Photography was initially a hobby but after graduating from a Degree in Photography, the two interests eventually combined. Guy has now been working as a professional nature and landscape photographer for over twenty years. Guy has always used Canon equipment with the EOS 1DX and 5DSr being his most used camera bodies. Most of Guy's time is now spent teaching others during his non-stop calendar of photography workshops that take him all over the world.