Tea time with giraffes: a guest blog from Cari Hill
05 January 2017 posted by: Zoe - WPY Comms Officer
Giraffe Manor in Nairobi, Kenya, serves as a home to a number of endangered Rothschild giraffes, and operates a breeding programme to reintroduce breeding pairs back into the wild. The giraffes spend their mornings and late afternoons up at the Manor greeting guests, while the rest of their day is spent roaming around their 140 acre sanctuary. Travel photographer Cari Hill went to Giraffe Manor to visit and photograph these curious animals. One of her images from the visit is shortlisted for the WPY People's Choice Award. As part of our guest blog series, we asked her to tell us more about her experience and how she came to achieve her heart-warming image 'Breakfast time'.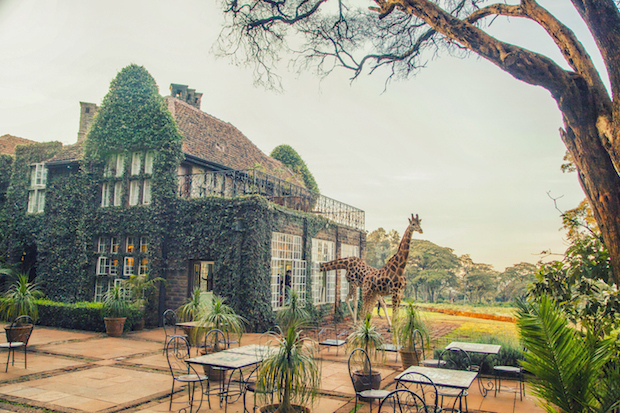 © Cari Hill

I love giraffes; I love their grace and elegance. With fewer than 670 individuals remaining in the wild, the Rothschild's giraffe is listed as Endangered on the IUCN Red List and is under real threat of extinction.
I first heard of Giraffe Manor about a year and a half ago when flipping through a Denizen magazine at the hairdressers. Giraffe Manor was listed in a section of cool places in the world to stay, alongside 'glamping' in some of the farthest reaches of New Zealand.
About six months after reading the article, and having completely forgotten about Giraffe Manor, my friend Oscar and I were about to book a two month camping holiday from Cape Town, South Africa to Nairobi, Kenya. The name Nairobi rung out in Oscar's mind and he sought to find the bookmarked website of Giraffe Manor I had sent him six months earlier. Sure enough, the two month tour ended in the same city as Giraffe Manor. It felt like fate.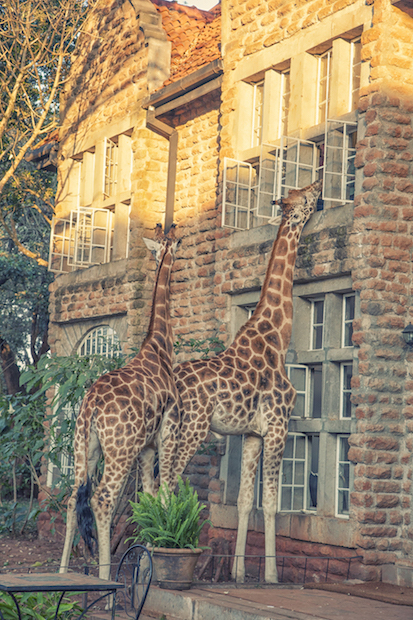 © Cari Hill
Seeing the Rothschild giraffes was everything I'd hoped for. Coming through the security laden giraffe shaped gates and glimpsing the main manor, a 1930's brick facade covered in vine leaves was incredible, and we saw some Rothschild giraffes in the nearby tress and a warthog family mulling about nearby.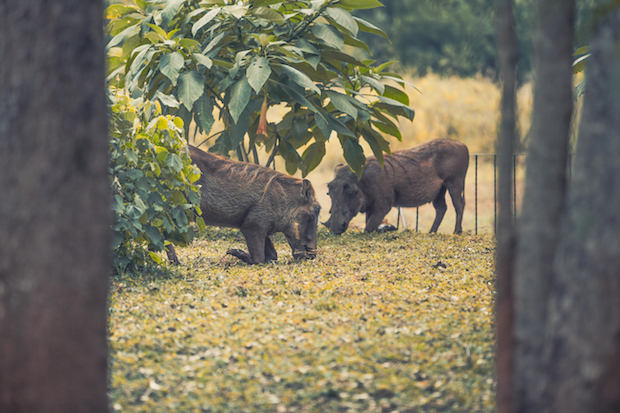 © Cari Hill
Almost everything was of giraffe shape and design, including the vast array of amazing art on the walls.
© Cari Hill
Our next stop was the Giraffe Centre which adjoins the manor and where we were first able to 'kiss' a giraffe. This involves putting a pellet in between your lips and having the giraffe slurp it out of your lips with it's extremely long tongue. Quite an experience and very salivary!
We learnt a lot about the endangered Rothschild giraffes at the centre, as well as the efforts to prevent them from extinction. We then took a walk through the bush to where the giraffes go every night to sleep as the giraffes are completely free to roam as they please.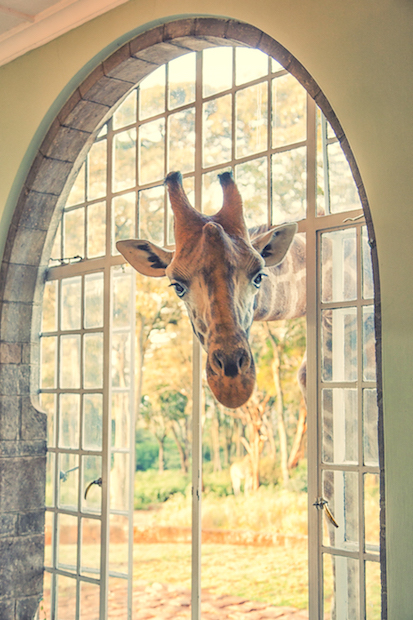 © Cari Hill
Upon returning to the manor we were greeted by some giraffes at the manor who wanted more pellets and more giraffe kisses so we reluctantly obliged… Their tongues are up to 50cm long and they aren't shy with their kisses!
In the morning the giraffes joined us for breakfast by poking their heads through the French windows. When one giraffe, Selma, poked her head through the window inquisitively, she looked directly and proudly at the camera. 'Breakfast Time' works well as an image because it has a perfect composition - there are no people or distractions in the background.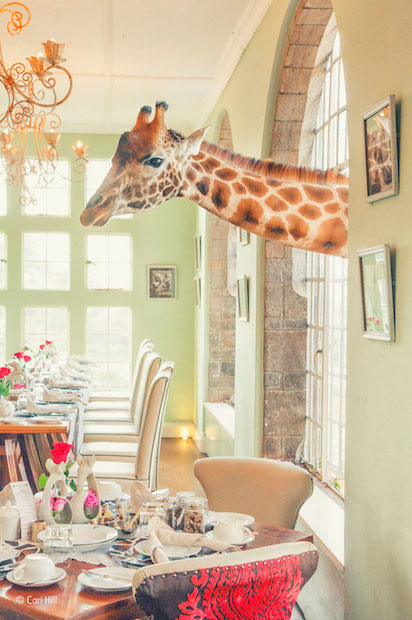 Breakfast time by Cari Hill. Shortlisted, WPY People's Choice Award 2016
The juxtaposition of a wild animal such as a giraffe poking its head through the window of an elegant breakfast room is highly unusual and causes the viewer to do a double take. Many people who saw this image when I first took it asked if it was photoshopped or a hunting trophy on the wall.
After breakfast we bid our farewells to the giraffes and the manor and set off on our Massai volunteering excursion, the complete antithesis to the luxury we had just experienced but no less an adventure.
See the full People's Choice shortlist and vote for your favourite image before voting closes on Monday 16 January.
The winner will be announced on Friday 20 January.
Find out more about the WPY52 exhibition at the Natural History Museum, London.
Giraffe conservation
Richard Sabin, Collections Manager (Invertebates) at the Natural History Museum, also comments on the world's tallest land mammal, and the challenges we face in preserving these treasured creaures:
'Recent reports in the media of a >38% decline in giraffe numbers since 1985, highlight the crucial importance of on-going species-wide field assessments. The giraffe is one of Africa's most familiar charismatic megafauna, but our understanding of its genetic and behavioural diversity has been limited until comparatively recently. Growing evidence from DNA studies suggests that there may be as many as four separate species of giraffe, though further work is needed to resolve taxonomic uncertainty. Robust conservation measures are required to preserve dwindling populations in western and central Africa, and to prevent the further loss of giraffes across their historical range.'
ABOUT CARI HILL
Born and raised in New Zealand, Cari Hill has a passion for photography, travel and food. She has ticked 45+ countries off her bucket list and has no intention of slowing down the pace. Photography became a tool for Cari in high school, when she explored her fascination with quantum physics, time and surrealism. Her photography portfolio is split into two very distinctly different styles; travel street photography with a particular fondness for people from other cultures and walks of life than her own, and a more artistic side which lends itself to human nature and the mind.
Follow Cari on Facebook