Curious Colorado foxes: a guest blog from Annie Katz
22 December 2016 posted by: Zoe - WPY Comms Officer
Wildlife Photographer Annie Katz loves photographing animals around her home in the Colorado Rocky Mountains, an area that attracts all kinds of wildlife, from deer and foxes, to moose, elk and bears. It's the perfect location for a photographer with a talent for wildlife portraits, and a passion for spending time outdoors. Annie's image of a Colorado red fox is shortlisted for the WPY People's Choice Award, currently open for public vote.  As part of our guest blog series, we asked her to tell us about her encounters with curious foxes, and offer her tips for taking portraits.
I live in the Colorado Rocky Mountains, where animals are accepted, expected, and lived among. A 'mutual respect' exists for the most part, and sometimes a strange 'connection' is made, a trust formed. There is a special feeling in the area where I live, and this feeling continues to drive my passion for wildlife photography and photojournalism. In a city setting, the same animal would probably run for its life. In our valley and environs, the animals are not threatened. Sometimes a curiosity develops between man and beast. This Colorado Red Fox is one of those creatures that was open for a quick connection of some sort and luckily for me, a few close up portraits.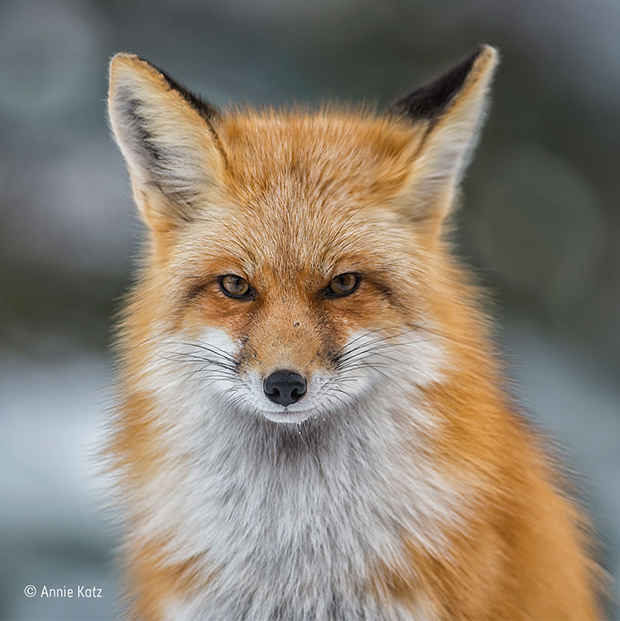 Colorado red fox by Annie Katz.
Shortlisted for the WPY52 People's Choice Award 2016.
After a fresh snow in January, the air had turned a frigid cold. Once a snow storm has passed the next few days are usually bone-chilling and clear. The skies are a dark blue and the newly fallen snow is light and airy. It was one of these such days that I looked up to see something moving in my neighbour's field across from my house.
The setting of my house and the surrounding area lends me to always keeping a camera and a long lens attached to a tripod for easy and quick access. I can be ready to shoot in less than a minute if I see anything of interest. I ran quickly outside to my patio. When I looked into my lens I saw a beautiful Colorado Red Fox walking very slowly through the field in front of me - scanning the area for field mice under the snow no doubt.
As I started shooting, I quickly realised that the fox could hear everything and that he was also aware of me standing against my house, desperately trying to blend in.
© Annie Katz
To the fox's credit however, he was leaping up and down in the field, he scored a meal, and he was continuing to look for another. He didn't seem that concerned about me. He was into his little world and I just happened to be in it. He was a little too far away to get any decent photos, even shooting with my 800mm lens so I decided to 'wait him out" and see what he did.
Eventually he started to come closer, but by this time my hands were totally numb from the cold. I wasn't sure I could even depress the shutter button as I had no feeling at all in my fingertips. I decided to put my hands into my pockets for a few seconds. Within a minute he had come into a clear view area right in front of me. He sat down and stared right into my camera. I got about 5-6 shots of him before he got up and trotted off and disappeared from view. It was a combination of patience on my part and curiosity on his which allowed me to obtain these images.
In this particular circumstance, as in most instances with me, I let the animal approach me. I truly believe that if you remain unthreatening, and let the animal approach you, you will get better photographs. You will be able to get some interesting behaviour shots and when close enough, some great portraits. As with this Colorado red fox, once some 'rustic trust' is developed you will get curiosity - and with curiosity, more time to shoot.
  © Annie Katz
Annie's tips for taking wildlife portraits
Portraits should be compelling and powerful; they should show the 'inner spirit' if only for a fleeting moment in time.
Let the animal approach you
Usually, if you remain serene and unthreatening, and let the animal approach you, there is no problem. If it is their idea, then they are not threatened. I learned this lesson from a very large Silverback in Uganda.... a lesson I will not forget. Every animal has its own 'personal safety zone'. Let the animal decide and if you do approach, do so slowly and only after you have 'read' the animal's body language. Better photos, particularly portraits, are gathered this way.
Develop a personal style
To accomplish this, you need to get out and take a lot of pictures. Also, look at photography books and magazines, visit galleries and stores, go to art shows, and learn more about what interests you. Understand what it is that draws you to a particular image and makes you say 'I wish I had taken that photo.' You may develop your own style by trying to emulate different aspects from different photos that have inspired you. In a short period of time you will arrive at what is 'your look'. It is also, however, about flexibility. Let your mind wander and be free to combine certain aspects and looks.
© Annie Katz
Understand your technical needs
Once you have a direction and an intended style, you have to learn how to use your camera in order to achieve your desired results. Here are a few quick tips.... but I'd like to preface by saying that these are strictly my personal preferences. Every photographer is different.
If you want to shoot portraits that show the subject to be the absolute dominating theme then my suggestion is to blur out the background. In order to accomplish this, take the portrait with a long lens. Depending on the depth of the scene (the animals nose length, eyes, ears) try to shoot at a very low numbered F stop...such as F4, or F6. The shutter stays open for only a split second - capturing your subject but not taking the time to burn the background in. The animals or subject will be in focus, and the background will be blurred.
If your desire is to create more of a 'photojournalistic' portrait by including the background, then you will need the background to be at least partially, or fully, in focus. In order to do this you need to shoot the portrait in its scene. Your camera needs more time to 'burn' the scene into your photo. In order to accomplish this, shoot the photo at a much higher numbered F stop...such as F8, F11, F12 or F14. If the activity or movement in the scene permits, go even higher...the higher the number, the more the scene will be in focus.
The eyes have it
With wildlife portraits the most important rule: the eyes must be in focus. A portrait of an animal, or any subject matter, without the eyes in focus might as well be tossed out. If it is snowy, foggy, rainy...this of course obscures to a certain degree but the eyes should always be in focus whether they are looking at you or something else. Look for a glint in the eyes too. This adds 'life' to your photo. If you look for that connection, it will shine through to your audience.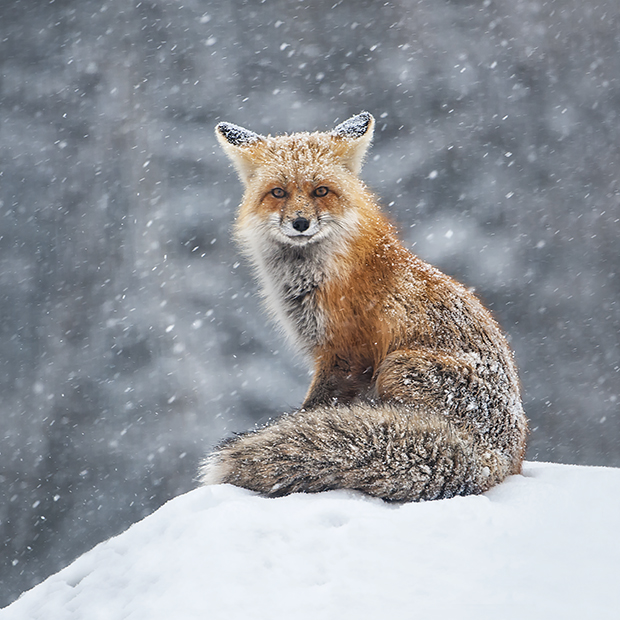 © Annie Katz
Be aware of what you are shooting
When you are setting your camera up keep in mind what your background is...keep in mind your light...and remember one crucial element - your camera takes what you are seeing. Compose your shots and be aware of ears, tails, legs - allow some space around your subject and above all else make sure all parts are in the photo if that is your desire.
More is more
Shoot a lot of photos. Shoot at High speed continuous for Nikon users, Al Servo for Canon users. (Unless of course you are using film). The more photos you take, the more photos you have to choose from; the more you have to choose from, the better your choice will be.
Choosing your Image
In choosing your final image look for something different that sets this particular photo apart from all the rest. Look for one with perfect focus....showing little hairs, eyes, detail, moisture.
ABOUT ANNIE KATZ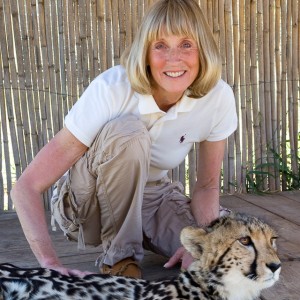 Annie Katz was born in the USA in Portland, Maine. She spent her childhood years growing up on the Atlantic Coast in Falmouth Foreside, Maine. After spending many years in Miami, Florida she has resided in Colorado for the past 20+ years. She lives in an area that attracts all kinds of wildlife; bear, moose, fox, deer, elk and many other species that live in the Rocky Mountains. Annie shoots with Nikon D4's & Nikon D5's and most of the time with a 600mm or 800mm Nikkor lens. Drawn towards action photography, the outdoors, and with a deep love of animals, Annie is at her happiest when she is surrounded by nature.