Presenting nature: Liz Bonnin chooses her WPY favourites
04 October 2016 posted by: Zoe - WPY Comms Officer
With a passion for reawakening our curiosity about the natural world, Science and Wildlife Presenter Liz Bonnin is a long-standing supporter of WPY and an advocate of wildlife photography as an artform. We're delighted to announce she will be hosting the WPY52 Awards at the Natural History Museum on 18 October 2016. Before welcoming her to the Museum for the glittering awards ceremony, we asked her to tell us about some of her favourite images from WPY history.
I've been a fan of the Wildlife Photographer of the Year exhibition for years and I remember heading straight for the Natural History Museum when I first moved to London so that I could finally see the competition's photographs in all their glory, in this most iconic of settings.
Since then I've had the good fortune to be able work with wildlife for my day job. Documenting the beautiful complexity of the natural world for television is hard enough, but it takes an extraordinary amount of talent, dedication and tenacity to produce a still image that can tell a thousand words. Every year I am simply awestruck at the wildife photographs submitted from all around the world.
Tiger untrapped by Toshiji Fukuda, Japan
Lazovsky Nature Reserve, Primorski Krai, Russia
Winner 2013, Gerald Durrell Award for Endangered Species
I spent two months in the Russian Far East to film a series about Amur tigers, and despite seeing countless, tantalising signs of these endangered big cats in the snow, I only saw them in their habitat through precious video footage from camera traps. With less than 400 left in the wild and because of their cryptic nature, it's just very difficult to see them in the flesh, so this photo is incredibly special. Toshiji spent 74 days in a cramped cold hut waiting for this opportunity. And that's after spending 20 years photographing wildlife in the Russian Far East. Not only is this photo a stunning image of an Amur tiger in its habitat, it also encapsulates just what it takes to reveal the lesser seen wonders of our natural world.
Meerkat moment  by Shem Compion, South Kensington
Tswalu Kalahari Reserve, South Africa
Specially Commended 2007, Behaviour: Mammals
Meerkats dedicate the entire day to foraging. Alert, excited, diving head first into sandy holes after the next grub or insect, exclaiming little whoops of delight when they succeed and scrambling  frantically to the next spot when they don't - they are a joy to watch, and I've often been unable to stop myself from laughing at the comedic way they go about this task. They are also superbly attuned to any new disturbance, particularly if this happens to be an approaching raptor. This image perfectly captures how quickly their focus can turn from one thing to the next. I can imagine the adult absorbed in teaching the pup how to eat its first scorpion and in the next millisecond the two of them becoming completely transfixed by the passing hornet.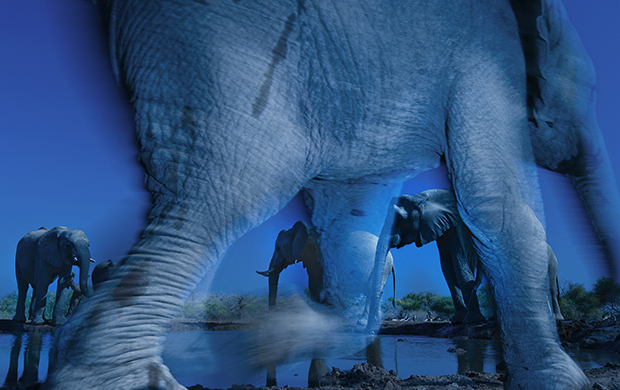 Essence of elephants by Greg du Toit, South Africa.
Northern Tuli Game Reserve, Botswana
Wildlife Photographer of the Year 2013, Grand title winner
This image has stayed with me ever since I first saw it. Botswana is a magical place, and I remember one evening, as the sun was setting, our crew sat and watched an elephant family at a watering hole - the splashing of large feet and water being sucked up by trunks the only sounds to fill the stillness of the evening. We sat there until it was dark and the elephants had slowly moved on. We all looked at each other afterwards, utterly speechless, knowing that the experience had changed us forever. It's so difficult to put into words what spending time in the company of elephants does to you, but to me this image captures the ethereal, almost mystical nature of these magnificent animals. It also hints at something else - a consciousness and emotional intelligence we have yet to fully understand.
Still life in oil by Daniel Beltrá, Spain
Fort Jackson, Louisiana
Wildlife Photographer of the Year 2011, Grand title winner
This image is so beautiful in its composition, with its countless hues of brown, and yet it tells one of the saddest stories of our generation - that of the Deepwater Horizon oil spill in the Gulf of Mexico. Pelicans huddled together, drenched in crude oil, the crate lining sheets covered in it... It is a surreal and powerful image. I remember feeling such a sense of despair while filming in one of the makeshift rescue centres housing the pelicans, but watching the scientists and volunteers working endlessly to clean and release them, in a well organised 'factory line', hardly raising their heads from the task at hand, was one of the most inspiring moments of my career. When people ask me who my science heroes are I always talk about the dedication I saw that day.
Liz Bonnin will be hosting the 2016 Wildlife Photographer of the Year awards at the Natural History Museum on Tuesday 18 October. Keep an eye on our feeds and the #WPY52 tag on the day to follow the #WPYAwards live.
ABOUT LIZ BONNIN
With Honours degrees in Biochemistry and Wild Animal Biology and an infectious passion for the natural world, Liz is in her element in the presence of wild animals or when she's picking the brains of scientists. This is a woman who thrives on communicating the beautiful complexity of the planet and the latest scientific advances to a wide range of audiences. You'll find her regularly presenting across the BBC channels and on ITV, as well as hosting or appearing at STEM and wildlife events around the country.
To find out more about Liz Bonnin visit her website and follow her on Twitter.