Insect photography: tips from Javier Aznar Gonzalez de Rueda
23 June 2016 posted by: Zoe - WPY Comms Officer
Throughout the history of Wildlife Photographer of the Year, the competition has seen a wealth of images revealing the diverse world of insects, capturing their fascinating behaviour and intricate detail.  In honour of National Insect Week in the UK, we asked WPY photographer Javier Aznar González de Rueda to share some tips for photographing these critically important and often overlooked members of the Earth's ecosystems.
Javier Aznar González de Rueda is a biologist and nature photographer specialising in the macro photography of insects, reptiles and amphibians. He tries to highlight his subjects' natural habitats, as well as their behaviour.  His image of a dazzling pair of jewel weevils was awarded in the WPY51 invertebrates category.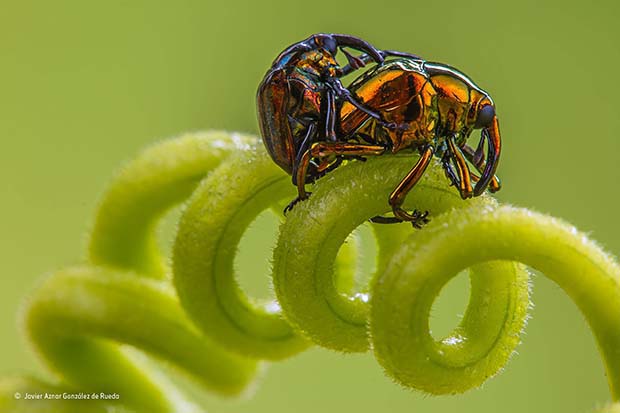 Beetle beauty and the spiral of love by Javier Aznar González de Rueda. Finalist 2015, Invertebrates
'I have been photographing insects for some years, and it's my favourite kind of photography. From the deserts of Oman, to the jungles of Ecuador, I have been privileged to photograph insects of all shapes and colours' says Javier, who has been fascinated by insects since he was a child.
'The first thing I would recommend when photographing insects is to learn as much as you can about them, by reading and observing, before going out to photograph. It's easier to intuit their behaviour, to know where to find them and capture their unique behaviours.'
© Javier Aznar González de Rueda
'Among the equipment that I use are two macro lenses. One of them is a 180mm that allows you to stay away from the bugs, frightening them much less when you are taking photos. I also use a 100mm macro lens, especially at night when I need to use flash. Reduced focus on distance allows me to have more control of the flash, and obtain a greater depth of field.'
'To photograph insects in their habitat, I use a rectangular fish-eye lens of 15mm. The distance to the insect is much shorter, so you need be careful when shooting poisonous insects, spiders or scorpions. It is also more likely the insect will move, so it must be approached slowly to avoid disturbing it.'
© Javier Aznar González de Rueda
'Some species of insects are active at night, so I often go out to find them with a flashlight. I recommend using a flash at night because it helps to freeze fast movements, as well as being able to use a closed diaphragm and get the whole insect in focus.  Also, always use a diffuser as it helps control shine and gives soft light and shadows.'
Find WPY on Facebook and Twitter to see more images of insects from the competition.
About Javier Aznar González de Rueda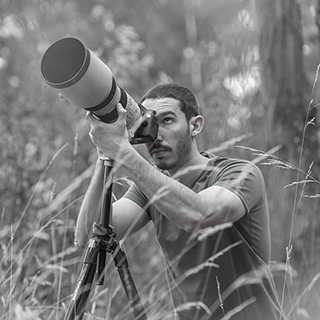 Javier is a Spanish biologist with a special passion for reptiles, amphibians, and arthropods. He believes that photography can be a powerful tool for learning and conservation, and by means of his pictures he hopes to sensitize the public to the pressing need to preserve wildlife.
Javier currently resides in Ecuador, where he works as a biologist and professional photographer. He has been involved in projects such as Mimo Wao, with the photojournalist Megan Westerbelt.