WPY52 jury series: An interview with Orsolya Haarberg
21 April 2016 posted by: Zoe - WPY Comms Officer
Next week an esteemed panel of international experts meets at the Natural History Museum, London, to undertake the final round of judging for the 52nd Wildlife Photographer of the Year competition. The jury will be using their combined expertise and experience to seek out the most powerful, original and creative images of the natural world from thousands of entries. In this blog series, we are interviewing 2016 jury members.
Specialising in Nordic landscape and wildlife photography, jury member Orsolya Haarberg has won prizes in competitions worldwide, including Wildlife Photographer of the Year. We asked her some questions about what inspires her photography and how she feels about joining the WPY52 jury. She was also tasked with choosing her favourite images from recent WPY history.
How are you feeling about being part of the 2016 jury for the competition?
It was an honour to be asked for the second time and I am very much looking forward to working with the other jury members in the final of the competition. WPY aims to showcase the best nature photography in the world and I feel priviliged to be part of the team curating the 2016 collection. The awarded images receive international recognition and the competition itself is renowned on a global scale, so I believe the entrants submit their very best work. This means the judges have a good starting point to make the Wildlife Photographer of the Year portfolio the best of its kind, year after year.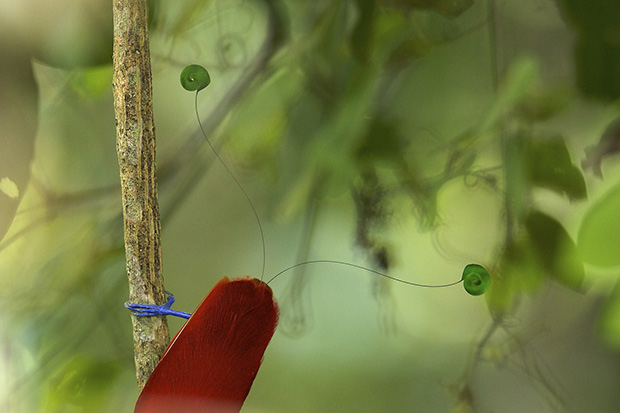 Orsolya's WPY favourites: Paradise performance by Tim Laman, USA. Specially commended 2010, Creative Visions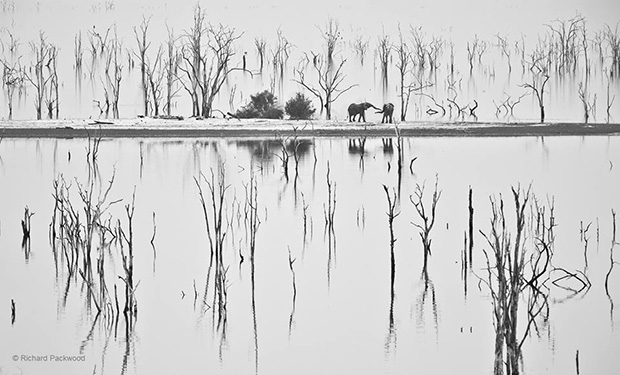 Orsolya's WPY favourites: The greeting by Richard Packwood, UK. Winner 2013, Nature in Black and White
What is it about Nordic landscapes that inspires you as a photographer?
I am inspired by the spaciousness of the unspoilt natural landscapes, the quality of light, the wild mountains and the long, furrowed coastline. I love the long, snowy winter season and the colourful autumn, and of course the freedom of roaming the wilderness.
Do you feel your work is informed or influenced by your studies in Landscape Architecture?
My early interests in biology, drawing and mathematics led me to my later studies, when I learned about potential photo subjects, project planning and writing. In the beginning, my photography was definitely influenced by my education in landscape architecture with a focus on plants. This was followed by studying beavers for my PhD in wildlife management, which I eventually did not complete.
My fascination with landscape photography flourished after I turned my passion for photography into a full time profession. I think all of my studies have played a very important role in forging my path to nature photography, although I cannot see their influence on my current choice of subjects, style and approach.
The erupting Eyjafjallajökull volcano in Iceland (2010) by Orsolya Haarberg
Orsolya's WPY favourites: Bubble-jetting emperors by Paul Nicklen, Canada. Winner, Underwater worlds and Grand title winner 2012

We've seen some of your recent images of arctic foxes in Iceland. What did you enjoy about this project? Did you face any challenges when taking these photographs?
Photographing arctic foxes was a small part of our long term project in Iceland - undeniably one of the most memorable parts of our work on the island. Photographing animal behaviour is something I seldom practice unless it fits the concept of an ongoing project. In Iceland I wanted to capture the contrasts in the unique Icelandic landscape; the dark-coated arctic foxes in the snowy winter landscape suited this concept perfectly. The year-round brown colour of the 'blue' Arctic fox provides camouflage on the dark-sand shorelines, but offers no disguise in the expanse of a snowfield.
Travelling to the most remote corner of the West Fjords and finding foxes that were willing to co-operate was a challenge, but once we (my husband, Erlend, and I) found them, we enjoyed every minute of following and observing them.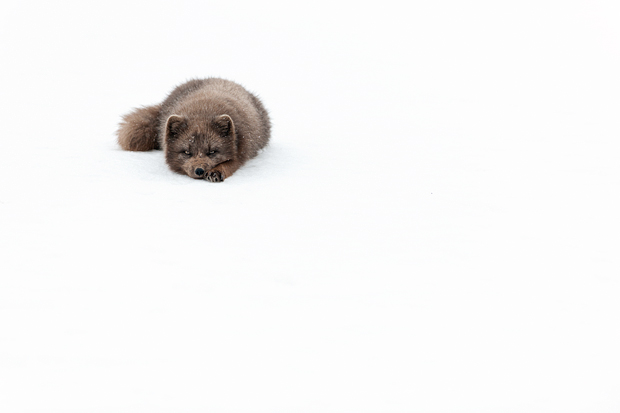 Arctic fox in the Icelandic West Fjords (2011) by Orsolya Haarberg
You'll be spending time in the WPY judging room at the Natural History Museum in London next week. What will you be looking out for in a winning image?
I will be looking for images that amaze me, either because of an ingenious idea, a unique situation or a strong message, captured in a perfectly composed, technically well-executed image. This may sound demanding, but after judging the first round I know that we have a lot to choose from, at least in some of the categories.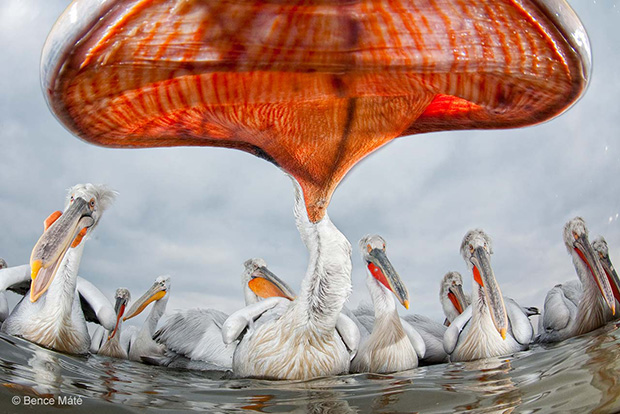 Orsolya's WPY favourites: Pelican perspective by Bence Máté, Hungary. Winner, Eric Hosking Portfolio Award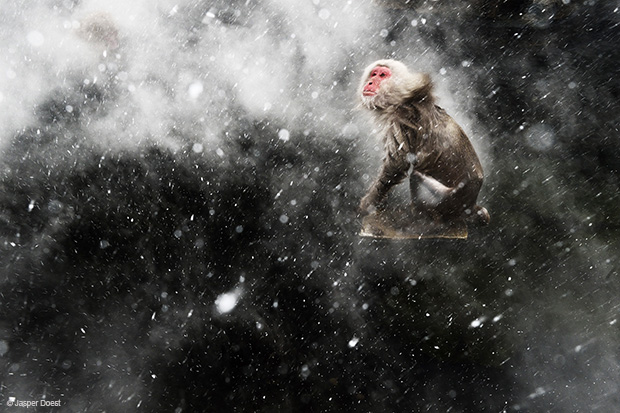 Orsolya's WPY favourites: Snow moment by Jasper Doest. Winner 2013, Creative visions
Is there a category in the competition you've been particularly excited about focusing on?
I always have high expectations of the landscape category (On land) and I really hope we will manage to make a good selection this year. However, after the first round of judging, I am particularly excited about the Black and White category. There are so many good entries here that I am sure that it will be an intense discussion to narrow down the selection.
Judging week for WPY52 kicks off next week. Follow WPY on Twitter, Facebook or Instagram for behind-the-scenes content from the judging room at the Natural History Museum.
About Orsolya Haarberg
A landscape architect by training and originally from Hungary, Orsolya met her partner Erlend Haarberg in Norway in 2004 while studying for a PhD on the feeding behaviour of Eurasian beavers. She decided to turn her passion for photography into a profession. Since then, she and Erlend have worked as a team, specialising in Nordic landscape and wildlife photography. They have published three books together : Lapland — the Alaska of Europe, Iceland — land of contrasts, and Iceland in all its splendour. Their stories and photographs have been published in magazines such as National Geographic, GEO and BBC Wildlife.
In her work, Orsolya looks for the unusual in everyday nature. She portrays animals as undisturbed parts of the environment, looking for the detail or unexpected moment of light that adds atmosphere, drama or magic to a landscape. She has won prizes in competitions worldwide, including the Natural History Museum Wildlife Photographer of the Year, Por el Planeta, Golden Turtle and Nature's Best Photography Awards. She has twice been awarded the Hungarian Nature Photographer of the Year title. Follow her on Facebook or Instagram.