Saving rhinos pt. 2: Pula
15 March 2016 posted by: Zoe - WPY Comms Officer
In the second of his 2-part series Saving Rhinos, photographer, wildlife guide and writer Neil Aldridge tells us about getting caught in a powerful storm whilst tracking rhinos in Botswana's Okavango Delta, and describes the emerging wildlife that broke the silence when the storm had passed.
"Give me your lens!" I look up bewildered, scarcely believing that any sane person would ask a wildlife photographer to hand over his precious camera and 600mm lens. But Pitso is standing over me, his face absent of any hint of a joke. "Rain is coming," he says softly, pointing over his shoulder.
I cast my eyes towards the horizon and a distant stand of palm trees. Sure enough, the fan-like leaves are beginning to dance in the growing wind. They seem almost luminescent against the threatening, lead-grey sky. I look back at Pitso, his hands outstretched in urgency, and come to my senses. This Bushman tracker-turned-rhino monitor has a deep and instinctive understanding of this land and the weather that feeds it.
I place my camera in his arms and he climbs into the enclosed cab of the 4x4. I swing up into the vehicle's game viewing seats. The wind is now howling around us and I realise how exposed we are. There's no outrunning this storm - I'm about to get the soaking of a lifetime.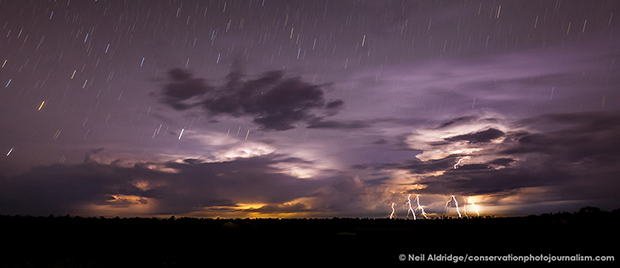 One word sums up my time in the Okavango Delta with Rhino Conservation Botswana (RCB) - 'Pula'. Pula is the Tswana word for rain. And, after months of drought in Botswana's northern wilderness, it seems I have timed my visit with the belated arrival of summer rains.
Ordinarily, I enjoy photographing wildlife during downpours in Africa, but this is no ordinary storm. I tilt my head downwards to avoid the cocktail of driving rain and desert sand stinging my face. A stream of water runs down my nose and splashes off my waterproof HPRC camera case, which is now almost floating in the flooded footwell. Lightning whips the apocalyptic landscape around us. The world seems minutes from ending. Yet, somehow, the mood inside the vehicle is higher than ever.
I squint at Map Ives, Director of Rhino Conservation Botswana, who is sitting behind me. His signature beard, now laden with rain, frames a contented grin. This downpour couldn't have come at a better time for him. As National Rhino Coordinator for Botswana, Map had been considering the awful scenario of calling off all rhino reintroductions to the Delta for 2016 due to the drought.
"Rhinos require large volumes of vegetation every day", he explains. "You can't release such precious animals with such an appetite into an ecosystem that isn't going to have enough green grazing or browsing to support them all year round. If they couldn't find enough food here in the Delta, they might wander off to look for it in less secure places. You would literally be sending them off to die either from starvation or at the hands of poachers. And we won't do that!"
Better late than never, the arrival of the rain changes everything.
A herd of impalas huddles together, backs arched and turned against the rain. Our vehicle, temporarily resembling a boat, scythes past them through a great lake of water. Soon, all of this water will breach the hard, sun-baked crust of the Kalahari and soak away to enrich the grasses and bushes so vital for the rhinos - and the success of RCB's efforts.
But rain alone cannot guarantee a future for rhinos in Botswana. That other Pula - Botswana's monetary currency - is essential to save animals at risk from poaching in South Africa and Zimbabwe and bring them here to the Okavango Delta, where they can live wild and free under the protection of Map, his team and the Botswana Government.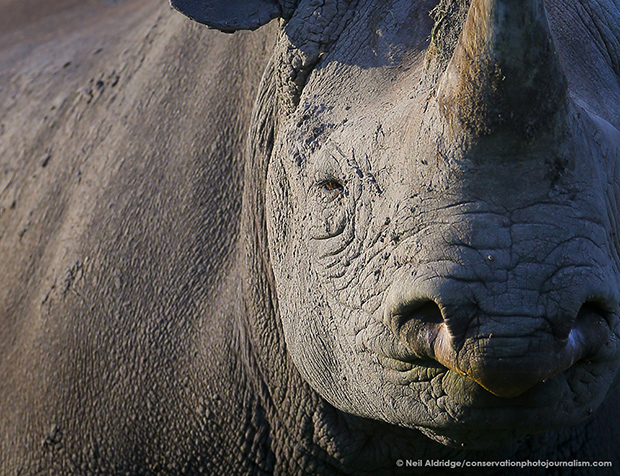 "It costs about $70,000 to buy a rhino and transport it back here to the safety of the Okavango," explains Kai Collins, RCB Trustee and Wilderness Safaris Group Conservation Manager. "Paying for the animal itself is just the first step," he continues. "On top of that, there's vet fees, permits, aircraft costs, security… not to mention all the skilled people involved." He pauses to wipe rain from his glasses. "But though the costs are high, you can't really put a price on the survival of a species that could disappear on our watch."
That's why I'm using my work to help RCB. I can't do anything about the rain (although the sudden change in the weather during my visit may suggest differently) but I can help to raise awareness of RCB's vital work through my photography, raise funds from sales of fine art prints, and produce short films for the charity's website, which is due to be relaunched this spring.
As swiftly as it started, the storm abates and the bush immediately springs back to life. A francolin is the first to break the silence with its harsh cry before two gleeful young elephants race, trumpeting, across the muddy track in front of us. I do a double take.
"Leopard," I shout, leaning forward to tell George, RCB's head monitoring officer, to stop the vehicle. The sleek cat has joined the post-storm party and is perched high on a termite mound surveying the sodden plains. I reach forward and gratefully take my dry camera from Pitso.
"We know this leopard well," whispers George, while I stabilise my long lens on my trusty Bushbag beanbag and compose my first shot. "What's her name?" I ask, firing off a couple of frames. George's response brings a wry smile to my face. "Pula," he replies.
Of course it is.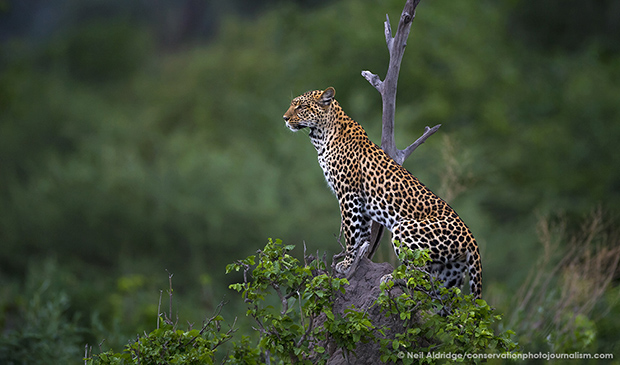 ABOUT NEIL ALDRIDGE
Neil Aldridge is a UK-based conservation photographer and is donating all profits from his range of limited edition prints to Rhino Conservation Botswana. Please visit his website. You can follow Rhino Conservation Botswana on Twitter and join them on Facebook too. Keep an eye on www.rhinoconservationbotswana.com for the forthcoming new website and ways to support RCB's vital work.