Saving rhinos pt. 1: Taking to the skies
23 February 2016 posted by: Zoe - WPY Comms Officer
Wildlife photographers challenge perceptions of the natural world by sharing compelling messages about conservation and sustainability. In the first of two blog features documenting how he is using his work to help rhino conservation, photographer, writer and wildlife guide Neil Aldridge takes us on a journey as he tracks rhinos in Botswana's Okavango Delta.
"There are two sets of tracks. Look, she has a calf!" I crouch down to inspect the parched earth beneath the outstretched fingers of Map Ives, National Rhino Coordinator for Botswana. Sure enough, pressed into the sand is the huge footprint of a white rhino. And there, beside it, is evidence of Botswana's newest rhino.
Map's delight is written all over his face. A breeding, growing population of rhinos is precisely what he and his colleagues are working to achieve here on the palm-studded islands of Botswana's Okavango Delta.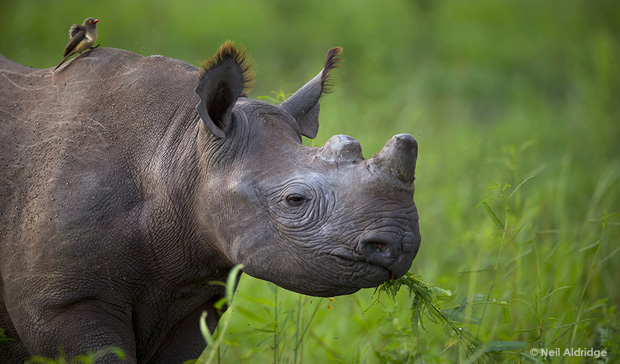 I'm in this famous wetland wilderness to document the work of Rhino Conservation Botswana (RCB), which is bringing rhinos back to Botswana to ensure their safety now, in the face of the poaching epidemic, and for the future. As a conservation photographer, my goal is to help establish RCB as a leading force in rhino rescue, monitoring and protection.
The project was set up by Map Ives and Kai Collins with support of Wilderness Safaris, Africa's leading sustainable ecotourism company. The team has already successfully translocated rhinos at risk of poaching from South Africa and Zimbabwe to the safety of the Delta, and they plan to move many more.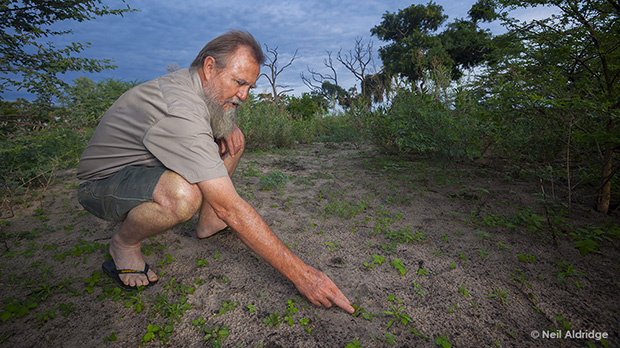 Now we're hot on the heels of one of the white rhinos that fell pregnant shortly after her release here. I focus my Canon 16-35mm lens and capture a few shots of Map reading her tracks before climbing back into the Land Cruiser to continue our search. The monitoring team checks up regularly on the condition of every rhino in the area, especially when they have calves. But finding them can be harder than it sounds, even in a 4x4.
The ground is studded with termite mounds and pock-marked by burrows and holes. As the vehicle lurches, dips, slides and bounces along the track, I have plenty of time to consider the images I need for this commission. I need to think beyond pretty pictures of rhinos skipping across savannahs and concentrate instead on my end goal, which is to tell a story that engages people worldwide with RCB's conservation efforts. Taking pictures of Map and the team tracking and monitoring rhinos, and of the Okavango's unique environment, will help build a complete and personal story to inspire potential supporters.
For me, this story is much more than just a commercial commission or wildlife photography expedition. I'm not worrying about capturing unique wildlife images or discovering a story that's never been told before. This is personal. As a photographer and a South African, I feel I have a duty to use my skills to raise awareness of the plight of the rhino, highlight RCB's vital work and help unlock the essential funding that could contribute to saving rhinos from a horrible death.
That's why, as well as building the RCB brand with my pictures and short films, I have created a series of limited edition prints that will see all profits go directly to RCB, hopefully helping them to move rhinos in danger of being poached to the safety of Botswana.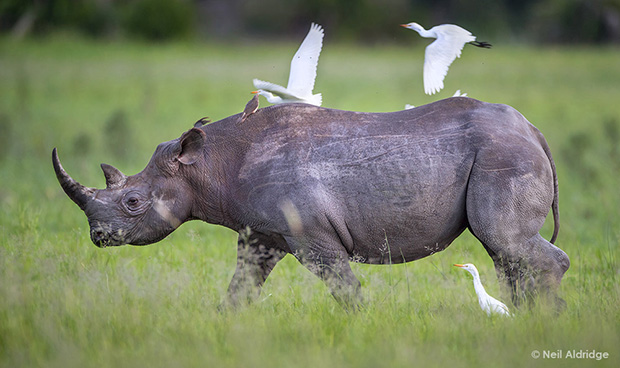 Capturing creative photographs, documentary photos and film clips of equal quality on such an expedition is incredibly challenging and requires some serious gear. Fortunately, I'm not the only one prepared to do whatever I can to help rhino conservation, and my friends at outdoorphoto.co.za in South Africa have helped make sure that my photographic needs are covered.
However, sometimes even the largest telephoto lens can't help you to find your quarry. The female rhino and her calf continue to evade us so it's time to take to the air and see if we can have more luck.
We arrive at the airstrip just as the sun rises over the horizon. I sling my Canon 1DX and 5D Mk2 cameras round my neck and climb into a tiny, open-sided helicopter operated by Helicopter Horizons - a helicopter charter company based in Maun. Behind me, Kai is readying his camera and a gimbal-mounted GoPro in anticipation of good sightings.
With a whir of blades, we lift off and float effortlessly over the Okavango. Not only does flying over the Delta allow our bones respite from bumping along elephant-trampled tracks, it also brings home just how well suited the delta is as a location for rebuilding populations of black and white rhino.
"It's safe for rhinos here," Kai shouts into the microphone connected to his headset. "You can see we're surrounded by channels of water, channels that are filled with crocodiles and hippos," his voice continues in my earpiece. "The delta's also well populated with tourist camps all served by regular flights and running walking safaris, boat trips, mokoro trails and game drives. Any poacher is going to be picked up, if not by tourism activity then by Botswana Defence Force patrols. And our government is 100% behind us, adopting a zero tolerance approach to poaching."
Kai points at something in the bush below. "Rhino," he shouts into the mouthpiece. The helicopter banks to the left and I lift my Canon 1DX and zoom in on our target. It's not the female and calf we had been looking for, but a magnificent bull. The clattering of the camera's shutter mirrors my racing heartbeat. The rhino trots purposefully along a well-worn trail. He's not unduly stressed by our presence so I quickly get enough shots of his ear notches to identify him and we leave him in peace.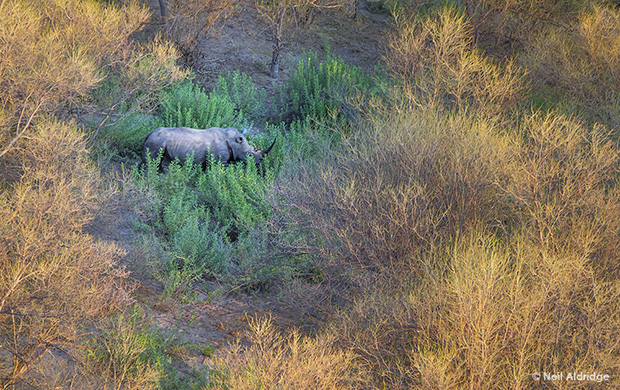 As I stare down from the tiny helicopter onto ospreys and skulking marabou storks below, I know that the Okavango Delta is the perfect place where rhinos can be kept safe and their populations given time to recover and grow. And I'm proud that my work will help to make Rhino Conservation Botswana the success it deserves - no, has - to be.
ABOUT NEIL ALDRIDGE
Neil Aldridge is a UK-based conservation photographer and is donating all profits from his range of limited edition prints to Rhino Conservation Botswana. Please visit his website. You can follow Rhino Conservation Botswana on Twitter and join them on Facebook too. Keep an eye on www.rhinoconservationbotswana.com for the forthcoming new website and ways to support RCB's vital work.