Richard Peters - Back Garden Safari - pt. 3
29 January 2016 posted by: Rosie Pook, WPY Comms Officer
In the concluding part of Richard Peters' three-part study of the nature in his suburban English garden, Richard looks back on a summer spent meeting his wild neighbours.
Having recently swapped a manual remote shutter release for a motion detecting PIR sensor, I was finally able to maximise any photographic potential from wildlife visiting my garden.
It wasn't instant success and an abundance of images however. During the months of November and December I actually only captured a handful of images worth keeping. However, I used the time to play with different lighting ideas and try to understand how to balance natural and artificial light to give varying feels to my images. It was quite a frustrating time and I felt myself becoming quite deflated.
Using shadows adds interest to an otherwise unflattering angle
Then, just a few days into the new year, I captured my first decent image in quite some time and that was all it took to motivate and re-inspire me. Barely a month after that, I found myself capturing an image that would later go on to become incredibly well known, Shadow Walker.
With spring fast approaching, the shift in activity was very welcome. As the days became longer and the weather warmer, it was lovely to see the badgers returning more frequently to the garden and, for the first time, with the foliage and vegetation also growing, I could see from the upstairs windows some of the pathways they used to visit both my and other gardens.
With the badger's sett clearly somewhere close and many of the neighbouring properties abundant with fruit trees and soft, worm-rich soil, I can only assume these wonderful mammals have long thrived here, long before I moved in. Sadly this increase in badger activity also coincided with a major decrease in fox activity and by early spring, they had all but disappeared and wouldn't return.
Taking the shadow theme further resulted in a unique twist on the classic urban fox image
The badgers continued to keep me more than occupied though and the more I observed and photographed them, the more it became clear there were at least three individuals that would visit, each with their own traits and personalities.
One would always enter from the side of the shed, across the decking. Another from the back of the garden though the hedge, and as time went on, a third would always spend a huge amount of time exploring the entire garden, which included the occasional small snuffle hole in the lawn. They were also incredibly cheeky, and despite being catered for already, have been known to push over the bird table on occasion to see if the birds have left anything behind for them. Thankfully, not being much of a gardener, there is very little in the way of pristine flower beds for them to explore, otherwise they might not have been so welcome by those in my house who do not have a photographic interest.
One of the badgers' favourite entry points to the garden
It's been a wonderful first summer with them and as time has gone by I have found myself becoming incredibly attached to my visitors, especially with the species being under threat in the UK. But as the days once again close in and the air gains the chill of winter, my garden finds itself once again becoming largely empty and unvisited.
But one thing is clear, it's been an incredibly satisfying journey, working from my own garden. And the beautiful thing about it, is it's something that many of us can do. Even if you think there isn't, I'm willing to bet there is a huge variety of wildlife just outside your window if you pay close attention.
There are also a plethora of websites available to give advice on what you can do to encourage specific wildlife into the garden, what type of seed and feed encourages what animals and ways in which you can make the garden a more inviting and welcoming environment, with most garden centres stocking a huge range of products to get you up and running.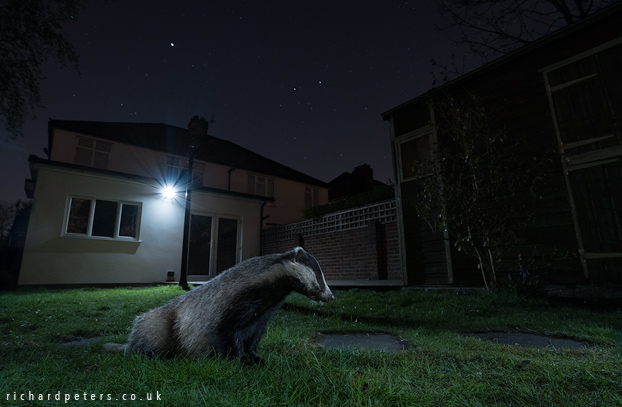 With Jupiter and a star filled sky above, the badgers roam their urban environment
The most important thing is to always put the animals' welfare first, although that should rarely be an issue when photographing in your own garden -unless it's next to a busy road or other such hazard. However, even if you decide not to photograph the animals that visit, just watching them can be very rewarding and quite therapeutic too!
And remember the next time you see a security light come on in someone's garden, whilst it could be a neighbour's cat or dog, you never know, it might just be a local fox or badger going about its nightly rounds.
ABOUT RICHARD PETERS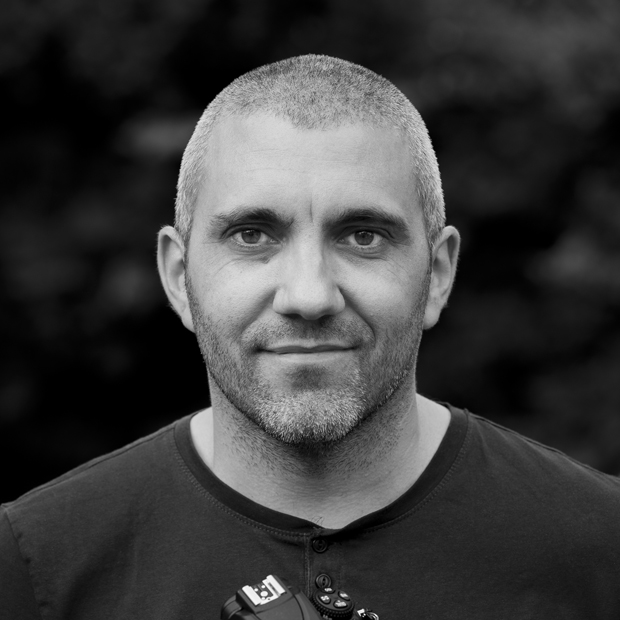 Richard is a UK based photographer with a preference to light over subject, who has twice been awarded in Wildlife Photographer of the Year - most recently with his Urban winning image Shadow Walker - as well as being named the overall European Wildlife Photographer of the Year for 2015. He has also written his first ebook, documenting his recent long term garden project.