Richard Peters - Back Garden Safari - pt. 2
22 January 2016 posted by: Rosie Pook, WPY Comms Officer
In the second of a three-part series documenting Richard Peters' study of the nature in his suburban English garden, Richard discovers the challenges of photographing wildlife in the Great British Winter.
With the recent discovery of badgers visiting my garden, followed by weeks of monitoring their visits with a trail camera, I began putting a plan in motion to photograph my visitors.
Given the visits were all taking place at night, it was at this stage I needed to delve into the world of off-camera flash. I looked at the work of other wildlife photographers who use this technique to produce highly successful imagery but rather than simply research 'how to photograph wildlife with flash' I instead researched the basic principles of this technique in general, with the idea that I could then apply those to my chosen genre of wildlife.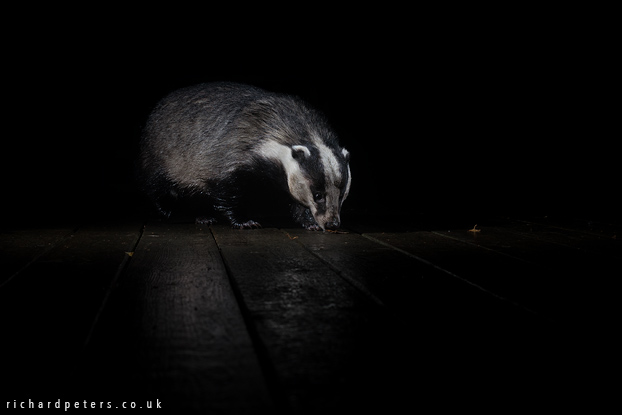 Badgers spend most of their time head-down, sniffing anything they come across, including leaves!
When it comes to the use of flash, every situation, species and even individual subject within a species is different, and so right from the start I was always very mindful that if any negative reactions were observed, I would stop immediately. This led me to the following workflow:
Power: I do not use flashguns at more than 1/4 power, and in most cases, set them to 1/16 and lower. In order to let this low power provide enough illumination, I increase the ISO and open up the aperture of the lens to increase the camera's sensitivity to light.
Duration: The camera is always set to one frame per camera activation. Depending on the exposure duration of the final image, the camera fires, at it's fastest, one frame every four seconds, and and its slowest, one frame every 30 seconds. This often means the camera only fires once or twice per subject visit.
Position: In most situations, flashguns are placed above the subjects head and illuminating in from the periphery. This has the advantage of only providing one catchlight in the subject's eyes, which also aids the visual appeal of the image.
In any case, I quickly discovered it was the sound of the camera that proved to be the bigger issue initially. Both badger and fox were wary of this new sound that had been introduced into the garden. A quick bit of research told me that garden visiting badgers very quickly acclimatise to new noises, and that even audio-based anti-badger devices that are available to help keep unwanted animals from peoples gardens actually do very little. This most certainly proved to be the case with the sound of the camera, as they very quickly learned it would do them no harm. In fact, they become quite intrigued with this new object and on occasion have been known to reposition the camera slightly with an over eager sniff if it's low to the ground. There have also been several mornings I have gone out to check the camera, only to discover a nose print on the lens.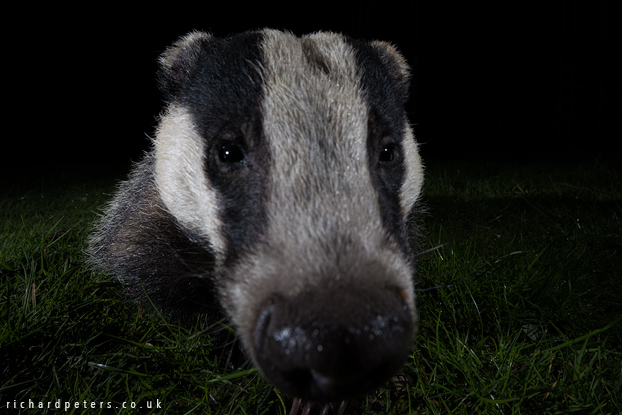 The camera sometimes proves an intriguing object that warrants investigation
Learning to photograph at night also coincided with the onset of winter. With that, both badger and fox visits were becoming spaced further and further apart and it wouldn't be uncommon to go many days without sightings of either. I was also using a manual remote shutter release, meaning I would have to spend most evenings in the kitchen, in the darkness. It wasn't unusual for me to sit in there from around 5pm until 3 or 4am in the morning, waiting for something to come into the garden so I could try and photograph it. Of course, even on the evenings a badger or fox did pass through looking for refreshment, there was never really any guarantee on how they would approach the camera or from which direction.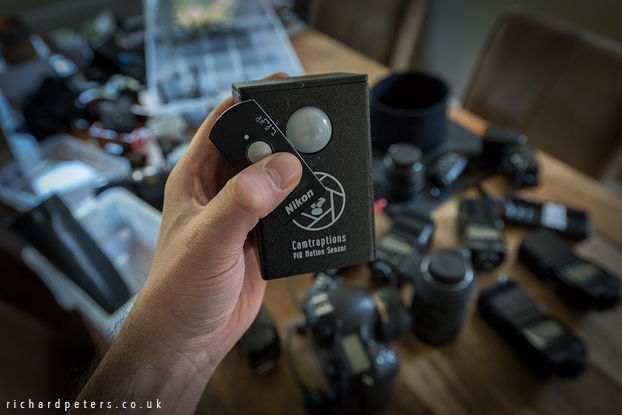 Making the switch from manual release to motion activation of the camera
With the long nights and minimal decent photos to reward my efforts, I decided my next step was to buy a PIR motion sensor to replace my manual remote release, so that I could build a camera trap to try and maximise my potential, whether I was at home or not. It proved to be one of the best decisions I would make in a very long time...
ABOUT RICHARD PETERS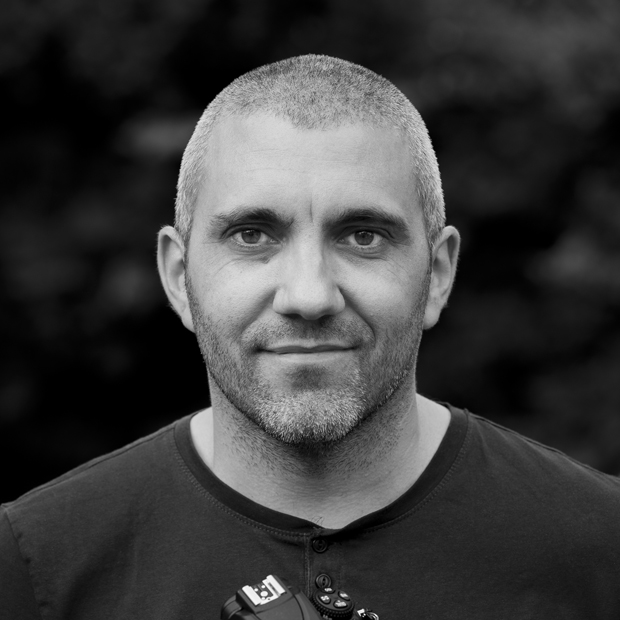 Richard is a UK based photographer with a preference to light over subject, who has twice been awarded in Wildlife Photographer of the Year - most recently with his Urban winning image Shadow Walker - as well as being named the overall European Wildlife Photographer of the Year for 2015. He has also written his first ebook, documenting his recent long term garden project.