Richard Peters - Back Garden Safari - pt. 1
15 January 2016 posted by: Rosie Pook, WPY Comms Officer
In the first of a three-part series documenting Richard Peters' study of the nature in his suburban English garden, Richard looks back on how he discovered a world of wildlife, right on his doorstep.
With the human population increasing and cities encroaching on the countryside more and more, the UK not only has a large urban wildlife population but has become proficient in the encouragement of welcoming wildlife into our gardens, especially using supplementary sources of food with feeders, fresh water, nest boxes and by generally creating inviting environments for animals to thrive.
When I first moved into my new house, I'm ashamed to say I initially had little interest in this great British pastime. For the first year, we had a lot of building work going on and so the back garden was often used a dumping ground for materials and waste. However a little while after the work was done, I spotted a bushy tail disappear behind the shed. I ran upstairs and discovered there was a fox sitting in my neighbour's garden, I grabbed a couple of photos, using my phone, of it sitting on the lawn before it eventually carried on its way.
The catalyst. My first sighting of the local fox population.
This sighting really prompted me, for the first time, to see my garden as not just a space for me to enjoy but also demonstrated there was some local wildlife around too with which I share it. After a quick trip to the local garden centre to stock up on some bird feeders, peanuts, seed and a water bowl, I began trying to turn the back garden into my very own nature reserve.
Sadly, with quite a few local cats in my area, bird activity in the garden proved to be quite slow save for a pair of local wood pigeons and the occasional jay. Undeterred, as the summer rolled on I noticed the dappled light on the shed roof made for a wonderfully photogenic scene as the pigeons would walk through pockets of light before flying down to the floor. This led me to spend quite some time concentrating on photographing these surprisingly character-filled birds, and it's something that I still dip in and out of from time to time but the situation favours a good image of them.
Dappled light can enhance even the most common of subjects
Pigeons aside, the main interest for me remained the foxes and for the best part of two months I spent every evening lying at my kitchen door hoping for a visit. Initially I would photograph through the glass of the door but over time was able to start leaving the door open.
It was a slow process as I would not get visits everyday, but I was determined to persist. Because of the angle I would be shooting at, rather than just a simple 'fox on the lawn' image, I decided to leave the grass to grow over summer to try and make for a more interesting looking frame. In time, my evenings spent lying at the door paid off and I finally managed to get a single portrait in acceptable light. It was an exciting moment and I hoped it would be the the first of many more, but sadly a week or so after capturing this image, the foxes stopped coming altogether, as far as I could tell.
The first, and only, daylight portrait in OK light
This sudden drop in activity prompted me to purchase a trail camera to put in the garden in order to monitor any movement, 24 hours a day. This revealed the foxes were actually visiting quite often through the night as they did their nightly rounds.
Not long after putting the trail camera in the garden, we went away for a long weekend and when we returned home, I was eager to play back the footage and see how the activity had unfolded whilst we were away. There were many clips of the usual suspects coming in, several birds, the occasional squirrel, several neighbours' cats and of course the foxes. I couldn't believe my eyes however, when one of the video clips loaded up and revealed that a badger had visited! I was absolutely thrilled. With these beautiful animals the subject of much controversy in the UK, it was heartwarming to see this wonderful mammal peacefully and safely going about its business in my garden.
In the weeks that followed, I used the trail camera to monitor activity and discovered there were at least two or three individuals that would visit. They wouldn't do so every night, but on others they would visit more than once. Often eating some peanuts before spending up to 15 minutes snuffling around in the grass in search of worms and other natural food sources.
The more I monitored their activity, the more I knew I had to figure out a way to photograph these lovely animals. And that is where the real fun would begin ...
ABOUT RICHARD PETERS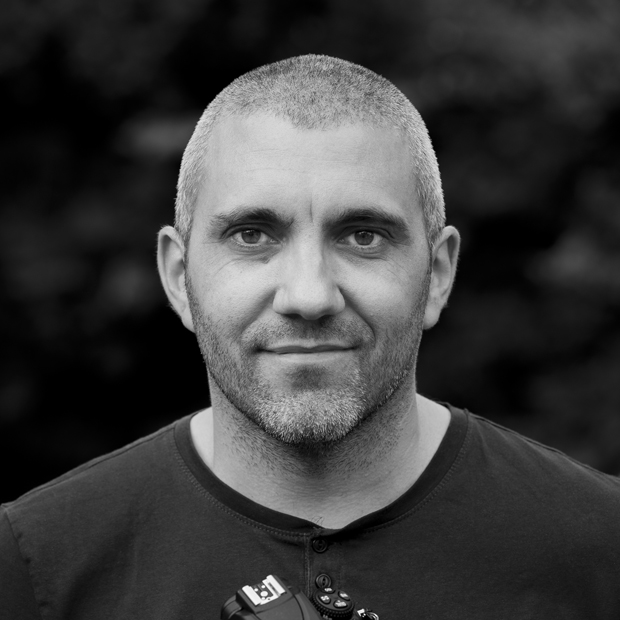 Richard is a UK based photographer with a preference to light over subject, who has twice been awarded in Wildlife Photographer of the Year - most recently with his Urban winning image Shadow Walker - as well as being named the overall European Wildlife Photographer of the Year for 2015. He has also written his first ebook, documenting his recent long term garden project.