Masterclass: Udayan Rao Pawar and Kalyan Varma
07 January 2016 posted by: Rosie Pook, WPY Comms Officer
Our latest guest post comes from 2013 Young Wildlife Photographer of the Year, Udayan Rao Pawar. We catch up with him in the field as he embarks on a Masterclass in India's Anamalai Hills with acclaimed naturalist and photographer, Kalyan Varma.
WPY, apart from being the most prestigious nature photography competition, is unique as it not only recognises young talent but also offers a masterclass with a leading nature photographer to hone their skills. As a recipient of the 2013 Young Wildlife Photographer of the Year award, I got this opportunity as well. It was at the award ceremony in London that I first got to meet Mr Kalyan Varma, a leading photographer, filmmaker and naturalist from my country, India. Little did I know then that I would get an opportunity to learn from him.
I was very excited when I learnt that Mr Kalyan had agreed to do the masterclass with me in the beautiful Anamalai Hills, and that too, very generously, over a period of two days instead of the usual one. I felt very reassured when he promised me on the phone that the trip would be a mix of both fun and learning.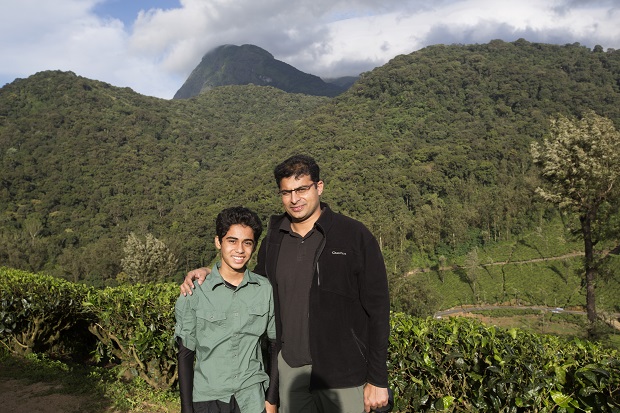 Udayan Rao Pawar and Kalyan Varma in the Anamalai mountain range
Anamalai, literally meaning "Elephant Hill", is a range of mountains in the Western Ghats of South India. Rising to a height of over 8000ft and receiving over 5000mm of rainfall, it has a wide variety of flora and fauna - over 12 major forest types ranging from wet evergreen forests on the lower slopes to mountain Shola grasslands at higher elevations; over 250 species of birds including 15 endemic to Western Ghats; 315 species of butterflies with 44 endemic; several species of reptiles including tree frogs, flying lizards,  forest turtles, gliding snakes, pit vipers and king cobra; several species of primates including slender loris, Nilgiri langurs and lion-tailed macaques; and several threatened species of large mammals including tigers, leopards, elephants, gaurs, and endemic Nilgiri tahrs.
Valparai, a mid-level hill station in the Anamalais, had been specially chosen as the venue for my masterclass by Mr Kalyan because it is a mosaic of tea, coffee and spice plantations surrounded by evergreen forests. Valparai is a photographer's delight with its rich wildlife and varied landscape, but more importantly, it offers an insight into the problems created by human intrusion and habitat fragmentation and the measures taken to deal with the resultant man-animal conflict, important issues for any concerned wildlife photographer or naturalist.
The Anamalai Hills are known for their abundant wildlife
Reaching Valparai late in the evening after a drive through mist covered forests, I was taken straight to a tea garden where a leopard had just been driven away by a pack of dholes or wild dogs. I was pointed out a distant large grey form by Mr Kalyan, but it was only when it moved that I could make out that it was an elephant.
It was a pleasant surprise to learn that my host was none other than madam Divya Muduppa, whom I had also met at the award ceremony in London with Mr Kalyan. She is one of the co-founders of the Nature Conservation Foundation, an organisation in the forefront of nature conservation and research. I was introduced to the other members of the team - Mr Ganesh Raghunathan who is working on man-elephant conflict management, Mr P Jegan who conducts a conservation education programme, but is best known for his work on Jerdon's courser, and Miss Ushma Shukla who is working on a hornbill telemetry project. I got to learn a lot listening to their experiences over dinner, and it was quite late in the night before we retired to sleep.
I was put up in a bungalow in the midst of tea gardens and when I woke up next morning I found a barking deer standing just outside the door. Mr Kalyan arrived shortly thereafter and we drove off into the forest with our photography gear.
There was lot of birdlife around and we spent some time photographing flame-throated bulbuls and crimson-backed sunbird, which is endemic to the Western Ghats. Soon a pair of great hornbills made an appearance and went about their task of inspecting suitable tree hollows for their nest, or what Mr Kalyan aptly described 'looking for real estate', giving us ample opportunity for photographing them. I had seen great hornbills earlier in Nameri and Kaziranga in Assam. Hearing the loud 'WHOOSH' of their wings as they fly through the tall canopy of forest trees is an unforgettable experience.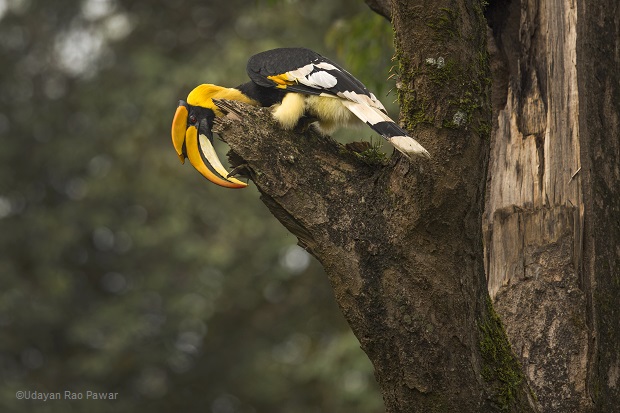 A great hornbill inspects a potential nesting site
The afternoon was spent analysing the results of the photographs taken earlier in the day and lessons on the basics of photography, camera setting, exposures, composition, ethics and aesthetics. In the evening we drove to Tata coffee estate at Puthuthottam, which has an isolated population of the endangered lion-tailed macaques. Unlike tea plantations, which require only light shade, coffee plantations retain a substantial part of the natural canopy.
I was also taken to an organic tea plantation where we saw several gaurs grazing between the rows of tea bushes, keeping the growth of weeds in check without the use of harmful chemicals. The gaurs, which are otherwise very shy creatures, seemed to be unmindful of the tea labourers working nearby. I saw a large bull with rippling muscles browsing on the succulent growth on the fringes of a marsh, its feet sinking upto the knees in the bog with each step it took under the weight of its huge bulk.
The gaur, also called Indian bison, is the largest living bovine in the world
Gaurs are often used to control weed growth in tea plantations
After it grew dark Divya madam took us in the forest to look for flying squirrels. With torch lights flashing we searched for these nocturnal creatures and I was quite excited when I saw my first Indian giant flying squirrel gliding between the canopy of the tall trees.
Early next morning I set out with Mr Jegan and other researchers for birding on the Valparai plateau. Notable sightings included a pair of crested serpent eagles, wood pigeons and painted bush quails. Mr Jegan introduced me to E-birding and also enrolled me as a member. We were soon joined by Mr Kalyan and Divya madam and we all together proceeded to search for flying lizards. It soon started raining, forcing us to go back to our dwellings and the rest of the day was spent with Mr Kalyan discussing and practising a wide range of topics including macro photography, time-lapse, filming and post processing.
When the weather cleared in the afternoon we again set out with our cameras in the field. We spent some time watching the antics of a large troop of lion-tailed macaques hanging around a group of houses along the road which passes through the Tata coffee estate at Puthuthottam. The alpha male of the group sat defiantly in the middle of the road forcing the motorists to give him a wide berth. Since the macaques have developed a habit of loitering around this place, the Nature Conservation Foundation has posted a guard to prevent road kills and have even thoughtfully provided overhanging cables spanning the width of the road.
An adventurous young male gained an entry to one of the houses by lifting the roof tiles and ran out holding biscuit packets stuffed in its mouth and arms, creating quite a commotion with the other members chasing and trying to snatch the booty from him. The alpha male took away the lion's share and once again planted himself in the middle of the road to enjoy his snacks. It was a very amusing spectacle for me, but I pity and also admire the local people who have to bear with such nuisance everyday.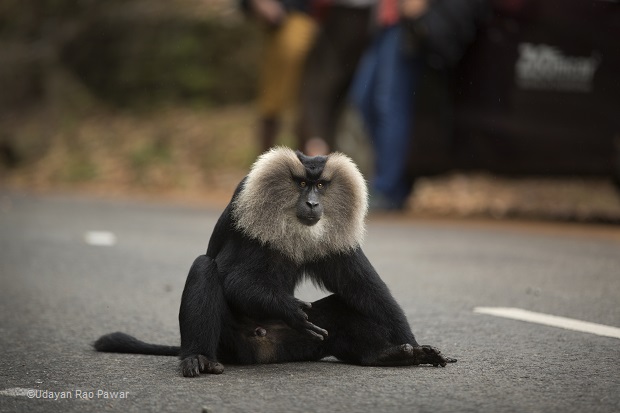 Lion-tailed macaques in this part of the Western Ghats are protected by road guards
Moving on, we drove through a patch of forest which, Mr Kalyan explained, was once degraded but was being restored by the Nature Conservation Foundation with a suitable mix of species chosen to resemble the natural composition of local forest. A pair of striped necked mongoose ran across the road close to a marsh.
Driving through a patchwork of forests and plantations, we reached a place of incredible beauty which Mr Kalyan had specially chosen because of its spectacular view of the forest covered mountains for our time-lapse photography demonstration. The day ended with some good landscape shots of sunset over the Anamalai Hills.
The sun sets over the Anamalai Hills in the Western Ghats
It was with a heavy heart that I departed next morning, but also with the satisfaction of having learnt so much. Before we parted, we got a last surprise photo opportunity in the form of a group of Nilgiri tahrs grazing by the roadside. The Masterclass turned out exactly as Mr Kalyan had promised - learning with fun.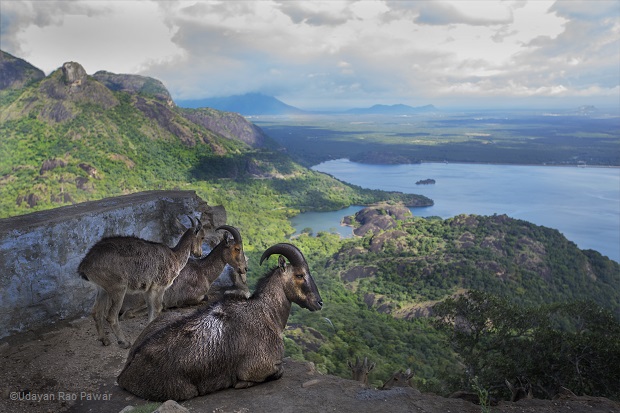 The endangered Nilgiri tahr is endemic to the Nilgiri Hills
Wildlife Photographer of the Year 2016 is now open for entries until 25 February 2016. Enter on the website.
About Udayan Rao Pawar
Born in Madhya Pradesh, it was the gift of a pair of binoculars that turned Udayan into a naturalist and the gift of a camera that transformed his interest into a passion. Udayan is also passionate about conservation and on his holidays helps field staff working with the Indian gharial, a critically endangered fish-eating crocodile. He won the Young Wildlife Photographer of the Year title in 2013.
About Kalyan Varma
Kalyan Varma is a wildlife photographer, filmmaker, naturalist and explorer specializing in environmental issues in India. He freelances with many of the world's leading magazines, environmental NGOs and television channels like National Geographic and BBC. He was awarded in Wildlife Photographer of the Year 2013. http://kalyanvarma.com