First look: 2015 preview images revealed
01 September 2015 posted by: Rosie Pook, WPY Comms Officer
In a sneak preview of the 51st Wildlife Photographer of the Year competition results, we discover the stories behind three striking images that earned a place in the final winning collection.
The photographs from the winning collection will be on display for the very first time from 16 October at the Museum. Advance tickets are now on sale.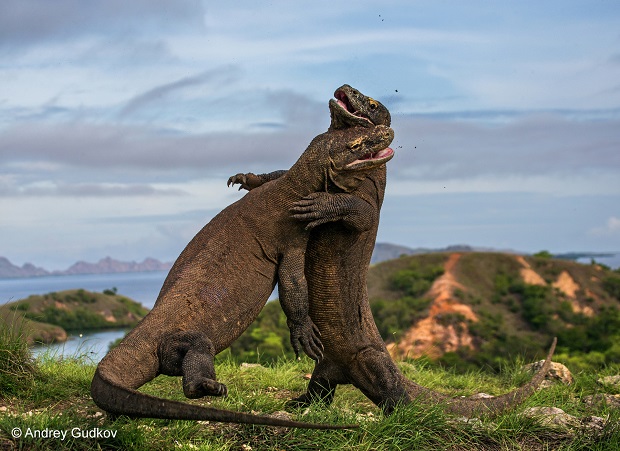 Komodo judo, Andrey Gudkov, Russia
Location: Rinca Island, East Nusa Tenggara, Indonesia
Category: Amphibians and Reptiles, Finalist 2015
The fight was fast and unexpected. Andrey had been to Indonesia's Komodo National Park many times before, hoping to witness a battle between male Komodo dragons - the largest lizards in the world, up to 2.5 metres (8 feet) long. And though he had visited in August, when males are most likely to battle over females, he had never been lucky. But on this December morning, on Rinca Island, he had found two large males hissing angrily at each other.
To his surprise, the confrontation escalated. The lizards reared up on their hind legs, supported by their long, muscular tails, and suddenly everything came together: two formidable dragons 'dancing the tango' at the crest of a hill against a beautiful backdrop, without the usual tall grass obscuring the action.
Andrey seized his chance, knowing that Komodo dragons can move fast and that their bites are venomous, secreting a mix of toxic substances from glands in their jaws into the wounds made by their teeth. The dragons fought two consecutive bouts of a few seconds each until one overpowered the other, knocking him over backwards, and the pair walked off in different directions. With quick reactions and a fast shutter speed, Andrey had nailed the shot he had dreamt of.
Made with: Canon EOS-1D X + 100-400mm f4.5-5.6 lens at 100mm; 1/2000 sec at f7.1; ISO 800
About Komodo dragons
Reaching up to 10 feet (3 meters) in length and more than 300 pounds (136 kilograms), Komodo dragons are the heaviest lizards on the planet. They have survived in the harsh climate of Indonesia's Lesser Sunda Islands for millions of years. There is a stable population of about 3,000 to 5,000 Komodo dragons on the islands of Komodo, Gila Motang, Rinca, and Flores. However poaching, human encroachment, and natural disasters have driven the species to endangered status.
Komodo dragons enjoy a varied diet, including carrion, deer, pigs, water buffalo and even humans. Dragon saliva contains deadly strains of bacteria, and victims usually die of blood poisoning within 24 hours of being bitten. The dragons then use their extraordinary sense of smell to track down the corpse.
About Andrey Gudkov
Andrey Gudkov is a professional wildlife photographer, member of the International Federation of Journalists, and member of the Russian Geographic Society.
http://www.wildanimalsphoto.com/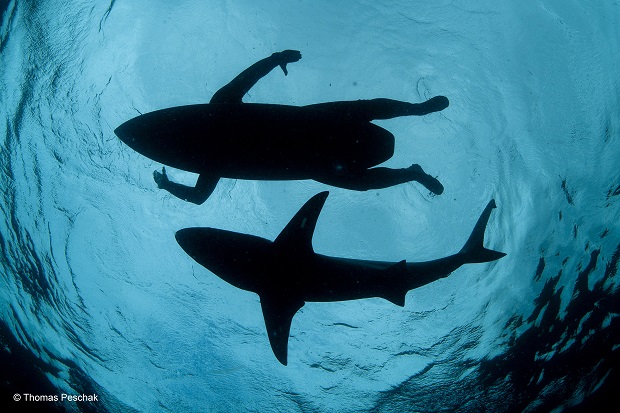 The shark surfer, Thomas P Peschak, South Africa/Germany
Location: Aliwal Shoal, KwaZulu-Natal, South Africa
Category: Wildlife Photojournalist: Single Image Award, Finalist
The many sharks to be found at Aliwal Shoal near Durban, South Africa, make it a popular dive site - the perfect place to test a prototype surfboard with an electromagnetic shark deterrent. Surfers are occasionally targeted by sharks, but the risk of attack is very low. In 2014, there were 72 unprovoked shark attacks on swimmers worldwide, only 3 fatal.
But fear of sharks prevails, and gill nets are still used to kill sharks in the hope of reducing attacks. 'I wanted to illustrate a non-lethal approach to mitigating the shark-surfer conflict, 'explains Tom. When the new board was switched off, the curious blacktip sharks swam close, but when it was activated - stimulating their sensory organs - they stayed at a distance. To avoid bubbles in the picture, Tom free-dived, framing the complementary forms to suggest peaceful coexistence rather than conflict.
Made with: Nikon D700 + 16mm lens; 1/1600 sec at f18; ISO 500; Subal housing.
About electromagnetic shark repellents
The Shark Shield is a portable electronic device that emits an electromagnetic field and is used by scuba divers, spear and ocean kayak fishermen and surfers to repel sharks. It exploits the sensitivity of the Ampullae of Lorenzin (electrosense) in sharks and rays. This organ is not found on bony fishes so the repellent is selective to sharks and rays.
Electropositive metals are also being used as shark repellents. These materials produce an electrochemical voltage when immersed in an electrolyte such as seawater.
About Thomas P Peschak
Thomas P. Peschak is a contributing photographer to National Geographic Magazine. He leads a near continuous nomadic existence and spends 300 days per year in the field on assignments around the world. He was recently named as one of the 40 most influential nature photographers in the world.
Gorilla care, Marcus Westberg, Sweden
Location: Virunga National Park, Democratic Republic of the Congo
Category: Wildlife Photojournalist: Single Image Award, Finalist
Ndeze, a nine-year-old orphan mountain gorilla, watches with concern as veterinarians check the health of her female companion, twelve-year-old Maisha, in the Senkwekwe Centre at the headquarters of the Virunga National Park, in the Democratic Republic of the Congo.
The resident 'gorilla doctor' Eddy Kambale (here with the former regional director Jan Ramer, left, assisted by two visiting vets) runs thorough health checks every year on the four orphan mountain gorillas, all of whom have been rescued from poachers and traffickers and have suffered traumatic experiences.
The centre - named after Ndeze's father, who was murdered along with Ndeze's mother and several other members of her family in 2007 - is just part of the park's efforts to protect the surviving mountain gorillas. 'The deep bonds that exist between these orphans, their carers and Eddy is one of the most touching things I have ever had the privilege of witnessing,' says Marcus.
Made with: Canon 5D Mark III + 16-35mm f2.8 lens at 16mm; 1/80 sec at f4.5; ISO 1600.
About mountain gorillas
It is estimated that only around 880 mountain gorillas remain on Earth, and just over half live in the forests of the Virunga mountains in central Africa. They live on the lush, volcanic slopes of Rwanda, Uganda, and the Democratic Republic of Congo.
They face major threats from habitat loss, poaching and human civil unrest, but major conservation initiatives mean that gorilla numbers are believed to be steady or even rising slightly.
Read about Gorilla Doctors, an international veterinary team providing hands-on medical care to ill and injured mountain and Grauer's gorillas living in the national parks of Rwanda, Uganda, and the Democratic Republic of Congo (DRC).
About Marcus Westberg
Marcus's background in environmental management brought him to Kenya in 2011, which set off his ongoing fascination for sub-Saharan Africa. Although he works with numerous travel magazines, much of his work focuses on the efforts on non-profit organisations – including Gorilla Doctors in 2014. Born in Sweden but raised in numerous countries around the world, Marcus spends most of the year on the road. He has a love for recreating the atmosphere and moods he experiences while photographing, and tries to convey these through his images.
http://www.lifethroughalens.com/
EXHIBITION AND TICKETS
Get ready for the Wildlife Photographer of the Year 2015 exhibition. Showcasing the winners and finalists of the 51st competition, it premieres at the Natural History Museum and then tours more than 60 cities in the UK and worldwide.
The winners of the 51st Wildlife Photographer of the Year competition will be revealed on 13 October 2015.
The 2015 exhibition will open in London on 16 October. Advance tickets are now on sale.