Joshua Burch - Project Fox pt. 3: What next?
21 August 2015 posted by: Rosie Pook, WPY Comms Officer
We've been following young photographer Joshua Burch's project to photograph the foxes of his suburban garden. In the final installment of this 3-part series, Josh looks to the future and wonders where his project could take him next and offers some advice for other young photographers.
So, what's next? Well for me I think for the time being I will stick with the foxes until the end of the year as there is so much that I still want to cover. This is the time when young fox cubs start to find their way around the big city, so I'll be out and about this summer trying to photograph them and the adults in the streets of my local town.
There is still a lot of work for me to do with the camera traps and I have started to branch out and shoot other species in my garden. Photographing urban mice is something of a mission for me right now; I first came across mice when they would often set off my camera traps.
I always thought that the camera had accidently fired off a few shots, but when I magnified the images I could see the tiny mice. They have now become a side project along with the foxes but I'd love to shoot them more seriously and put a lot more time into studying them. Watch this space.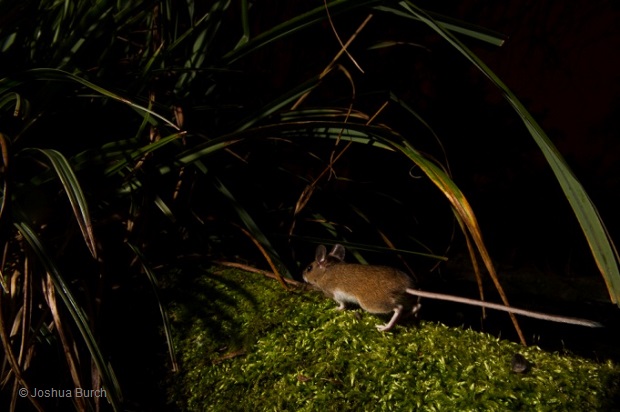 I have also recently been down to my local ponds and I have been quite excited at the idea of shooting the bird life at night with the lights reflected in the water. It was amazing to see the colours and it got me wanting more. Who knows, you might even see my images in next year's exhibition!
My top five tips for photographing wildlife in your back garden
Often when I meet the public I get asked what tips I can give them to help them become a better wildlife photographer. So I thought I'd finish with some advice:
To start with, the most important piece of advice that I can give anyone who is starting out in wildlife photography is to know your subject like the back of your hand. I started off as an enthusiast for the outdoors and the animals that call it home, so for me photography really came second to the knowledge of the wildlife that I had watched as a kid.
Without the knowledge of your subject your chance of capturing amazing images is quite difficult; knowing the times of day that your subject will be out will be crucial if you are working on a shy species or if you are sat in a hide for long periods, because you'll know when to expect activity from your subject.
Time is also crucial. Putting the time and effort in to get a shot will greatly improve your chances of getting it right. When setting up camera traps in my garden I am often being eaten alive by mosquitoes, but the more time I put into setting an image up the more likely I will achieve the shot that I wanted, even if it does mean being covered head to toe in bites!
One of my favourite things to do is to pick a subject and then put it into a Google image search. This enables me to see what has been done by other photographers and then to go out and shoot something different, it enables you to create WOW images that people will have never seen before. As a wildlife photographer I strive to capture wildlife in a way that the public will also find interesting, this means that they might just care a little more about it.
Another useful thing to do is to look at other people's work and get ideas from them. There are some incredible photographers, from those working for National Geographic to those shooting their local wildlife in extraordinary ways. It may seem tempting when starting out to copy their images but try to branch out and shoot similar subjects in different ways.
For example, a lot of photographers shoot with a long lens, and there is nothing wrong with that, but how about next time you go out you try shooting with a wider lens and show the animal in its environment?
To end, it's a bit of a cliché, practice really does make perfect. OK, well in the world of wildlife photography, perfection is often an elusive entity but with any image you can always improve. A lot of people ask me what my favourite image is and to be honest I never really know, they all have their own story and although they may have special attachments to them I always try to practise my techniques and go out and improve.
All that's left to say is good luck and, you never know, you may be the next Wildlife Photographer of the Year!
ABOUT JOSH
Already an award-winning photographer, Joshua loves capturing local wildlife on camera to show his family and friends the amazing nature that is on their doorsteps. Josh has been awarded in Wildlife Photographer of the Year twice and was also recognised in the 2014 Young British Wildlife Photographer of the Year: http://www.joshuaburch.co.uk/