Joshua Burch - Project Fox pt. 2: Camera trapping
31 July 2015 posted by: Rosie Pook, WPY Comms Officer
We catch up with young photographer, Josh Burch as he continues his project to document the wild foxes in his suburban garden. In this second instalment, Josh experiments with camera trapping techniques to give us a fox-eye view of life in his backyard.
After the initial first year of the project I was really interested to find new ways to capture the vixen in a suburban environment. So after hearing about using camera trapping techniques online I was really excited at the prospect of setting up a camera in the garden over night and seeing what I would get in the morning; it was a bit like Christmas for a wildlife photographer!
Here I am setting up one of the camera traps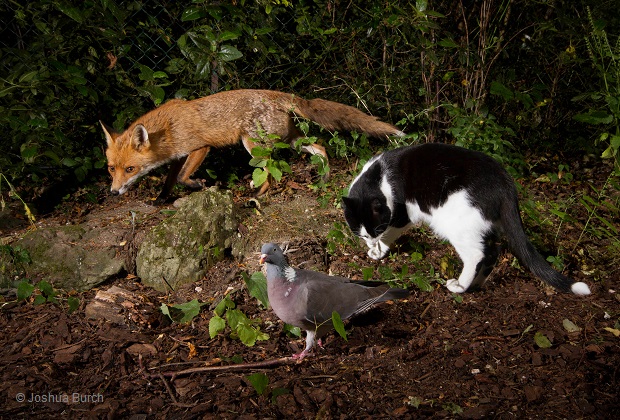 And here's an image where I have blended three exposures from the same setup so that you can see that a variety of species will pass through the traps
So what is a camera trap? The basic concept is to leave your camera out on location with a PIR/infrared beam attached and when an animal breaks the beam the camera automatically takes an image. But, as I found out, it's not as simple as it sounds. Using camera traps can reap incredible images but the one slight drawback is the amount of time setting the equipment up.
When I first started I didn't have flash guns so I used some old studio lights. But I soon found out that was not the way to go when the bulbs blew, so I invested in a couple of old cheap flashguns and got to work. When setting up, it is often a case of just experimenting with the lighting and your composition because, unlike conventional wildlife photography, you don't have the freedom to recompose your shots or change the settings.
I started to put the camera traps out in January 2015 with the hope of shooting some new images of the vixen that I had worked with in the previous year. There was an awful lot of trial and error, but the more I practised with the lighting and settings the more the images evolved into those that I had envisaged in my mind.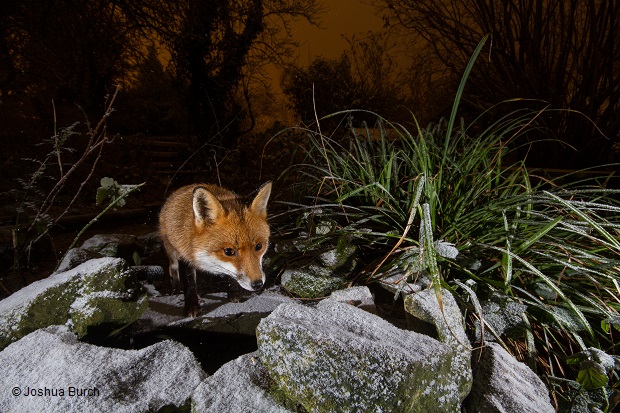 As I progressed I started to think more critically about the image that I wanted to take. I would constantly check up on what other photographers where doing and how I could apply their techniques to my own subjects. One of the leading camera trap photographers, Jonny Armstrong, really inspired me with his creative use of light and really awesome compositions.
He recently went to Africa and there is a shot of a leopard that uses backlighting so that there was a lovely rim light on the fur; after seeing the image I was determined to get a similar shot with my foxes. After three nights of the camera trap being out I was able to capture the shot I was after, a fox appearing out of the darkness with lovely rim lighting on her fur coat.
Often when I watch the foxes from my bedroom window I note down possible shots that I think would look really cool. For one of these particular images I wanted to capture a shot that the public could feel as though they were on the trail of the foxes. There was a bit of difficulty in trying to get the foxes to walk in a certain direction past the infra red beams but in the end I got what I was after.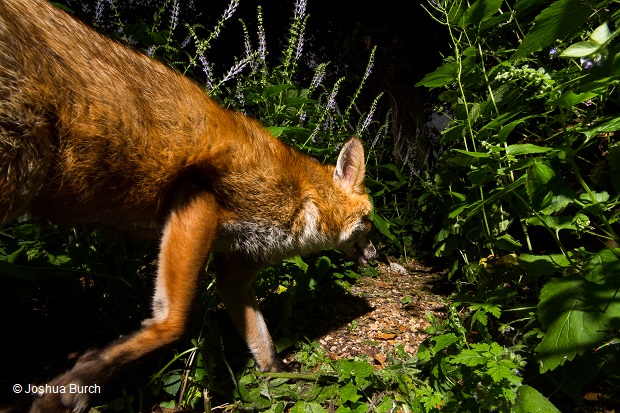 ABOUT JOSH
Already an award-winning photographer, Joshua loves capturing local wildlife on camera to show his family and friends the amazing nature that is on their doorsteps. Josh has been awarded in Wildlife Photographer of the Year twice and was also recognised in the 2014 Young British Wildlife Photographer of the Year. http://www.joshuaburch.co.uk/