Joshua Burch - Project Fox pt. 1: Patience and Trust
15 July 2015 posted by: Rosie Pook, WPY Comms Officer
In the first of a three-part series documenting 17-year-old Joshua Burch's study of foxes in his suburban English garden, Josh looks back on how he has gained the foxes' trust and demonstrates the importance of patience and immersing yourself in your subject:
Josh gives us a tour of his garden and highlights the challenges of photographing in a suburban environment
Photographers are always on the lookout for new projects or stories to follow and, in my case, I fell in love with suburban foxes. From a young age I was always fascinated by foxes and with my bedroom window looking out over the garden I had a front row seat to the trials and tribulations of the animals that made my garden their home. So last January I started a project with the single vixen that would often come into the garden, little did I know how much time I would eventually spend with her.
At first it was a game of cat and mouse - with the vixen being quite cautious and wary - and involved me shooting through the stable doors in the kitchen. Gradually I was able to slowly build up the trust needed, eventually leading to me shooting images from the lawn. From here I was able to capture unique and personal portraits of the vixen, showing her in a more human-like pose. My goal was to show foxes in their best light and to combat the negative stereotypical ideas surrounding the urban dwellers.
Patience and perseverance paid off for Josh and enabled him to capture portraits like this
Whilst shooting images in the garden I was able to pick up on certain habits of the vixen, like which routes she would take and what time of day she would come. As a result I was able to capture some incredible closes ups and also show the vixen in the suburban environment.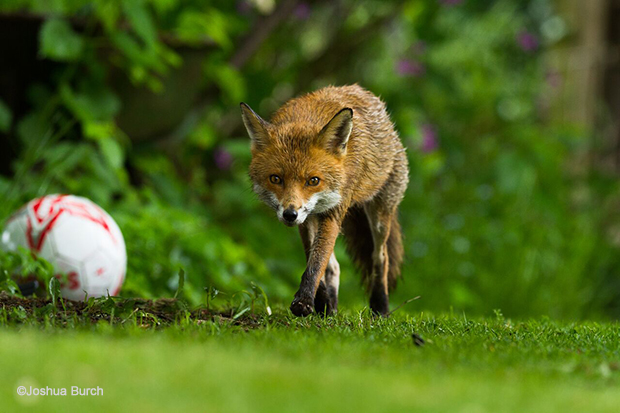 Building a bond with his subjects allowed Josh to anticipate the foxes' behavioural patterns
Over the time I spent with her I managed to build up a wide portfolio of images and for me it wasn't just about taking the images, it was about building a bond. Before the foxes I had never taken on a species specific project and it was a real journey for me to build that bond. And to maintain it was a real pleasure.
Unlike some wildlife photographers, Josh chose to focus on a project right in his backyard
When you spend time with a single species the variety of behaviour shown in individuals is amazing. For example, as well as the vixen I met and got to know a one-eyed dog fox. He was always a very shy individual and would often take cover if he saw me; this was the polar opposite of the vixen. After spending a lot of time with her and getting her used to my presence, she would often come out of hiding if she saw me approach the top of the garden. Finally she bore cubs, these were the most difficult animals to try and photograph and I am still trying to get a few decent images of them as I type. Watch this space!
ABOUT JOSH
Already an award-winning photographer, Joshua loves capturing local wildlife on camera to show his family and friends the amazing nature that is on their doorsteps. Josh has been awarded in Wildlife Photographer of the Year twice and was also recognised in the 2014 Young British Wildlife Photographer of the Year. http://www.joshuaburch.co.uk/