The best WPY image of all time?
24 June 2015 posted by: Rosie Pook, WPY Comms Officer
To celebrate our 50th year, the Museum has extended its exhibition through the summer to 31 August 2015, so that more people can help celebrate our birthday. To join in the fun, we asked some of those closest to the competition to select their favourite image from the past half century. Not an easy task when you have over 5,000 to choose from…
Chris Packham
Former competition judge chose…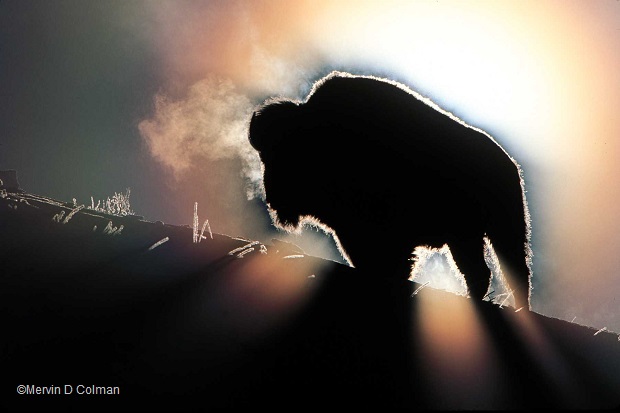 American bison de-frosting by Mervin D Colman
Winner of the Animal Portraits category 2001
"I was a judge this particular year and when this image was first projected a violent surge of confusion hit me. I was astonished, flabbergasted, in immediate awe of this remarkable photograph. But if I'm honest I was also horrified by it, because to me it was the photo to end all photos and as a fellow wildlife photographer that rendered my future instantly and completely redundant. The glowing aura, the exploding spectra, the frosted fronds, the cloud of breath, the rim lighting, the supernova bison on that frozen slope… it's simple but so obviously a moment of extraordinary rarity. And Mervin was there and, critically, he captured it. To say it remains the very best that I've seen in the competition is difficult as the standard has continued to rise, but no other photo has seared itself so permanently into my memory. For me it's the one."
Jim Brandenburg
Chair of the competition and previous winner chose…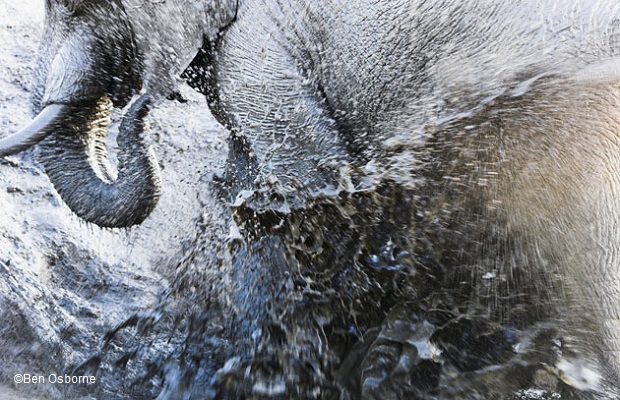 Elephant creation by Ben Osborne
Winner of Wildlife Photographer of the Year 2007
"To choose a favourite photograph from the past 50 years was a daunting task. It became very personal and I realised my final choice would define my vision of nature photography. And it's almost impossible to have one image speak for such a distinguished collection. My choice speaks to me about what succeeds in holding the viewer. There's an unusually powerful and explosive energy expressed - a wonderfully chaotic mix of shapes, textures and subtle tones that keep the eye lingering. It takes courage to venture into the realm of rule breaking when there is a fleeting event to capture. Photographers often fear abandoning conventional methods of depicting a story. This image shows the gift of really seeing beyond the expected."
David Hosking
Son of Eric Hosking, founding father of the competition, chose…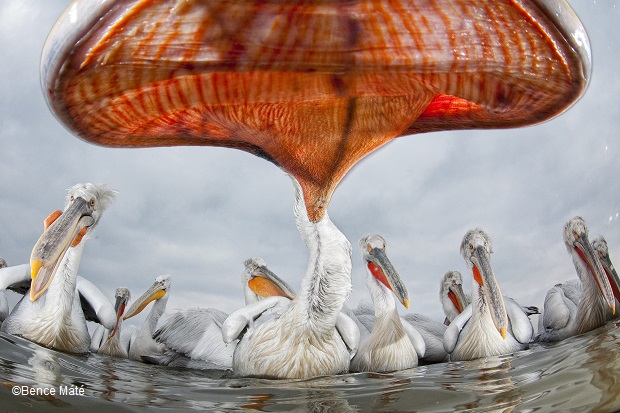 Pelican perspective by Bence Máté
Winner of the Eric Hosking Portfolio Award 2011
"Over its 50 years there have been so many memorable winners. As technology advances so the barriers of what can be photographed have been moved and more people can go out with a camera and record what they see. In choosing my most memorable picture I wanted something that was not only a striking wildlife image but showed a good understanding of photography. For me, the one image that ticks both boxes is this one. Bence has seen an opportunity through good field craft, thought about the photographic options, come up with an unusual approach and has given us an image which, because of its wide-angle perspective, makes us question what we see. He is a young photographer with a great future and a worthy past winner of the Eric Hosking Portfolio Award."
Roz Kidman-Cox
Founder of the competition in its current format and editor of the portfolio chose…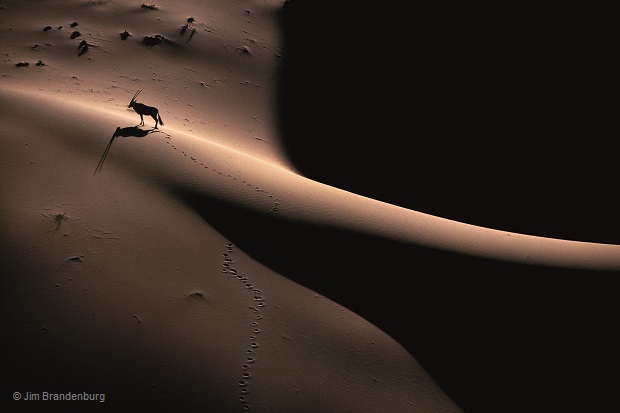 Dune oryx by Jim Brandenburg
Winner of Wildlife Photographer of the Year 1988
"Choose just one picture? Almost impossible. In the end, the only way was to select one from those hanging on my wall, photographs I have looked at again and again - in the case of this one, for more than 25 years - and never tired of them. This one is powerful in its simplicity and almost mystical in its content. The oryx stands stock still, spotlit on the sweeping sand-dune stage. Its tracks indicate it has walked slowly up to the pathway lit with a heavenly light. Why and where is it going? The photographer was on a shoot to cover the war in Namibia. He'd visualised the picture of an oryx in the sand-dunes, but that it materialised was a miracle that happened right at the end of his three-week search. Whether or not you know the story of its making, the picture stands as both magnificent and magical."
This article first appeared in evolve magazine, published by the Natural History Museum. Become a Museum member to receive it and many other benefits.
Find out more about the Wildlife Photographer of the Year exhibition at the Museum.