Masterclass: Owen Hearn and Danny Green
16 April 2015 posted by: Rosie Pook, WPY Comms Officer
This week's guest post comes from 2012 Young Wildlife Photographer of the Year, Owen Hearn. We catch up with him in the field as he embarks on a Masterclass in Scotland's Cairngorm mountain range with acclaimed nature photographer, Danny Green.
In 2012 I was lucky enough to become the winner of the Young Wildlife Photographer of the Year and as part of the prize I was awarded my own photography Masterclass with a photographer of my choice. What an amazing prize, where will you end up? Who will you choose to go with? I met a large number of photographers at the awards ceremony, at various meet and greets, and at the viewing of the winning images and my mind was buzzing with those people that I had met because this was the first competition I had entered - what a way to start!
Owen won the 2012 Young Wildlife Photograher of the Year competition with this image of a red kite
I decided to choose Danny Green as my Masterclass teacher. I had previously followed his work and admired his ability with a camera and his love for nature, he creates some stunning images and when I met him at the awards ceremony he took the time to stop and talk to me and ask about my own photography. When I heard that Danny was keen to take me on my day's photography I was over the moon, but even more so when I found out that he wanted me to meet him in the Cairngorms in Scotland! I had never been over the border to Scotland before let alone as far as the Cairngorms so I was looking forward to the journey and the experience.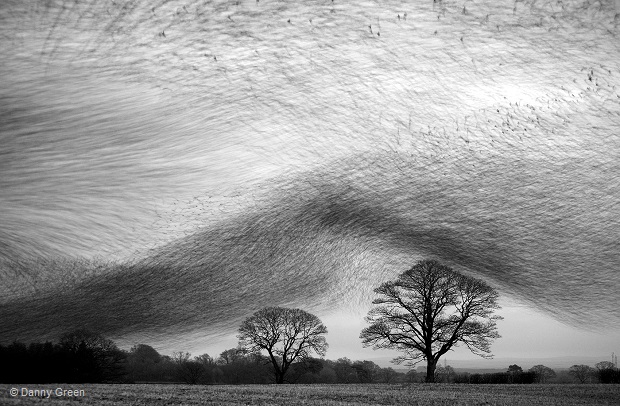 Danny Green snatched the 2009 Nature in Black and White category title with this image of a huge starling roost
After a 3.00 start and a long rainy drive up to Scotland to meet Danny, we finally arrived in the Cairngorms. As we travelled through the mountains the weather went from rainy to snowy and icy and the worse the weather got the more excited I became about the prospect of hopefully seeing mountain hares because it was getting to early spring time and the snow was disappearing fast.
I hadn't realised the extent of the size of the Cairngorms until we started travelling through them; they cover 1,748 square miles which is an amazing 6% of the total area of Scotland and we drove for miles and miles through impressive mountainous scenery. The stark mountains stood out around us for as far as we could see and the rivers were flowing fast and furious along the roadside, I couldn't wait to get out there with a camera.
We finally arrived in Aviemore, our base for the weekend. There were still quite a lot of tourists about, skiing on the remaining snow on the slopes of the Cairngorm mountain. We met Danny in the evening for introductions and I soon discovered that he had been here for a few days already and had planned for us not to just see some mountain hare but to hopefully photograph some red grouse as well - we'd only just arrived and already the weekend was getting better! We enjoyed a nice meal with Danny and made plans for the following day.
The valley where the mountain hares live does not benefit from the 'golden hour' of sunrise due to the surrounding steep mountains, so there was no need for an especially early start; we headed off for the day at 9.00. The weather was very cold but looked clear as we headed out, however, the cold was relentless so lots of layers were called for if we were to be lying in wait for wildlife on the side of a mountain. We set off in the hope of getting some decent mountain hare images and after a short drive we ended up on an amazing little single track road carving its way through the mountains next to a big river, before arriving at our destination.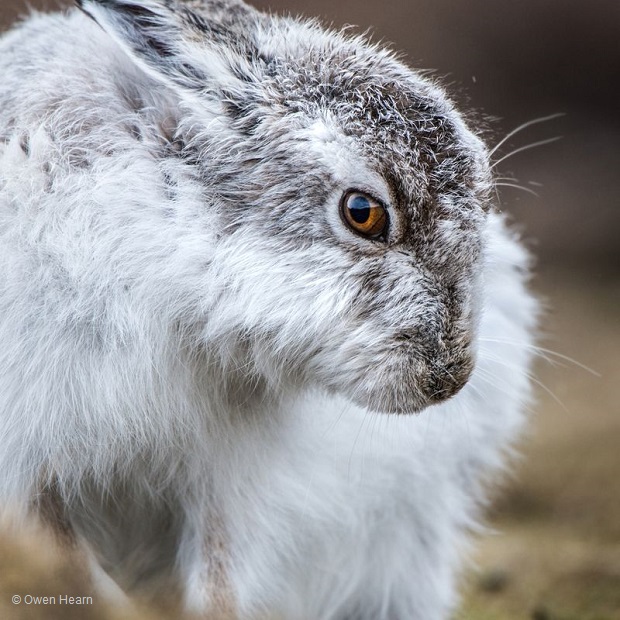 Mountain hares have been living in Britain for about 12,000 years
Once we had unpacked our gear we set off over the river and up one side of the valley, eagerly watching for signs of any mountain hares. Before long we had spotted one and approached slowly before stopping and sitting down to let the hare get used to us. We kept still and made sure that our presence wasn't stressing the hare and it seemed that he was ok with us as he stayed where he was and continued to watch us from his vantage point.
We edged a little closer, taking pictures on the way and continued to take more pictures of other hares in the area. It was interesting to work with the hares, they stood their ground and didn't flee, as long as we were careful with our approach and didn't get too close. They didn't appear to worry about the cameras and continued to go about their daily activities, stretching and washing and sometimes catching the sun that made occasional appearances.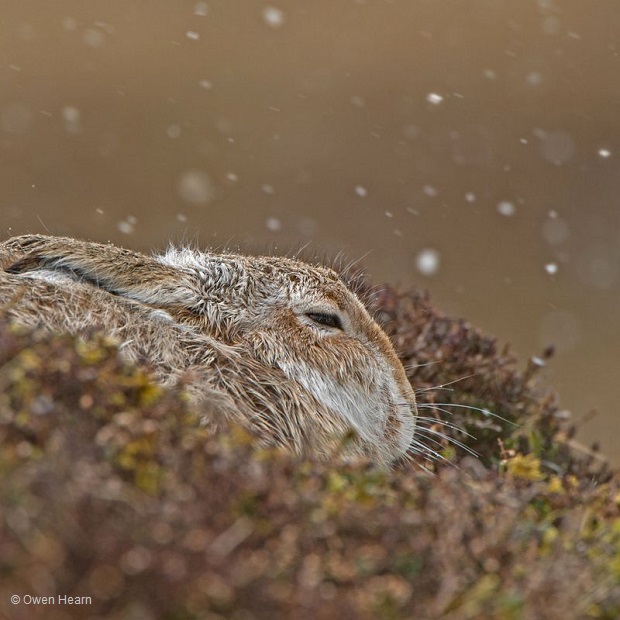 Normally nocturnal, the hares hide among the heather during the day
The weather was amazing; I have never seen so many different weather conditions in one day. It went from lovely sunshine to rain - of which the benefit was rainbows, and then to harsh snowy conditions and wind and finally back to a bit of sun again. The only constant factor was the cold. I can see how easy it would be to get into trouble if you were to go to areas that you didn't know and wandered off - a scary prospect that added to the respect I now have for these great granite mountains.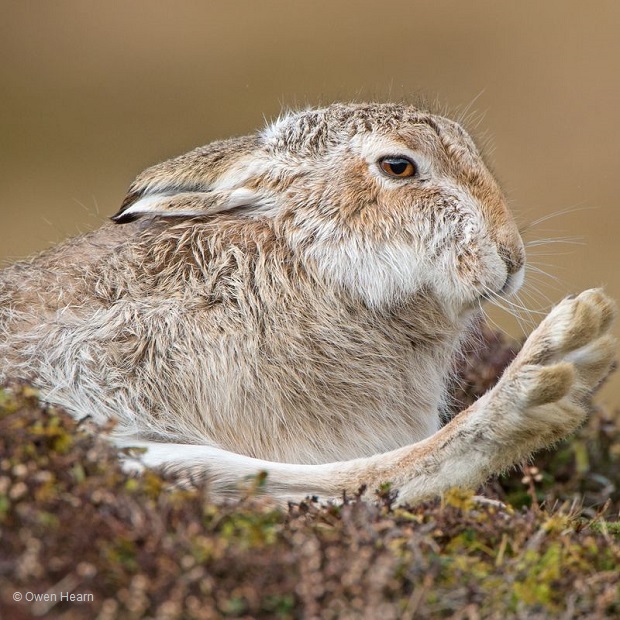 The hares' coats turn white in winter to protect them from airborne predators
After spending a little more time with the mountain hares we headed back to the car to try our luck at finding some red grouse. By the time we arrived at the site where the grouse were thought to be it was late afternoon and it looked hopeful that we might catch some late afternoon light - the conditions being much calmer after the changeable weather higher up the mountain.
I was expecting to be setting off across the rugged landscape again to stalk some red grouse, but it turned out to be a much simpler stalking experience than I had ever had before, as the red grouse lived along the side of a single track road and we took pictures of them from the car windows! Within three minutes of driving slowly along the road we spotted our first male red grouse, although he was a little far away, so we continued on and came across several other pairs and managed to get some great pictures. Our last red grouse, an impressive male, was my favourite as he provided some lovely poses in the late afternoon light.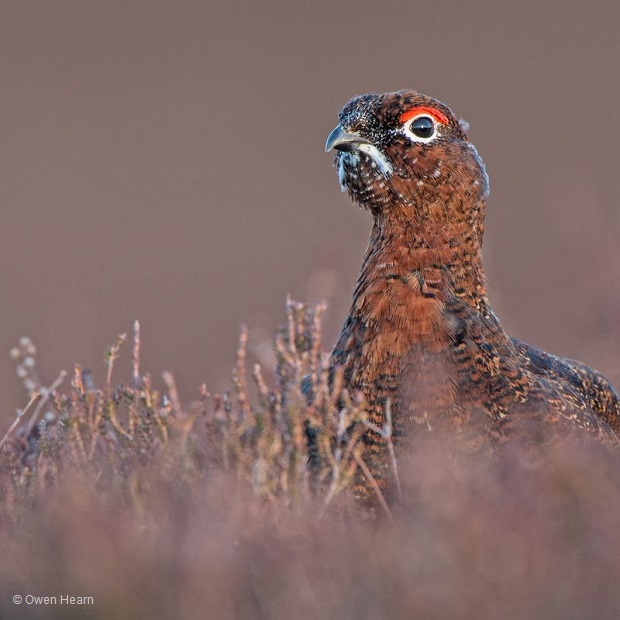 The red grouse is one of Britain's only endemic bird species
Once we had lost the light we headed back to Aviemore and said our goodbyes and I was left with the anticipation of having time to go through the hundreds of pictures from our day out. I couldn't have asked for a better day, Danny was a great instructor and proved that you have to know as much about your subject as you do about your camera in order to get the pictures that stand out. Scotland was as impressive as I thought it would be and I will definitely be going back in the future to hopefully improve upon the images taken on my first trip.
ABOUT OWEN HEARN
Owen's interest in photography began when he got a point-and-shoot camera for Christmas. The next year he saved up and bought a bridge camera, moving on to a DSLR. He sold all his belongings to buy lenses, taught himself photography using internet tutorials and practised on his grandparents' wildlife-rich dairy farm.http://www.ohearnphotography.500px.com/#/0
ABOUT DANNY GREEN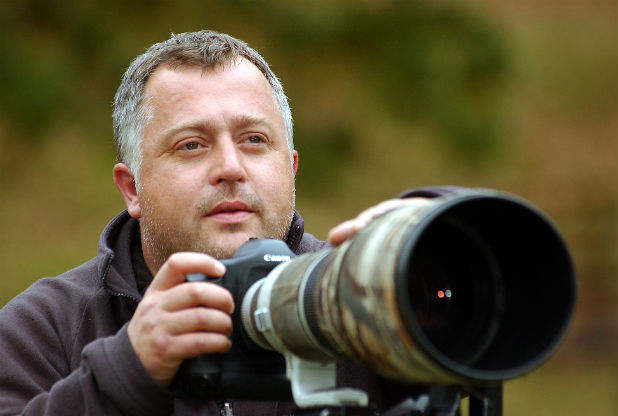 Inspired by his Late Grandfather's tall tales of close encounters with tigers in the jungles of Burma, Danny has had a deep passion for the natural world ever since. His first attempts at photography were in his late teens and over the past twenty years he has travelled to many parts of the world in search of images. Danny feels his best work is achieved in the UK as he can work on subjects for longer periods of time, gaining knowledge and understanding about the behaviour of the species. He lives in Leicestershire with his wife Liz and children Thomas and Megan.