The stories we tell: mastering wildlife photojournalism
20 February 2015 posted by: Rosie Pook, WPY Comms Officer
Great wildlife photojournalism investigates the complex relationships between humans and the natural world. Challenging or uplifting, provocative or revelatory, it reminds us how our attitudes, decisions and actions impact the natural world. Guest blogger, biologist and nature photographer, Bruno D'Amicis, tells us about a project close to his heart, and how photography can help spread vital conservation messages around the world.
I've been fascinated by nature and visual arts since I was a child. About twenty years ago, when I was still at high school and after a rather frustrating start with pencils and watercolors, I decided to try photography. I picked up my Dad's old reflex camera ... and never gave it back! I was an avid amateur birder and naturalist so, at first, the goal was documenting my field observations, but slowly I came to discover the possibility of personal interpretation and storytelling.
The work of masters such as Nick Nichols, Frans Lanting, Michio Hoshino and Jim Brandenburg truly inspired me by showing the power of images to convey a message. So, after earning a degree in biology and undertaking a brief scientific career in wildlife ecology, I eventually took the decision to pursue full-time wildlife photojournalism and combined my drive for conservation awareness with my natural history and artistic passions. It was risky business, but I've never looked back.
I love photographing the natural world because of the slow pace it imposes on me. Photography gives me the drive to wake up early in the morning and walk kilometres to find what I'm looking for. It is a reason to get back to studying a subject and learn new things, and the excuse to travel and meet other people and species.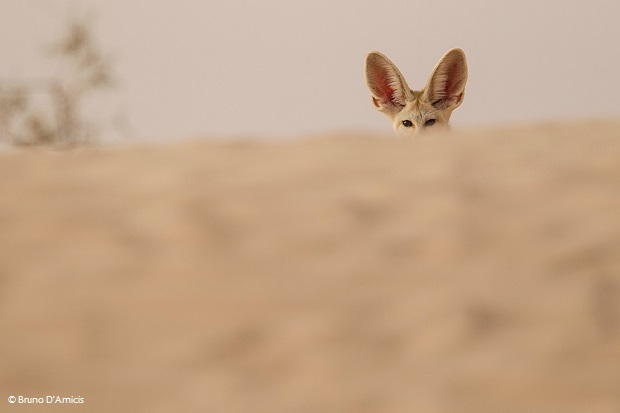 Photography is the instrument that allows me to look into the eyes of an animal or get to the core of an issue. It can give a powerful voice to silent beings and enables me to share my life with the world.
The images in this blog belong to a series of pictures I have taken in north Africa over a three-year period in order to document the natural history of the fennec fox in its desert habitat and the issues threatening its conservation.
A Saharan and Sahelian species, the fennec's range spans across the whole of North Africa. Exact numbers are not known, but whilst they are common in the Saharo-Sahelian belt (Mali, Niger, Chad), they are increasingly under threat in the far north of the continent.
Observing and photographing fennec foxes in the Sahara had been one of my childhood dreams. Still, due to their extremely wary behaviour and human persecution, it has been incredibly difficult to watch and photograph the foxes in the wild. Therefore, only after carrying out extensive research and by relying mostly on well camouflaged hides and camera traps, I could manage to get a precious handful of images depicting the fennec biology and giving justice to its uniqueness.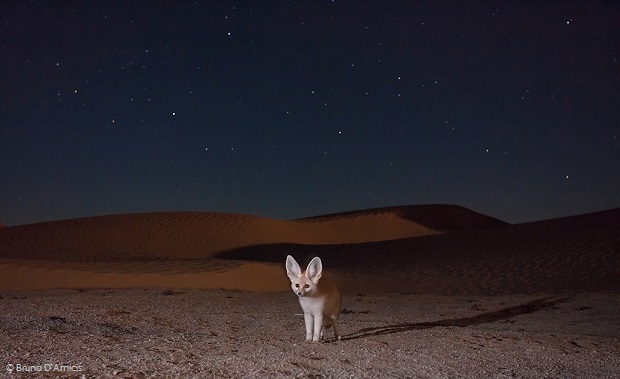 Fennec foxes are nocturnal, which helps them deal with the searing heat of the desert environment. Their distinctive, batlike ears radiate body heat and help keep the foxes cool during the day and their long, thick coat insulates them during cold nights.
Although I treasured the deep emotions triggered by witnessing this amazing species in its natural habitat, as a conservation photographer I also knew I had to tell the other side of the story, so I ventured into an obscure "underworld" of fennec collectors and traders, keeping a low profile whilst trying to infiltrate the illegal trade of fennecs and other species. This has taken a lot of time and networking, but the results of my work are encouraging and I want to keep on - there is still so much to do!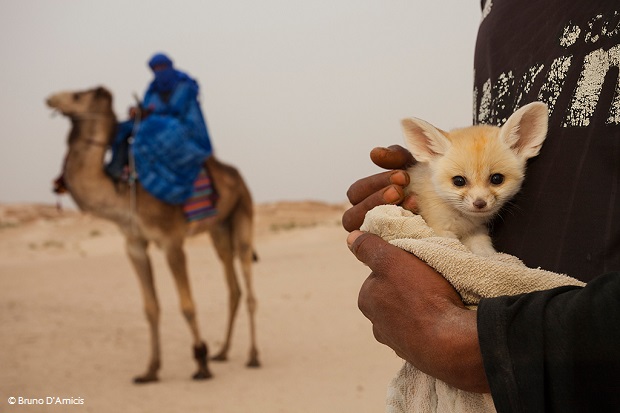 The number of animals caught, exposed and sold has been on the increase in the aftermath of the "Arab Spring" revolts due to a lack of environmental law enforcement in most countries of the Maghreb.
Due to their charismatic appearance, fennec pups are frequently caught in the wild and exposed to tourists for money across the fox's whole range in North Africa. It is illegal to keep a wild fennec and most of these unfortunate animals die in captivity or after being confiscated at borders. Beside tradition, difficult socio-economic conditions and a lack of information among tourists contribute to this enduring practice.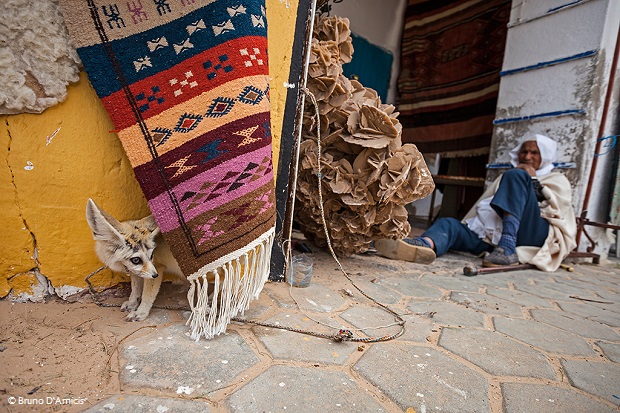 Further contributing factors to the illegal wildlife trade in Tunisia include high unemployment, poor education, ill-informed tourists and tour companies, and habitat destruction.
Take this picture, in it you see a fennec pup offered on sale by a teenager in a Tunisian desert village. The boy had caught the pup by digging it out from its burrow some weeks before and was trying to make some money by selling it to foreign tourists. I firmly refused his offer and tried instead to make him aware of the serious consequences of his act.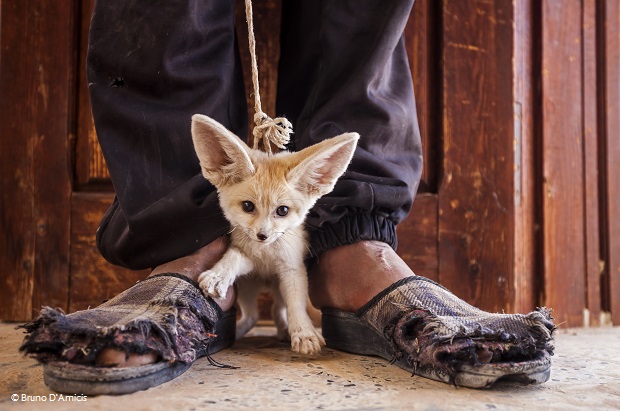 By framing the terrified fennec pup between the worn-out shoes of his owner, I wanted to draw people's attention both toward this unique species and to the challenging human environment that makes wildlife conservation in the Sahara so difficult.
Looking to the future, I am a little superstitious when it comes to talking about ongoing projects and prefer to wait until they take a clear direction before sharing any information... but what I can say is that I'm researching further environmental projects in the Sahara and beyond. Closer to home I am also working on an upcoming book on wild wolves in Italy and am involved in an ambitious collective project, "L'Altro Versante", focusing on the last natural Italian landscapes.
If I could give any words of advice for photographers seeking to build a career in photo journalism, it would be these:
When photographing a subject, try to always think of the full story and cover every single angle of it.
Do your homework first and get to know your subject intimately - you are going to be the one speaking for them after all!
You don't need to travel to exotic places to find exciting stories. Some of the most rewarding and exciting stories of mine have been found near my home in Italy.
ABOUT BRUNO D'AMICIS
Bruno is a biologist and a professional nature photographer with specialist knowledge of mountain ecosystems and wilderness conservation. His images are widely published in national and international media. Author of three books, he is a Fellow of the International League of Conservation Photographers, Wild Wonders of Europe photographer and frequent speaker at international events.  His image, The price they pay, won the WPY 2014 World in Our Hands category and he was also the Nature category winner at World Press Photo 2014. www.brunodamicis.com